2009 VCA Derby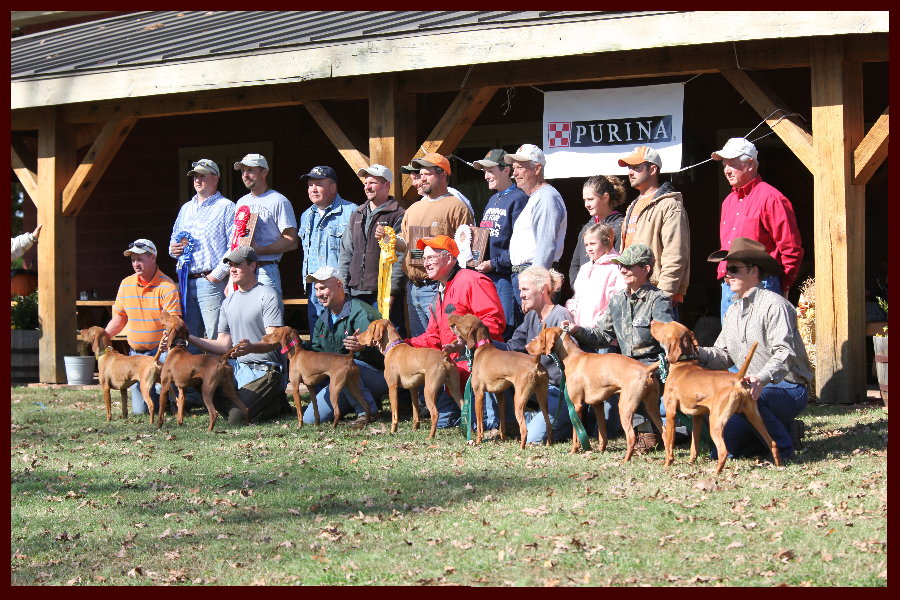 Roaring out of the western sun, came the midwest horsemen much like the Pony Express as if they too had the most important kind of mail to carry. They did as they carried not only the winner, but also a dog who might have won had they found a bird. Dustin & James Ochs, Brian Long & Will Cooper left as quickly as they arrived, much like they were the Lone Ranger times 4, leaving those behind to wonder "Who were those guys?"
DERBY WINNER STORY BY OWNER
Our story started in March, 2008. We had recently lost our rescue vizsla, Shea our beloved family bird dog. I started reading about field trials and with my wife and kids loving horses we thought this would be a fun activity for the family. After talking with club members we contacted Mike and Darlene Lundy for our first trial dog. We brought Katy home in June 2008 and she was bought specifically for my wife due to the close bond she had with our first Vizsla that died. Having no horses at that time and with Katy getting older we decided to take her back to Mike so he could help develop Katy's run. A few weeks later Mike invited me to come out and watch Katy run with his other three pups he had from a Redneck Susie Que and Touchdown Kid (Diamond) litter. Before we let the pups loose, Mike told me to watch Cali because she was running bigger than any pup he had seen at that age. After about an hour run, we had all the dogs gathered up except Cali . She found her way home about 10 minutes later. I went home and told my wife that I wanted my own dog to run in field trials and that Mike had the perfect dog for me. My wife loved the idea of his and her dogs so we bought Cali in January 2009, and Mike continued to run her until she was 10 months old. In the mean time we ended up buying 4 field trial horses so we could keep this a family activity. As an extremely novice handler, Cali has made me learn many lessons the hard way and Cali would have won more trials if it wasn't for my screw ups! A few weeks before the deadline for the 2009 VCA Nationals, Mike Lundy called and wanted to know if I was taking Cali . Not having the vacation time to take off work and my lack of knowledge about the Nationals, I told him no, Cali was not going. He managed to convince me that she had a good chance of winning and for me to call Bryan Long to see if he would run Cali for me. By the time Bryan got Cali , he had about 2 weeks to work with her and build a rapport. He did a great job in a short amount of time.
2nd Place February 20 - 22, 2009 Ozark German Shotrhaired Pointer Club Open Puppy
1st Place April 24 - 26, 2009 Show Me Vizsla Club Open Puppy
1st Place September 4 - 6, 2009 Nebaska Brittany Club Open Puppy
4th Place September 4 - 6, 2009 Nebraska Brittany Club Open Derby
1st Place November 1 - 6, 2009 Vizsla Club Of America Open Derby Classic
DERBY WINNER SCOUT STORY
Callie (handled by Bryan Long ) started large and going strong through the first 3 fields with more range and forward push than her bracemate who was oftentimes not far behind. Going into the "make a turn" field, Callie went left and deep to pick up the tree line to the far left. This move carried her forward and across the cut in the trees to turn back into camp. Passing the cut, she followed the east/west tree line deep to the right hand side showing extreme speed and maturity of a dog with many more years of experience. After finishing the east/west tree line which carried her backwards on the course, she had a nice limb bevy find at 10 on a covey of quail deep in the far right corner. Of all the dogs that ran, Callie covered more of this field than several other participants combined. Coming off the limb find, the handler was forced to put her back on the line she had just finished to regain the front. On the way to the "cut", Callie had a second find at 13 on a single bird in the treeline. On the first flushing attempt, Callie stood the bird broke but the judge did not see the bird. On the second flushing attempt, Callie elected to help the handler flush and took chase. She was rounded up and the handler rode forward through the cut. She finished the last several fields with a large gun dog application and hitting the likely objectives. At time, she was seen running the right hand side of the large field and going away at 200-300 yards. On a sidenote, the handler elected to collect the Garmin at time to go after her. When the Garmin was turned on and calibrated, Callie was 750 yards to the front and still carrying the line. After the handler rode 500 yards, the Garmin indicated Callie was 850 yards to the front and still carrying the line. She was corralled at the end of the big field adjacent to the highway having never come off the long line of standing corn.
HONORABLE MENTION BUCK's STORY
Had he a bird, several seriously thought Buck who received an Honorable Mention. Evidently the judges thought that much of Buck & his team presentation. (dlb)
Raised by my dad. The bitch, Sis, is a product of a littermate sister to Pappy – Tres is her name – bred to Grand Slam Sam who is the sire of Tommy Boy. Sis was bred to Touchdown Kid (aka Diamond) who is a product of Tommy Boy. In other words, it was somewhat of a line breeding. Dad ended up keeping this dog out of the litter. Buck has been put on the ground only a handful of times since he began competition. He has always made a good showing or won when put on the ground. His first placement was at 10 months of age when he won a true American Field event – the All-Age Derby against a very nice crop of young dogs – Vizsla and pointers, alike. His second time on the ground, he won the Ozark GSP Open Puppy stake. Both of those events were held in February/March 2009. He has only been on the ground twice since – the NVA Nationals in March and the VCA Nationals in October. At the NVA Nationals, he put down an all-age race for the first 25 minutes disappearing to the front and showing to the front after an extended absence; the last 5 minutes, he was flat. At the VCA Nationals, he put down a mature Gun Dog pattern with large moves at the right times and places and handled kindly. His application, maturity, and handling rivaled that of Pappy at the 2006 VCA Nationals. He turns when asked, goes deep into the corners, and finishes what he starts, but is never out of control. He is what I would deem as nearly as close to the entire package as I have seen. In all honesty, he probably had the course of the event.
National Derby Classic

Judges: Jesse Chapman & Gus Allimonos
1
Lundy's Fiddlin with Fire (Calli)
Brian & Stephanie Fiddler
Brian Long
2
Shiloh's Red White & Blue (Blue)
Ryan & Deborah Rice
Robert Tomczak
3
Barben's Storm Warning (Stormy)
Barbara Zahn & Trish Burdin
Jamie Fountain
4
Victory Fire's Remek (Remek)
India & Bill Cox
Al Lucas
AOM
Remek Valley Hunter Moondance (Tango)
Pat Carney & Jean Matmor
Pat Carney
AOM
DuRite's Mac Daddy (Mac)
Michael & Carrie Syczylo
Carrie Syczylo
AOM
Diamond's Buckshot Roberts (Buck)
James Ochs
Brian Long