Glossary for
Definitions & Abbreviations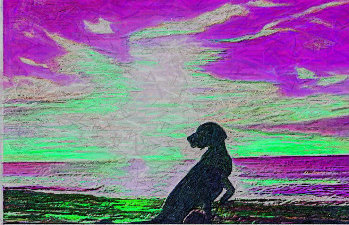 All of the graphics/photos on this page are
CH Dealt A Queen ss Paradox JH (Delta),
"The Mayor of Mudsville"
The Glossary is an ever evolving, always changing Work In Progress.
Definitions will contain information & joking one-liners.
Information definition will be in teal text.
Joking definitions are dark blue.
The Letter "A"

Agility- a competition composed of jumps, obstacles, etc that is negotiated within the shortest period of time. Agility is THE fastest growing sport EVER @ the American Kennel Club.
AKC- American Kennel Club- largest USA dog registry that focuses on a myriad of canine sports including Dog Shows, Field Trials, Hunt Tests, Agility, Obedience as well as legal items, health matters & club organization.
AF- American Field is a caninesporting league comprised of hour weekend field trials & multi-hour Championships for Professional & Amatuer Handlers that focuses on Sporting breeds.
AFC- An AKC Amateur Field Champion (accumulated ten points)
AFTCA- Amateur Field Trial.....is a canine sporting league comprised of hour weekend field trials & multi-hour Championships for Amateur Handlers ONLY that focuses on Sporting breeds.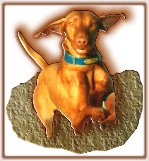 The Letter "B"
Boggarino- dlb's last name when business partner addresses dlb
boggle- coined by dlb for the snurfing research she does
Bracque- Name of Pointing Breeds in France, exactly like inside Hungary the word "Vizsla" notates the name of their Pointing Breeds
Buck Hound- hunting breed thought to be an early ancestor of the Vizsla
The Letter "C"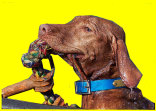 Championship- in AKC Events a Champion has accumulated a specific number of points that may include "majors" (3/4/5 points at one show) and other particular starpoints of that styled competition from show to field to obedience to agility to tracking. A Field Championship for Vizslas is ten points with a major with four retrieving points. There are "open" and amateur field Championships. There are also one time yearly events that hope that the best dogs each year enter & the winner of an AKC Championship is also a "Champion. Yes, it is possible to have an AKC National Field Champion and/or National Amateur Field Champion on a dog that doesn't have a FC or an AFC.
Championship- In AF Field Trialing it is the winner of a special field event. These events can focus on different kind of birds and/or cover and/or styles of field trial hunting and/or lengths of time. There are usually more stringent qualifications in AF Field Trialing Championships than AKC Field Trialing Championships. "The" Championship run at Ames Plantation in Grand Junction, Tennessee has the most stringent of qualifying principles (must win 2 qualifyers, usually Championships & qualify each year afterward with a qualifying placement) & a brace lasts for three hours & there are three judges. Most AF & AKC Championships are one hour in length.
Code of Ethics- a composite of desired breed traits in the Vizsla ranks
code of ethics- something that you have in spades, something the other guy does not, nor do they ever have unless you breed your dog to their dog
crossing over- undesired movement from the rear when viewed from the front and/or rear that the middle to far side of foot of rear, forcing the middle or far side of foot toe the line. On some who cross over, they appear as some sort of second-class dancer doing a balancing act on the high wire.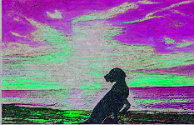 The Letter "D"
desire & drive- two qualities that must turn into one to have a start on a consistently competible Gun Dog
Dog- muddy slang for a two-legged, no good, finger-pokin dirtbag
dog- a four legged male Vizsla
The Letter "E"

elegant- a Vizsla breed trait
expert- what Vizsla people can turn into when they compete in more than one field trial and/more than one dog show, more than one National Field Trial, more than one National Specialty (See instant expert)

The Letter "F"
FC- an AKC Field Champion (accumulated ten points) title
FDSB- "Field Dog Stud Book" is the registry for AF & AFTCA which is the Professionals & AFTCA which is the Amateur Field Trialers alon with various other field competitions based on different standards than AF or AFTCA.
fetch- means FETCH.
Field Trial- an event in the field where competitors per Stake are braced together by two judges & placements are officially recorded to the appropriate registry.
The Letter "G"

Garmin- most pivotal FT training tool since the advent of
the electric collar. most pivotal FT/hunting/training safety factor ever.
Gonzetta- first name used for dlb by SITmUP business partner

The Letter "H"
happy- A Vizsla Breed trait
Hungarian Agar- Greyhound breed thought by more than a few to be a Vizsla ancestor
The Letter "I"

intelligent- A Vizsla Breed trait
instant expert- what Vizsla people can turn into when they compete in one field trial and/or one dog show, and/or one National Field Trial and/or one National Specialty

The Letter "J"
Jack of All Trades- field trial bird planter
The Letter "K"

kangaroo- A young & enthusiastic Vizsla hunting in tall grass
& bouncing straight up to see owner, game or path to take
Kopo- means Hound in some European cultures, could possibly be a Vizsla ancestor

The Letter "L"
Lemgo Pointer- another possible Vizsla ancestors that was in close proximity to Hungarian Vizslas
Licensed- versus "sanctioned" as in wins are recorded per dog
for AKC Championship titles.
The Letter "M"

Magyar- Hungarians
magyar- what every owner of a Vizsla turns into
Magyarization- the process of changing all not Hungarian into Hungarian.
magyarization- what happens to every Vizsla owner after becoming occupied
Master Breeder- No such thing unless Dr Ivan Osborn can be counted with his 40 imports.
master breeder- what every Vizsla makes their owner think they are
monster- a perfectly normal Vizsla puppy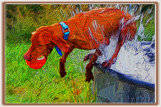 The Letter "N"
NAFC- National Amateur Field Champion
NFC- National Field Champion
NGDC- National Gun Dog Champion
NVA- National Vizsla Association
The Letter "O"

online- on the web
oxymoron- similar to buck fever in hunting enthusiasts. It is what many FTers turn into when they get to a field trial & their testosterone overloads (happens to women too).

The Letter "P"
Pannonian Hound- hunting breed that lived in the Carpathian Mountains that could be another ancestor of the Vizsla
pedigree- a Vizsla's family tree
pitter-patter- type of front end movement found on Vizslas with not enough bone & muscle for frame & a front end too far forward
The Letter "Q"

QOL- Qualifying On Line (different from online) Vizslas must be examined by a licensed dog show judge before competing in VCA National Field Events

The Letter "R"
repository- a place that houses treasures & the beauty within
"rescue"- means that you take either yours and/or others dogs back
Rescue= organization usually of regional dog breed clubs that Animal Shelters, etc contact breed representatives to take charge of a particular dog of that breed. Many Rescue groups will not rescue their breed mixes.
The Letter "S"

Sarga- the true color of the Vizsla (much like the crust of bread)
Sentinel- Scout
SITmUP- Stuck In The Mud Underground Publishing
single track- the pattern most desired in movement when viewed from the front and/or rear. There is a median line & the inside of rear feet should touch the line, yet not toe the line (See "crossing over")
Specialty- a very special dog show for one breed
Sweepstakes- popular competition in addition to breed judging for juniors and/or veterans, not judged for points but do win money

The Letter "T"
Triple Champion- The Vizsla was first dog to earn title
Turkish Hound- most likely breed to be one of the Vizsla's ancestor
The Letter "U"

Underground- possible mud and/or quicksand

The Letter "V"
VCA- Vizsla Club of America
velcro- a Vizsla Breed trait
versatility-nimbly able to do many different tasks whilst pursuing fur & feather as hunter & family companion, whenever, however needed.
Versatility- VCA competition for field, show & obedience
vizsla- Inside of Hungary is a pointing breed, Outside of Hungary is a smooth version of the Hungarian Vizsla dog breed; means to seek
Vizsla, Hungary- an old town in Hungary many believe establishes the Vizsla before the thirteenth century. While that may be true, as in there were hunting breeds that pointed (Vizsla "In Hungary") but the city is more likely to be named after a group of people called "seekers".
vlivk- a typo that stuck in the mud& became its own word. It means "Click on the link, dummy (wink)
V'Zine- Online Vizsla Magazine
The Letter "W"

WHV- Wirehaired Vizsla

The Letters "X, Y & Z"
X- Stands for the number "10" when following European dog names
yearn- what your Vizsla does when you are gone; breed trait
yellow- the English word used for the Vizsla color outside of Hungary
(translating issue that has confused many for decades)
zealous- the ever present & best Vizsla breed trait
This website composes the private and public collections & lifetime investments of Vizslak peoples around the world with an initial focus on the USA & the field because that is the information SITmUP has processed....so far. Please "respect" our collective work on thevizslaksentinel.com and do not use in an unexpected way. The individual collections form the cornerstones of every Vizsla living and owned by "you" today.
If respected by the readers, the information on this website will remain & grow.
Credit should be given by providing the appropriate Sentinel URL
when quotes or articles are republished.



"The Vizslak Sentinel " (c) Jan 13, 2009
Product of Stuck In The mud Underground Publishing (SITmUP)