VIZSLA REFLECTIONS…ON GOLDEN POND
1960-2010 By Diana Boggs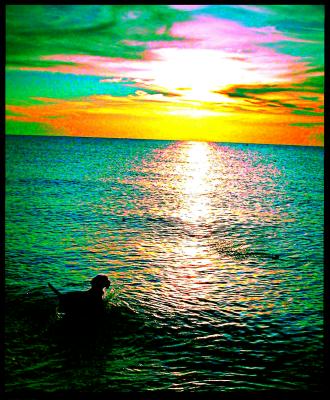 "Water is life's mater and matrix, mother and medium. There is no life without water."
Albert Szent-Gyorgyi, Hungarian Biochemist 1893-1986
The AKC Vizsla and Vizsla Club of America celebrated their Fiftieth Anniversary in Oconomowoc, Wisconsin September 27-30 and Fort Robinson, Nebraska 10/03-10/11 for field. AKC officially recognized the breed on November 25, 1960 after five-hundred 3-generation Vizsla pedigrees were submitted. The breed name "Magyar Vizsla" was changed to "Vizsla". "The Magyar Vizsla Club of America, Inc" changed its name to "Vizsla Club of America" and was incorporated November 26, 1960. Elisabeth Mihalyi, Hungarian repatriated artiste, is Member #1. What followed AKC breed recognition were cascading amber waves of Vizsla enthusiasts flooding club service, breed ambassadorship, competition and health interests becoming..
The American Kennel Club's…
· MOST decorated dog, "Chartay"
· ONLY Quintuple Champion, "Chartay"
· FIRST Triple Champion, "Kutya"
· WINNINGEST Sporting Group field-trial dog, "Pistol"
· FIRST Amateur Field Champion, "Windy"
· ONLY Sporting club where national fieldsters adhere to Standard (QOL)
· VCA PILOTS with health & integrity (OFA/DNA)
Golden Vizsla treasures are claimed by Magyar to be older than a thousand years. The breed has always, regardless of country or decade, attracted society's educated, most passionate as well as very opinionated peoples regardless of country, century or decade. The Vizsla was created to be a multi-purpose hunting breed, but has always been a specialist on game birds. In fact the breed is much more than a multi-purpose hunting breed that specializes in birds. Vizslas are their family's life-blood, ready to fulfill whatever task desired. Magyar Vizslas flourished and survived through revolutions, occupations and wars…because of nationalism.
From 1880 to 1920 the English Pointer & Irish Setter were crossbred to the Vizsla to such an extent that when the call went out during WWI for purebred Vizslas, only a handful remained. In 1920 the Treaty of Trianon broke apart Hungary leaving Hungarians and their Vizslas living outside of Hungary, which further jeopardized breed and cultural existence.
May 29, 1920 marks the birth of the modern-day Vizsla when Hungarian comrades gathered in Kaposvar to form the Orszagos Kennel Club because the breed had only 6 to 12 purebred Vizslas. Previously breeding focused on what dogs did. After 1920 breeding focused on what a Vizsla did AND looked like. The studbook was closed 1936-1939.
The 1920 Treaty of Trianon became the focal point that created several different registries of Vizslas. It is ironic during WWII that the newer registries survived and the Orszagos studbooks were lost forever meant breed credibility did not come from the mother country. The Russians onslaught of 1945 destroyed 90% of the Magyar dogs making it twice in the twentieth century Vizslas narrowly escaped extinction.
Displaced Vizslas (Sari/2 pups) arrived in Kansas City October 1950 to new owners, Frank & Jane Tallman, who were friends of President Harry Truman. Without those Presidential connections there would have been no Vizsla recognized by FDSB (1954) or AKC (1960) in the US. The newly arrived trio exhibited Vizsla hunting abilities at the International Kennel Club indoor field trial in March 1951. They created quite a stir with their gleaming, russet coats stealing center stage. Dr Ivan Osborn, Charles Hunt, Jack Hatfield and William Olsen would first see the Vizsla there. Those four men, plus Tallman would import over seventy Vizslas, the true foundation of the American Vizsla who competes today in FDSB field trials, dual registry field trials and AKC competitions.
It was determined early in the fifties that the American Kennel Club offered the greatest diversity & the most opportunities for Vizsla owners. Fledgling pioneers also realized that it was through the field FIRST, the breed would gain the type of owners the Vizsla would need to have longevity. Frank Tallman was the first to register his dogs with the Field Dog Stud Book. December 10, 1954 FDSB registrations were formally accepted and the only existing Vizsla Club in the world began field trialing. The first USA Vizsla regional field trial was held in late September of 1955 at Fort Snelling, Minnesota and had a gallery of 150 horses. The MVCOA hosted its first National field trial in May of 1956 and the club held bi-annual field trials under the FDSB umbrella. By 1960 the FDSB had registered nearly 1,300 Vizslas.
During the sixties AKC Vizsla fanciers joined multiple clubs, field-trialed, did conformation AND obedience. While lacking in experience, fanciers made up for it with unbridled enthusiasm, improving performances for fifty years until today's Vizslas are competitive at all-breed field trials or dog shows. Golden ponds became shimmering golden lakes.
The cornerstones of guardianship for parent clubs are function, health and integrity, something the VCA has long been a leader. Today's breeders are also encouraged by the VCA to do CHIC, Penn Hip & Rescue. The VCA was a true leader with hip dysplasia. On May 15, 1961 the newly crowned AKC parent club published "Ramifications of Hip Dysplasia" to all breeds and encouraged sixties Vizsla breeders to only use breeding stock with passing scores. Their own Dr Ivan Osborn DVM (President) was the author. The VCA couldn't print enough pamphlets. By using OFA as a health tool for nearly five decades Vizsla hip dysplasia has dwindled to approximately 7%.
Frank Tallman (d 1977) became the "Father of the Vizsla" by breeding the first family of Vizslas, incorporating the Magyar Vizsla Club of America, bringing to USA breeders a Code of Ethics before the club was formed & finishing groundwork for formation of the USA dog club. Frank was not to know of great AKC Vizsla events that followed the breed he imported and dog club he formed. Without doubt, why fanciers have the truly versatile Vizsla of today was Tallman believing; then sharing Magyar lore across the great golden pond which declared gilded treasure was always created to be as valuable as desired, when-ever desired, where-ever desired, as long as desired from sea to shining sea.
© V=Versatile I=Intelligent Z=Zealous S=Staunch L=Loving A=Always © 1965 by Hilda Boggs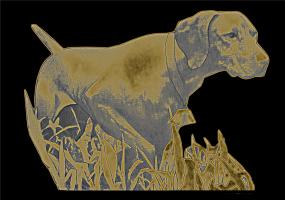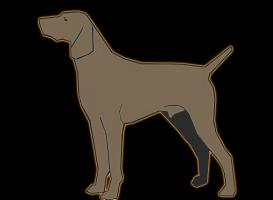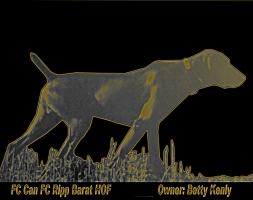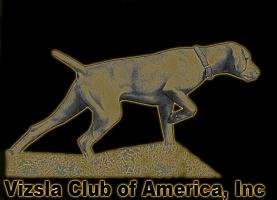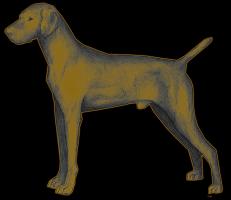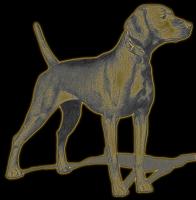 "Darocz" 1st Dual CH, "Miclos" 1st Show CH, "Ripp" winner first Natl AKC FT
"Haans" Fountainhead Sire, "Dalos" 1st USA BIS, "Pistol" AKC Winningest FT dog
artwork by dlb
Bibliography