BIRTH OF A FIELD TRIAL MAN
(appeared in fifties AMERICAN FIELD)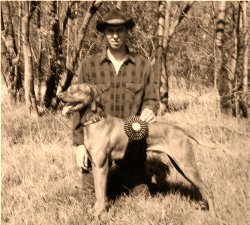 How does a man get to be a field trial "addict"? Is he born that way or is it something that develops later in life? At a local one-hour course trial last fall, I saw the birth of a field trial man. It is something I will never forget.
This was a family trial, that is, the entrants brought their families with them and made it a regular get-together. Lunch baskets were much in evidence and the youngsters played with an old football between braces, all but one youngster. This boy, thirteen or fourteen years old, had a young dog entered in the puppy stakes and was acting very much the way he thought an owner should act. No nonsense with a football for him.
The boy's father acted as his handler and all during the running of the stake you could see that the youngster was on pins and needles. He kept a wary eye on the performances turned in by the other entries and almost burst with excitement when his own brace was called.
At the finish of the running, the boy's dog was awarded second place. The winners and other members of the club gathered around the secretary to receive the ribbons and small checks, which went to the successful entries. The boy joined the group and stepped forward very seriously when his name was called. He accepted the congratulations of the group gravely and hardly cracked a smile. But, as soon as he could back away, he went running to0 his family covering five feet at every jump and yelling like an Indian every time he hit the ground.
Later, as I was leaving, I saw the youngster kneeling on the wet ground rubbing his dog with a piece of clean burlap sacking. It seemed as if the two were talking to each other; no doubt planning the next campaign and dreaming of a future full of ribbons, checks and trophies.
And so, though we grieve and rightly so as the old-timers pass on, we can count on the youngsters to perpetuate field trials and the breeding of high-class bird dogs. Apparently, in our own breeding of a far higher type the love for a good dog is being passed on as a prepotent trait to the coming generation Edward Goemaat Arlington, VA