QUALIFYING ON LINE,
A Tradition By Clubs For The Hungarian Vizsla
By Diana Boggs © 2006
(as appeared in VIZSLA NEWS 2007)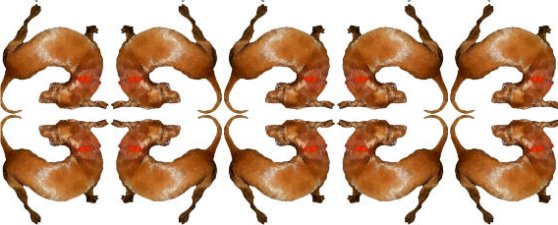 Photo/Graphic by sb
The Vizsla Club of America first had QOL or Qualifying On Line in Connecticut at the 1991 National Events. QOL is defined as "All dogs running in the National Field Trial must be free of disqualifying faults as stated in the Vizsla Standard recognized by the American Kennel Club." The VCA proposed QOL to AKC annually for ten years before it was officially approved and the Vizsla Club of America membership voted for QOL in….1990. The VCA majority membership must vote on QOL for the practice to be disbanded.
As possibly the world's oldest pointing breed, the Vizsla has evolved from confusing, billowing war torn mists of time. QOL's true birth and the reasons for it, has roots firmly embedded within a rich tapestry of Magyar and US club tradition. Little did the VCA collectively realize during the eighties that QOL and establishing of a "Vizsla" Gun Dog job description read aloud to Judges previous to the start of the NFC/NAFC judges, was a part of Magyar history and directly proportional to Hungarian "Master Breeder" along with US Vizsla pioneering desires during the fifties, sixties to today's VCA members.
QOL was a nineties band-aid initiated to impede US crossbreeding for field trial blue, partly because the cost of satisfactorily "proving" a lack of field breeding ethics had happened, that clearly had happened, did not easily exist. As a parent guardian of a purebred sporting club responsible to AKC, the VCA was required to provide ethical competition, its membership with thoughtful guidance and the breed with purebred integrity from a closed AKC registry (1960) and the preceding FDSB and club studbook (fifties). QOL became a sharply edged sword that has sliced through camaraderie, sporting conduct on and off field, credibility and ethics of all who chose to nationally field trial through legislative, executive and judicial process.
In old world Hungary, field trials and host clubs covered the entire scope of great qualities for hunting competition. Competing sporting breeds hunted, tracked, flushed, retrieved in water, land AND on their conformation at field trials. Dogs were also judged to the performing "standard" expected for that breed AND their respective breed Standard in conformation for correct breed type/structure.
***********************************************
A) Pertinent items in a document from old world Hungary for QOL are….
Field Trial Rules of Orszagos Magyar Kutyatorzskonyv (OMKT)
(Practiced from 1920-1945)
OBJECTIVE: Discovery and selection for breeding of outstanding dogs, popularization of hunting with a Vizsla, education and guidance of trainers and instructors.
Only Vizslas with attested pedigrees may run. Unless they are registered, their genealogical eligibility must be certified.
Before the beginning of the trial the Vizslas are subject to veterinary examination against the statement of which there is no appeal. The acting veterinarian's dog is excluded from the trial.
The judges are authorized to survey the field of dogs with regard to breed, character and appearance and dogs not meeting the requirements may be expelled not only from the trial, but also from breeding.
Frank Tallman, first US Magyar President imported Sari (pronounced Shari) in 1950 and incorporated the Magyar Vizsla Club of America shortly after is the most pivotal US Vizsla pioneer. He provided a high ethical standard for the fledgling US club. On March 15, 1952 the Vizsla and twelve other breeds became eligible to compete in AKC Miscellaneous classes. The Magyar Club was incorporated in Kansas City, Missouri in 1953.
The early US Vizsla breeder's creed was as follows
"As sponsors of a new breed in America, we assume the obligation to produce better puppies, strengthen present natural bird sense and pointing ability, develop stronger, healthier, bolder dogs, improve conformation, retain the affectionate, friendly disposition that makes the Vizsla distinctly different."
By June 14, 1951 Tallman had already drawn up a Code of Ethics based on old world heritage that was approved immediately following the first club meeting in 1954. The first regional VCA trial was held under American Field rules in September 1955 at Fort Snelling, Minnesota, a year and a half after the first Magyar club meeting.
B) Pertinent Magyar Vizsla Club (Proposed 1951, Approved 1953) COE items relating to QOL are…..
No member of the Vizsla Club or owner of a Vizsla shall at any time sell or otherwise convey Vizsla to any person not subscribing fully to this COE.
No owner or lessee of Vizsla bitch or stud that is sub-standard or mismarked shall use same as a brood matron or stud at any time.
Sub-standard stock shall be castrated or spayed and sold, given away as pets, or destroyed.
The Vizsla Club shall have a breeder's committee that for a period of five years from July 1, 1951 shall act as breed wardens for the Vizsla and all breeding shall be done on this committee's advice
As the Vizsla is a hunting dog of note, it is preferable that all stock be field trained and used, and proved in the field before false claims are made of ability. However, at no time shall owners of Vizslas be frowned upon for making bench show entries of their dogs, as this is necessary for "window dressing". Also, owners shall be encouraged to go into obedience work, where the intelligence of the breed can be well illustrated.
C) Pertinent items from the Constitution and ByLaws of the Magyar Vizsla Club of America (1953)
ARTICLE II (C ) to promote the breeding of Magyar Vizslas and to regulate the practices and methods of persons interested in breeding, registering, selling, purchasing, exhibiting and r4unning pure bred dogs of the Magyar breed: to prevent, detect and punish frauds, misleading statements and misrepresentations in connection therewith and to protect the interests of corporation members and of the Magyar Vizsla breed
In November of 1960 the Magyar Vizsla became the 115th recognized breed. The breed name was changed from Magyar Vizsla to Vizsla and the Magyar Vizsla Club of America changed to Vizsla Club of America.
D) Pertinent items for QOL from VCA 1960 Constitution and By-Laws are as follows.
SECTION II (A) to encourage and promote the breeding of purebred Vizslas and to do all possible to bring their natural qualities to perfection ( c ) to do all in its power to protect and advance the interests of the breed by encouraging sport6smanlike competition at dog shows, field trials, obedience trials.
The "concept" of QOL is just one tool to use through the ages and protects our proud heritage wishes for the breed. The path of any parent club can be bloodied over single concept issues. The key is to emerge bloodied, but still standing by looking at an entire picture. Credibility combined with integrity is not easy to achieve in one Vizsla activity, let alone viewing the entire picture of breeding for field, show, obedience, companion, temperament, trainability, health and service.
E) Pertinent Items For QOL from Today's VCA Constitution/Bylaws
(a) to encourage and promote quality in the breeding of purebred Vizslas and to do all possible to bring their natural qualities to perfection
(b) to urge members and breeders to accept the standard of the breed as approved by the American Kennel Club as the only
(c) to encourage and promote quality in the breeding of purebred Vizslas and to do all possible to bring their natural qualities to perfection;
F) Pertinent Items for QOL From Today's VCA Code of Ethics (COE)
Sportsmanship
VCA members shall always conduct themselves in a manner which will reflect credit upon themselves, their vizslas and the sport of purebred dogs, regardless of the location or circumstance; protect and advance the development of the vizsla through continued improvement of soundness, stable temperament, natural hunting ability and conformation as set forth in the official Vizsla Standard.
Health
VCA members shall maintain the best possible standard of canine health, cleanliness and veterinary care in an atmosphere conducive to the stable development of their dogs.
Breeding
VCA members shall breed only with the intention of improving the breed by breeding only those vizslas who conform to the standard as recognized by the American Kennel Club and who exhibit soundness,stable temperament and natural hunting ability. Further, VCA members shall breed only those dogs who have a DNA number and are free of serious hereditary defects (including epilepsy, progressive retinal atrophy, Von Willebrands, entropian and cranial muscular atrophy), and are over two years of age and have been x-rayed and OFA-certified as free from hip dysplasia.
************************
Today the US Vizsla is thriving, operating within the AKC auspices and proving Magyar and US ancient versatile tradition by possessing an individual who is THE most decorated dog in AKC history with a Quintuple Champion; and also has the first Triple Champion, along with numerous Dual, Field, Conformation, Obedience and Agility Champions. The Vizsla is stars in all forms of competition, service and companionship. The VCA as a US club has been a leader in Health with OFA and integrity with DNA following an age-old founding tradition requiring exalted field dogs, the dogs to focus on breeding, to be birdy, trainable, healthy and handsome.
Today the field trial Vizsla deftly competes with other continental breeds in snagging AKC points, achieved a high percentage of Dual Champions and activists and limelights in all field testing and hunting. 2006 bloomed with eight Dual Champions tying a previous record, 34 entries in the 2006 All Star Review, with a healthy and growing percentage of folks competing in AKC Hunt Tests. Hunt Tests AND conformation Champions are THE barometer of overall improvement in every AKC sporting breed because those activities are participated, with the show and field breeders providing the dogs for median and above Vizsla ownership.
All that….from fifteen years of Qualifying On Line ?
Nope…try nearly a couple hundred years of QOL with a better bite.
QOL has accomplished the original job it was put in place to do. Crossbreeding today in AKC field trials does not easily exist, and likely not at all. Is it time to get rid of QOL ? Does QOL actually help to play a role in breed improvement by focusing on field national event participators who are most likely to participate in breeding that improves ?
Should the Vizsla fraternity in the US still desire a field dog that looks, hunts and displays keen intelligence like a Vizsla should….according to our old world and US tradition at today's National Events ?
Should the field continue to lead the way in breed excellence ?
Are we likely to incur more overall breed success by keeping QOL because it does so very much more than impede crossbreeding ?
All questions, that only time and thoughtful choices can answer.
***********************************************
Documentation:
The above information was obtained from the below sources.
"Field Trial Rules of Orszagos Magyar Kutyatorzskonyv" (1920-1945
"Magyar Vizsla Club of America 1958-1960" by Marion Coffman
AKC Official Notice in AKC GAZETTE March 6, 1962
Articles of Incorporation, Magyar Vizsla Club of America (1953)
Code of Ethics, Magyar Vizsla Club of America (1951)
Constitution and ByLaws of Magyar Vizsla Club of America (1953)
Constitution and ByLaws of Vizsla Club of America (1960)
"The Vizsla" by BC Boggs circa 2000
"Versatile Vizsla by Marion Coffman circa
VCA Website, Chronology http://clubs.akc.org/vizsla/chronology.htm
VCA Website, Constitution/ByLaws http://clubs.akc.org/vizsla/constitution.htm
VCA Website, Code of Ethics http://clubs.akc.org/vizsla/ethics.htm
AKC Website, The First AKC Quintuple Champion http://www.akc.org/news/index.cfm?article_id=2976
This website composes the private and public collections & lifetime investments of Vizslak peoples around the world with an initial focus on the USA & the field because that is the information SITmUP has processed....so far. Please "respect" our collective work on thevizslaksentinel.com and do not use in an unexpected way. The individual collections form the cornerstones of every Vizsla living and owned by "you" today.
If respected by the readers, the information on this website will remain & grow.
Credit should be given by providing the appropriate Sentinel URL
when quotes or articles are republished.
"The Vizslak Sentinel " (c) Jan 13, 2009
Product of Stuck In The mud Underground Publishing (SITmUP)