Spring 1981 Miami Valley Vizsla Club Field Trial
(by unknown, VIZSLA FIELD, May 1981, Editor Bill Fisher)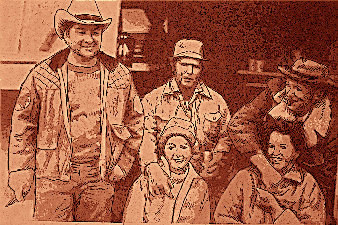 L to R: Carol Feder & Hilda Boggs
, Stan Weiss, Clif Boggs & Paul Rothan
And the rains came…..the cold came….the winds were ever present. Sounds like a Victorian novel you say, no, it was only a typical spring Kentucky weekend. The Lloyds Wildlife Area became muddy and lonely, with only a few hardy souls venturing out as a gallery.
The birds were delivered late after the Schroaders narrowly missed having a serious accident on the expressway. Everyone's concern over their safety (the birds and the Schroaders) was evident. Thanks to Clif Boggs and his thinking ahead, enough birds were on hand to start the trial and lasted up to the exact time the others arrived.
Paul Rothan and Cliff Boggs did a marvelous job as Chairman and Secretary, being senior members of the MVVC, they always put on a professional performance.
We had several new faces at our trial, some running a puppy or derby for the first time- William Hayward, Harry Mamassion and Linda Shubert. Welcome and we'll expect you again and again. Other newcomers were there to observe, or to pick up poppies; we had three litters there, Ron and Julia Bonar, Paul and Shirley Rothan and Bob and Sharon Schroader, all proud "grandparents". Ed and Kathy Kottmeier representing the new Gateway Vizsla Club from St Louis were attending their first field trial. Again, a hearty welcome, and we hope you will visit and participate with us at every opportunity.
In closing may I speak on behalf of all club members-thanks to the tireless efforts of our birdplanters, marshals, hospitality and our judges, Ken Crago and Mike Florian. You made our trial a success.
Now for the results.
AMATEUR GUN DOG
DC Behi Csecse Gyors Lab (Fleeta)- Clif Boggs
DC Fieldstone's Hey Duke- Stan Weiss
Ch Ceasar's Image Barging Buck- Geno Woehrle
Redef's TaTa Beki Khan- David Kayser
OPEN PUPPY
Beau Jangles II- Paul Rothan
Rebel Rouser Raketa Rozsda- Hank Rozanek
Semper Fi Chesty Puller- Al Lucas
Randy Bee's Rambling Man- Joe Manning
HM- Questover's Renaissance- Kristin Keller
OPEN DERBY
Rebel Rouser Yankee- Hank Rozanek
Bo Sassy Delibab- Del Seelye
Pride's Joy- Del Seelye
Rebel Rouser Rosey- Hank Rozanek
OPEN GUN DOG
1- Withheld
2- Clines Roguette Blitz
3- Ch Fieldstone's Tip Top Timmy
4- Maralee BB Duke David
OPEN LIMITED GUN DOG
Ch Fieldstone's Tip Top Timmy- Paul Rothan
Ch Camarily Rambling Rose CD- Bob Sloan
¾ Withheld
(Editor's notes dlb in italics) Please note there was no Amateur Limited Gun Dog Stake, which made that Championship even more difficult to obtain because of fewer opportunities.
Ch Fieldstone's Tip Top Timmy was destined to be an NAFC, DC and AFC. Redef's Tata Beki Khan became a FC and AFC. Ch Caesar's Image Barging Buck became a DC and AFC. Semper Fi Chesty Puller, Randy Bee's Rambling Man, Bo Sassy Delibab became DC and AFC's. Ch Camarily Rambling Rose CD was WB/BW at the national 79 Specialty judged by Miklos Farkashazi.
In the litters listed as present were several future Dual Champions and one future VCA HOFer.
1981 MVVC FT Caboose by dlb
This blurb appeared in VIZSLA FIELD, September 1981, Editor-Bill Fisher
MIAMI VALLEY VIZSLA CLUB FALL FIELD TRIAL
Cherrybend Pheasant Farm, Wilmington, Ohio
November 7/8 1981
This trial had previously been advertised to be held at Lloyd's Wildlife Area, Crittenden, Ky
Due to Deer Season at Lloyd's Wildlife Area at Crittenden, Kentucky the MVVC ft location has been changed. So I expect all those who begged for Cherrybend to show up. The grounds are beautiful with the gently rolling hills and is pheasant heaven. We will run five stakes with a possibility of concurrent courses one or both days. There is NO LIMIT on entries and All Vizsla entries will be accepted. This trial is perfect for Easterners to hit on the way backl from Nationals. Entries close November 3, 1981 Tuesday at 7pm. This will ? Possibly ? be another chance to beat the National Amateur Champion and National Champion. I am sure the MVVC will capture both crowns or die trying. At any rate, celebrate the end of another Field Trial season with us. For more information contact FT Secretary Clara Kayser, 616 Mercury Dr, Cincinnati, Ohio or FT Chairman Diana Boggs, 82 Dover Dr, Erlanger, Ky 41018.
This website composes the private and public collections & lifetime investments of Vizslak peoples around the world with an initial focus on the USA & the field because that is the information SITmUP has processed....so far. Please "respect" our collective work on thevizslaksentinel.com and do not use in an unexpected way. The individual collections form the cornerstones of every Vizsla living and owned by "you" today.
If respected by the readers, the information on this website will remain & grow.
Credit should be given by providing the appropriate Sentinel URL
when quotes or articles are republished.
"The Vizslak Sentinel " (c) Jan 13, 2009
Product of Stuck In The mud Underground Publishing (SITmUP)