JENO DUS
By Marion Coffman
VIZSLA NEWS Nov/Dec 1999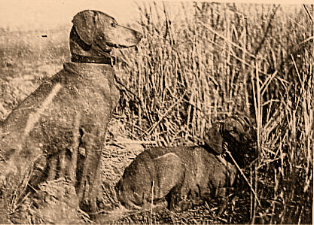 Dus' Kati, believed to have imported with Dus
From The Hunt Collection
History offers great insight into the evolution of the vizsla, and conveys the chronology of events leading to the breed we know today. By studying our breed's history, we learn how past events shaped the breed. The vizsla's Hungarian roots are key, but only one part of a bigger picture. It is also helpful to know the people who developed and nurtured the breed.
Colonel Jeno Dus was an officer in the Hungarian Cavalry. HE was also a breed expert with the Orszagos Vizsla Club. As part of his club duties, he was responsible for keeping breed records safe when the Russian army invaded Hungary in 1944. About half a million Hungarians lost their lives in the conflict with the Russian army.
Colonel Dus was able to escape Hungary. But before he left, he buried all the breeding records of the Hungarian Vizsla Club. They were never recovered, lost forever, leaving future breeders with the problems of identifying and registering rescued and imported dogs. In the years since then, we can only wonder what the impact may have been if the first vizsla breeders in America had had access to those records and pedigrees. Would it have given them an easier, faster route to acceptance ? Or did it help those visionaries because they were forced to more fully understand the vizsla via the slower method of selective breeding.
Colonel Dus was a welcomed addition to the vizsla breeders in this country. He was a gentleman who probably knew more about the Magyar vizsla-breed history, breeding, genealogy, performance abilities and limitations, and character than any other person living at that time. He moved to the small town of Hamburg, NY in the early 1950's and earned his living as a piano tuner and teacher. He became an active breeder and field trainer. He established his kennel and contacted other vizsla owners and breeders developed a mutual respect and friendship despite a language barrier.
Col Dus joined the Magyar Vizsla Club of America in July 1954, and acted as their consulting expert. What follows is part of a speech he gave at a club meeting in May 1955. This speech was originally printed in the May/June 1955 VIZSLA NEWS.
"To start with some genealogy, well, I am the offspring of a typical Hungarian middle-class family whose history during long centuries has had a professional background; landed estates, tribunal service, soldiering and hunting. My father, too, was a landowner and general manager of an archducal landed property. No wonder that the close contact with Nature' s flora and fauna made me a worshiper of field and enthusiast of horses and dogs.
Linked with my early Nimrodic trend was a keen penchant for music as transmitted by the violin's strings and the piano's chords. Later, I developed the desire to join the cadets which, in my eyes, never had a routine career but more adventures for its objectives. I was under 17 years of age when, with my bayonet hidden in my shirt and my violin under my arm, I ran away from the military college to get to America.
Well, not I but my captors, are to blame for the long delay of 45 years in my arrival in this country. Still, this event later proved a good thing, because after those 45 years spent, my violin became instrumental in my landing here as I was ineligible due to age, and had to give up my hopes for the new world, when, one day, while conducting my string orchestra in a Bavarian railroad station, we were heard by Reverend Fletcher, the representative of the Presbyterian churches in the US. HE later joined forces with Reverend Webber, my sponsor in Hamburg, NY and between the two of them they succeeded in opening the American gates for me.
Between those two periods I devoted my life to my duties as a commissioned Hungarian cavalry officer in peace time as well as in the two World Wars. Fighting Serbs, Hussians and Italians I was repeatedly wounded before being captured by the Italians. After a series of ill-fated attempts to escape, my life was saved by my camp commandant, who became a faithful friend. The years between the two wars bore various attempts to survive loss of my property and position. I even wheeled freights of fuel that loaded clipper ships.
Wife and son came, to give a peaceful color to my life, which became richer by a grand move in the Hungarian vizsla field. For many years I had made plenty of experiments with the most popular kinds of dogs. I bred, trained and used shepherds, Weimaraners, English setters and pointers. Yet in 1919, by end of WWI the revival of the Magyar Vizsla cult had turned my attention to this homebred. At first reluctantly, then with more and more confidence, I tried to explore and utilize its manifest and latest assets. Neither the propaganda nor the Hungarian earmark played the convincing role. Comparisons with my earlier favorites, and ample experience with the new breed made me first, a vizsla enthusiast and then a trainer an breeder.
In the long rum I contributed to the operation of the National Vizsla Club as a Genealogy Registrar and Breed Supervisor.
Yet, in the course of two decades in a vanquished and mutilated Hungary, an everlasting cloud of suspense stole more and more sunshine. And the second WW put an end to a self-determined life for both this Magyar individual and the Hungarian state. Along with the war, the country also lost and became an easy prey for Bolshevik oppression. After achieving some quixotic missions, as dictated by utter despair, nothing was left to me but my vizsla bitch, Jutka, an offspring of my Kati XIV litter.
The rest is well-known to all of you; I made efforts to get Jutka here and to start the revival of my old kennel in my adopted country. This work is still going on.
There are two basic truths to note for everybody who chooses hunting with vizslas. The first; you must not only love your worthy dog like a loyal companion but you must also consider yourself a devout worshiper of nature. Harmoey with your working backgrounds is as indispensable as accord with your helpful friend. The second; talented vizslas are born but efficient ones are drilled, trained and educated. So we may expect miraculous accomplishments, yet no miracles. From the very beginning of course, we set objectives for our educational work. These objectives should be in full agreement with the natural trend and reasonable capacity of our dog. This goes both for the physical and mental abilities. As we well know, the common wish of the huntsman is to keep his vizsla in permanent touch with him while retrieving. His practical method decides whether the distance is short, medium or long. Another requirement holds that no movement of game and no shooting must cause the vizsla to break and rush. And a third; at command, the killed or wounded game is to be found and brought. These three demands involve also the main maneuvers of the vizsla. It goes without saying that the primary requirement always remains: strict and prompt obedience without delay. If ordered, they must dash into the thickest bushes, reed bank, and the deepest ditch or even climb a tree. It is also their duty to keep quiet. A gun dog running wild at any noise or motion, or grabbing the game without command, is a nuisance. The dog has to bear in mind his master's desires, and not all his; all this without waiting for his everlasting whistle. On the other hand we should be patient, free of greed and intent to disburden our dog from superfluous fatigue. In most cases success is due to the perfect training of the vizsla; yet it also happens that the work of a well-trained vizsla is made futile for lack of understanding on the part of the hunter. So, along with educating our dog, goes the education of a good vizsla master. If we intend to educate the perfect Vizsla, we must pay attention to the evolution of her psychology too. Any breed has its special abilities and accordingly, its specific task. This task cannot be accomplished unless we recognize and unfold the latent abilities. To succeed in this work, we have to study our vizsla. In doing so we surely find the sources of his joy, fear, fury, affection, confidence, contentedness and endeavor. God has created the dog to be our companion. Ladies and Gentlemen, I have come to the end of my talk. Its essence holds that only a man who feels a close contact to nature's woods, fields, flowers, and animals, can extract from his dog a perfectly working knowledge and will to work. Ways and means of the training lead to success only through the channels of love and understanding. I am truly convinced that you will agree with me in the methods showing how to promote the vizsla cause. And I am also convinced that you, my dear friends, who made a present of your rich American fields to our exiled favorite, will at the same time make a present of your affection and goodwill for the sake of the vizsla's successful naturalization.
Postscript. Jeno Dus was severely injured in an automobile accident in Lackawanna, NY on Nov 4, 1962. He died of his injuries on Nov 26.
This website composes the private and public collections & lifetime investments of Vizslak peoples around the world with an initial focus on the USA & the field because that is the information SITmUP has processed....so far. Please "respect" our collective work on thevizslaksentinel.com and do not use in an unexpected way. The individual collections form the cornerstones of every Vizsla living and owned by "you" today.
If respected by the readers, the information on this website will remain & grow.
Credit should be given by providing the appropriate Sentinel URL
when quotes or articles are republished.
"The Vizslak Sentinel " (c) Jan 13, 2009
Product of Stuck In The mud Underground Publishing (SITmUP)