Which Is More Important ?
Class ?? or Juvie Top Ten ???
By Diana Boggs © 2007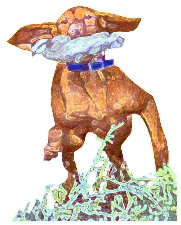 Drawing & Graphic by dlb
Since its inception in the early seventies (January VIZSLA NEWS)(by Phil Rosenberg from the Vizsla Club of Illinois) Top Tens have created much discussion. Controversy has reigned surrounding Top Tens' true value in the high class bird dog world. While all Top Tens are important, they are merely tools in determining the "class" of the individuals one is competing with. is more important for separating first whether the juvenile has the future of a high class Gun Dog or All-Age dog or not at all.
Field trial dogs MUST mature with experience & it helps greatly to compete regularly, plus striving for Top Tens as a juvie. There is no substitute for "experience" even with dogs of signs of great early class.
From the beginning, when class was measured with the dog to now; class is currently determined as a TEAM composed of dog, handler AND scout. Today's competing Derby & Gun Dogs are more likely to not measure up to the then competing glory if only the dog, & not a team, is the locomotive for the Derby Train.
Derby is a unique stake and must be judged on the future promise of an AKC Gun Dog or AKC All-Age dog with neither being given preference. It is my opinion, however, that if there are two high class individuals in Derby with one each displaying good Gun Dog and good All-Age abilities for the entire portion of the stake, the All-Age dog "should" get the nod. I would add just because a dog has All-Age capabilities, doesn't mean they are a good All-Ager just that there are too few genuine Vizsla All-Agers and that trait should be rewarded within competition where/when appropriate. That would be Derby and adult All-Age.
From 1981 to 1986 Bill Fisher published a small magazine called VIZSLA FIELD. Today the National Vizsla Association claims that magazine as their own. Back then Jim Busch did the VIZSLA NEWS Top Tens which included his narratives. Right or wrong, Jim's "epistle missiles" ;-) were never indifferent and always designed to make people think when they looked into the Top Ten listings. Jim turned black & white figures into quite a story & greatly raised the interest of many who thought about things like never before.
Jim Busch has never been a blusching wallflower. He was of the opinion back then that Puppy/Derby Top Ten should not exist. He maintained for many documented reasons that Puppy/Derby should have an Honor Roll and that the "class" one competed in was a better tool to use in gauging the quality of that "class". Jim clearly recognized that Top Tens were indicative of future great happenings, particularly of the National variety.
While Top Tens are of paramount importance, they can only identify so many dogs as class of that peer group, when in fact the appropriate Top Tens do not determine the class of their generation, necessarily. Honor Rolls of Derby & Gun Dog stake wins is what determines DEPTH of every class.
I used the class of 83 because that is the class that my own DC was in & I tended to pay more attention. You will find him nowhere on the then Juvie Top Ten or Puppy Derby Honor Roll. But still he became a high class Gun Dog, competed with, and beat individuals within his "class". Those Top Tenners and those Puppy/Derby Honor Rollees set the bar for the rest to achieve. I am quite sure my own dog was not the only "Class of 83" successful individual who didn't get Puppy or Derby wins but rose to cover up glory at a later date. That might not have happened had he not gotten experience at the Puppy & Derby levels.
VIZSLA FIELD PUPPY DERBY HONOR ROLL
This Puppy Derby Honor Roll comes from VIZSLA FIELD August, 1983. The names and the then earned titles are in all capital letters. I will need help to determine some individuals needing additional information, like whether they successfully made the crossover to Gun Dog, even if they didn't acquire a Field Championship. If there is an asterisk present and someone has knowledge of that dog successfully crossing over to Gun Dog, please fill in. I apologize in advance for addition errors. All that scrolling around on k9info made me dizzy ;-))
En total from the FT class of 83 we have 3 National Champions, three Hall of Famers, seven Dual Champions, 20 FC/AFC and six show Champions. That is a whole lot more information than one can ever find in a juvie Top Ten. While Top Tens are important, they are simply just one tool used to evaluate the future, particularly National and National Amateur Field Champions. These records are from 25 years ago and clearly a majority of Puppy/Derby winners became VERY successful Gun Dogs. Three National Champions, Three Hall of Famers, Seven Dual Champions is a class to take great pride in belonging to……
The Derbies who were "successful" Gun Dogs are bolded. The word "successful" is defined here as broke to wing & shot enough that they competed somewhere as Gun Dogs. All of the dogs below either won Puppy and/or Derby stakes. It is easy to see in this parallel of such depth of class how Top Tens can't hold enough ranking class for the readers & why an Honor Roll is a more adept tool of judging class.
All that said....The Honor Roll in turn makes Top Tens that much more important. Experience matters to display the cream of the crop. Do not pull your Puppy & Derby winners unless your dog develops bad habits & those bad habits are rewarded within field trialing.
CH GEZENGUS- * I am reasonably sure that Gezengus made the crossover to GD. His owner was very involved in dual eventing. His pedigree has two FC's with both three generations back and produced five Show Champions.
SAM's THUNDER * Think this guy made a successful crossover too. He was sired by DC Sir Amber Sam out of Randy's Misty Morn. Sam's littermates or full bro/sis were AFC Field Ways Gold Key, DC Pleasant Run Gunner, Ch AFC NFC Pleasant Run Mr Stubbs (almost a Dual), NFC NAFC FC AFC Sam's Starbuck. Sam's Thunder was not used at stud.
NFC FC REBEL ROUSER SMOKEY'S BANDIT- Smokey obviously made the crossover since he added National Field Championships to his resume. His pedigree is RR Bandieto and another RR untitled bitch. He sired FC AFC Fieldways Nitro Flash, FC AFC Nitro's Just For The Judge, two CD's, One SH, one VC and one MH
F K RIVENDELL REAGHAN HOF- Reaghan is a HOF Dual Champion sired by a Dual Champion, dam a show bitch. Reaghan sired sixteen Show Ch's, two DC, fourteen JH, seven SH, one MH, one OTCH, one TC, six CD, and numerous other high class obedience titles.
NSTRA CH ASKIM HOF- Askim became a Dual, National Derby winner and HOFer, along with a National NSTRA title. Handled to Championship on foot. His pedigree is show Championship stock with field ability top and bottom. He sired two Duals, one FC, one AFC, twenty show Champions, twenty-two Hunt Test titles, five Obedience titled dogs, one ROM
DC AFC BOYD's JR OF FUTAKI- Jr became a DC and AFC. His pedigree is show titled with field flavor. He sired two Champions, one MH.
FUTAKI BRATT- * sired by a NAFC/FC/AFC and dammed by field stock,. She did get an obedience title and was bred to Reaghan.
TROOPER's STAUNCH STANDISH- Sired/dammed by Dual quality.
J PACES BALL OF FIRE sired by Upwind Kis Trefa and out of Fieldstone (Rothans) Pretty sure that Annie made the GD crossover. She did get her show Championship
KAHALA's LADY DIANA * Think she made the crossover. Sired by a NFC DC, Dam is sired by DC NFC and dammed by DC AFC 2XNFC NAFC bitch. Bred but produced no titles
CH MEHAGIAN's PEP RALLY * Think she made the crossover. Sired by NFC NAFC DC AFC, Dammed by NFC NAFC DC AFC, Produced one Ch, one JH
FC AFC CAS SEE's CHARLA acquired her FC and AFC, sired by Deacon, dam FC, produced one Dual, one NAFC, 2xNAFC, two Champions, one FC and three AFC's
FC AFC REBEL ROUSER RECKLESS- became a FC and AFC, pedigree is Rebel Rouser, sired two DC, two show CH, three AFC and one National Amateur Field Champion
REBEL ROUSER JAKE II -* think he made the crossover but he shows up nowhere in k9info database. The owner became a ft judge which meant he had to have five GD placements and I think Jake was his first dog.
CH LORAC's LIMITED EDITION pedigree Behi, produced 3 show Champions, Derby Winner
FC AFC WINNIESHIEK ROCKET –acquired FC and AFC, pedigree FC/AFC, sired no one that got into k9info
CIGANY ROZIKA- * sired by Sir Amber Sam, does not show up on k9info (was winner of 2P,3D)
DC AFC CAMARILY SANDMAN- pedigree of DC NFC NAFC, became a DC and AFC, sired four DC, five show CH, four FC, seven AFC

REDWINGS ABBEY- * littermate to Sandman, *

WARBONNET's ROCKY- * littermate to Sandman,

SHOTGUN HONEYSUCKLE ROSE- * littermate to Sandman,

REBEL ROUSER ROWDY- * littermate to Smokeys Bandit, not listed on k9info, There is a RR Rowdy II, with differentbreeding

GOLDEN BOYS ZACHARIAH- * out of Rebel Rouser and Warbonnet's Fancy, No OFA, not bred or didn't produce
MICHELLE's JAZZMAN- * made the crossover, owned by Bill Elliot, does not appear on k9info
JULIANA's KRISTA * California breeding, does not appear on k9info
JULIANA's TONI TOO * California breeding, does not appear on k9info
AFC CAZADOR PAJARO – acquired his AFC, sired by ET/Samantha, produced nada on k9info
NFC NAFC DC AFC UPWIND SELKIE- became DC AFC NFC NAFC, sired one Ch, four HT titles
DC AFC FUTAKI MARCI became DC AFC, no get of record
DC REBEL ROUSER ET HOF- became DC and HOF, endless records of field and show titles
CH POPPLE DUNGEON PAUL REVERE- became show CH and successful GD, sired nine show Ch, two DC
DC AFC POPPLE DUNGEON WHAT A DICKENS- became a DC and AFC, handled to Championship on foot, sired four with one CD
ARRA's SMITH- * Out of Winnishiek/Spring Creek , No OFA, no descendants listed
CH REBEL ROUSER HURRICAIN * Became a show Ch. I think he made the GD crossover, No OFA, no descendants listed
FC AFC JULIANA's GYORGY –became FC and AFC, produced 3 individuals who made it onto k9info
NFC FC AFC REBEL ROUSER STARR – became FC AFC and NFC, produced two FC and two AFC
REBEL ROUSER MAGGIE MAE littermate to Starr, no OFA produced seven untitled individuals
CH CAMARILY HEY DUKE's REPEATER * I think this guy made the crossover and his show Championship, produced one untitled
OTTERCREEK MARIGOLD * she appears nowhere in k9info
KAHALA COVE HELEN * does not appear on k9info

AFC KEMP's COPPER PENNY- acquired her AFC, produced five untitled individuals
As you can see only four (and probably less) Puppy/Derby winners did not make the crossover to Gun Dog. This certainly establishes the advantage for a regular Derby campaign (more than local FTs) with that dog making the crossover successfully and in this class's case...with great quality in many individuals. Top Ten are a tool, a valuable tool, but it isn't the only tool for evaluating the various classes of "class".
My next task when I get around to adding to this article is to locate all of the 1983 Top Ten & follow where those dogs led compared to the non-Top Tenners. Catch you down a dirt road. dlb
This website composes the private and public collections & lifetime investments of Vizslak peoples around the world with an initial focus on the USA & the field because that is the information SITmUP has processed....so far. Please "respect" our collective work on thevizslaksentinel.com and do not use in an unexpected way. The individual collections form the cornerstones of every Vizsla living and owned by "you" today.
If respected by the readers, the information on this website will remain & grow.
Credit should be given by providing the appropriate Sentinel URL
when quotes or articles are republished.
"The Vizslak Sentinel " (c) Jan 13, 2009
Product of Stuck In The mud Underground Publishing (SITmUP)