Behi/Paradox VIZSLA NEWS Cover & 1 Page Ad
(Inset /Story Below)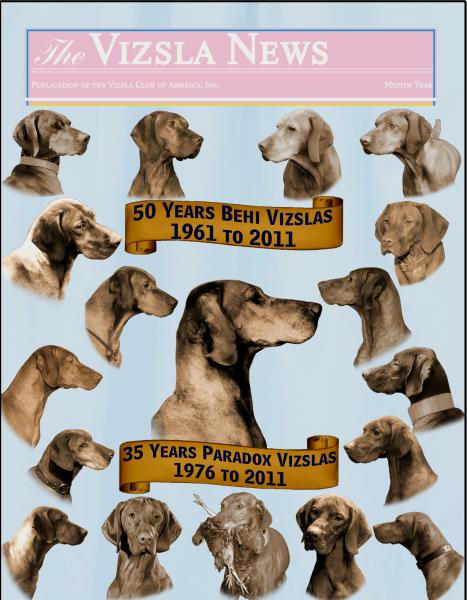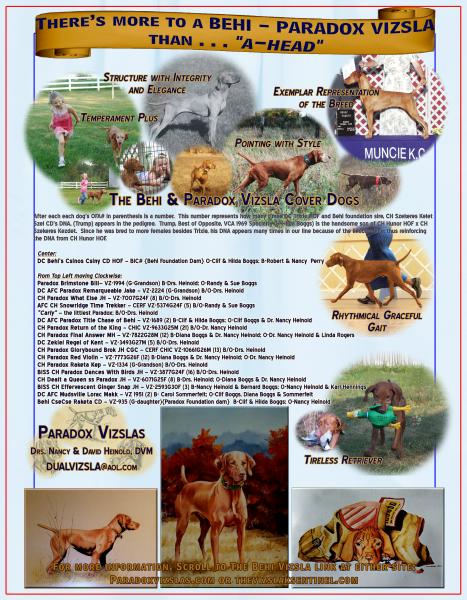 INSET STORY for "Vizsla News"
Our cover features Vizslas descended from "Trixie HOF," AND her granddaughter "Mimi," Trixie is DC Behi's Csinos Csiny CD HOF (Behi Foundation) & Mimi is Behi CseCse Raketa (Paradox Foundation). These two so expressed the brood bitch's ultimate quality of "paying it forward" (DNA),…they became genetically immortal.
Behi Vizslas, Clif & Hilda Boggs (d2009) celebrate 50 years of staying ahead of the game by selectively breeding purebred Vizslas for the correct head, body type & field desire combined with superior intelligence, health & temperament." Behi Vizslas were heavily linebred on CH Hunor HOF X Haans v Selle HOF for 5 decades. "Paying it forward" became a way of life by welcoming all to heart & hearth, breed promotion, strategically placing 4 children into clubs, activities & breeding programs. Due to Boggs influence MVVC has the most Dual Champions (DC) of any club. In 2010. Clif Boggs was rewarded for his breed contributions with a VCA Lifetime Membership.
Paradox Vizslas, Drs Nancy & David Heinold DVM celebrate 35 years staying ahead of the game by doing as taught, closely linebreeding to Mimi & TrixieHOF DNA. They own 3 DCs & stamped a male predominate 5-generation Dual Champion line, with many of those descendants also becoming BISS winners. Paradox Vizslas have literally spread around the world. Those bloodlines were returned & their best traits were blended back to Mimi & Trixie & then sent back to continue "paying it forward." Dave enjoys painting while Nancy creates canine/equine jewelry & bronze statues. Nancy has been certified in PennHIP radiographs since 1998 & has a large private collection of Vizsla frozen semen.
It has been 50 years of wonderful memories being in Vizslas for the Heinolds. They did it with a foundation bitch sans titles, announcing their engagement so they could request Mimi as a wedding gift before she was sold as a pet. A robust Mimi was outcrossed to 3 elegant lightly-built dogs & then linebred back into Behi Vizslas. Nancy's program provided her siblings with their competitive & breeding database.
. COVER DOGS
Top Left Clockwise
Paradox Brimstone Bill VZ-1994 (G- Grandson) O-Randy & Sue Boggs; B-Drs Heinold
DC AFC Paradox Remarqueable JakeVZ-2224 (G-Grandson) B/O-Drs Heinold
CH Paradox What Else JH VZ-7007G24F (Eight) B/O-Drs Heinold
AFC CH Snowridge Time Trekker CERF VZ-5374G24F 5) B/O-Randy & Sue Boggs
Carly- the littlest Paradox- B/O Drs Heinold
DC AFC Paradox Title Chase of Behi VZ-1689 (2) O-Clif Boggs & Dr Nancy Heinold; B-Clif & Hilda Boggs
CH Paradox Return of the King CHIC VZ-9633G25M (21) O/B-Dr Nancy Heinold
CH Paradox Final Answer MH VZ-7822G28M (12) O-Dr Heinold & L Rogers; B-Diana Boggs & Dr Nancy Heinold
DC Zekiel Regel of Kent VZ-3493G27M (5)B/O-Drs Heinold
CH Paradox Glorybound Brok JH CGC CERF CHIC VZ-10661G26M 13) O/B-Drs Heinold
CH Paradox Red Violin VZ-7773G26F (13)
CH Paradox Raketa Kep VZ-1334 (G-Grandson) O/B-Drs Heinold
BISS CH Paradox Dances With Birds JH VZ-3877G24F (Five) B/O-Drs Heinold
CH Dealt a Queen ss Paradox JH VZ-6071G25F (8) O-Diana Boggs & Dr Heinold; B-Drs Heinold
BISS CH Effervescent Ginger Snap JH VZ-2593G30F (3) O- Heinold & T Sellers; B-Drs Heinold
DC AFC Mudsville Lorac Makk VZ 1951 (2) O-C Boggs, Diana Boggs & Sommerfelt; B-Sommerfelt
Behi CseCse Raketa CD VZ-935 Paradox Foundation (G-daughter) O-Heinold; B-C & H Boggs
DC Behi's Csinos Csiny CD HOF BIC# Behi Foundation Dam; O-C & H Boggs; B-R & N Perry
"This ad was a joy and a pleasure to do, thanks to Trixie HOF"
MORE ABOUT
BEHI & PARADOX VIZSLAS
BEHI VIZSLAS- Clif & Hilda Boggs (decd 2009)
Always There on Golden Pond With Leadership, Sportsmanship, Integrity & Honor
Decade after Decade after Decade after Decade after Decade of Amateur Breed Excellence
Kept Vizslas Hunting, Healthy, Handsome, Versatile and… PUREBRED
Opened Home, Hearts, Life, Refrigerator, RV, Horses, Experience to All
Put Breed, Club & Event, "Young" Members & Youth before Self
Chair/Secretary of 1st five Specialties Founders of 3 Regional Dog Clubs
Lived "Pay It Forward" in Word & Deed Author 1st Comprehensive Breed Book
Treasurer for Magyar Vizsla Society Provided 1st VCA Field Trial Catalog
Organizers, Workers, Judges, Writer, Voice for Nat'l & Regional Club Service
In 1993 Provided 1st National profit…$20,000 dollars.
Organized 1st Show & Field Futurities & 1st Epilepsy study.
Promoted Women in Male-Dominated Bastions,..Field Trials
Crusaded Relentlessly for Bitches in Season at Nat'l & Regional Events
Owner, Trainer AND Campaigner of Six Dual Champions (most for anyone)
Held Vizsla Amateur Field Championship Record Until 21st Century.
Presented Vizsla Life to Young & Old as Family First & Team Next
Bred & Produced Diana (Mudsville), Dr Nancy Heinold (Paradox), Randy (Snow Ridge) & Carl
Created Phrase © V=Versatile, I=Intelligent, Z=Zealous, S=Staunch, L=Loving, A=Always
PARADOX VIZSLAS- Drs Nancy & David Heinold DVM
Paradox Vizslas was born in 1975 when the "pair of docs" wed but due to Nancy's education from DC Behi's Csinos Csiny CD HOF as her special childhood pet, it was clear that Paradox Vizslas would be leaders in breed & club service.
A major Paradox contribution has been their export and importing. In 1985 the Heinolds exported "Chato" who was a littermate to DC AFC Paradox Remarqueable Jake. Chato became a US, Australian & New Zealand Champion and was pivotal in changing the course of the Australian & New Zealand Vizslas. Since then the Heinolds have imported three more Australian Vizslas with Chato's blood, mixed that DNA with USA Paradox Vizslas, then sent that bloodline back. In the last two years Paradox Vizslas has exported one more female to Australia and two Vizslas to the United Kingdom.
Dave does watercolor and oil portraits. He has painted "Kutya", the first AKC Triple Champion amongst other notable Vizslas, especially Dual Champions. Nancy does line drawings, bronzes and designs jewelry. Her bronze "Found Standing" is in the National Bird Dog Museum in the library.
Nancy specializes in PennHIP radiographs and has been used PennHIP as a health tool for over 15 years in her breeding programs. A typical Paradox puppy today has not only been PennHIPed for multiple generations on all four tails, but has high percentage (good high), low index figures (good low) on individuals used within that pedigree. You can also find at paradoxvizslas.com the only Vizsla PennHIP Honor Roll.
,