The Pointing Instinct by Roy Speece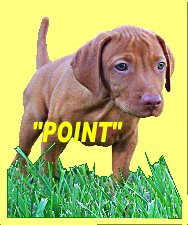 Pipe dreams and home bred folk lore have contributed much to the history of our dog world. If we can believe what we read, the old Spanish Pointer has so much point in him, he was so completely endowed with pointing, that he would repeatedly return to the spot of his first finding game and freeze to the exclusion of hunting more game. TOO MUCH point he is supposed to have had.
I, therefore offer to you that the dog has been a pointer from the beginning of his association with man.
He had told me that he had often seen his sled dogs flash point snowshoe rabbit or ptarmigan before they made their leap to catch their victim.
You see I KNOW that a fox will point.
Many snakes point before they strike! Call it hypnosis if you like but it is a pointing instinct. I have, in fact, an acquaintance with a kennel operator in the high class Vizsla business and this gentleman is convinced that his Vizslas can hypnotize a bird. I have heard other people insist that their favorite pointing dog would charm and freeze a bird into immobility. If this hypnotic effect is true (I don't buy it myself), I see little difference whether it be by dog or by snake.
The instinct to stop (point) before the leap, is fundamental with many kinds of animals. It is the exchange of affection between man and the dog that has led to the usefulness on the pointing instinct trait."
This was found in "Hunting Dog" page 46, 47,48 August 1970 (Editor Herm David, Gun Dog Editor "our very own John Ingram ;)
Article source is The Boggs Collection.
This website composes the private and public collections & lifetime investments of Vizslak peoples around the world with an initial focus on the USA & the field because that is the information SITmUP has processed....so far. Please "respect" our collective work on thevizslaksentinel.com and do not use in an unexpected way. The individual collections form the cornerstones of every Vizsla living and owned by "you" today.
If respected by the readers, the information on this website will remain & grow.
Credit should be given by providing the appropriate Sentinel URL
when quotes or articles are republished.
"The Vizslak Sentinel " (c) Jan 13, 2009
Product of Stuck In The mud Underground Publishing (SITmUP)