THE WHITE RIDER, ARTHUR KONYOT
Written in collaboration with William D Reichmann,
Illustrated by Elisabeth Mihalyi
Appeared in VIZSLA NEWS, April 1962, Editor Charles Hunt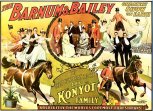 Here is the fabulous story of a fabulous man that will appeal to and delight readers of all ages, and itís true. Arthur Konyot relates the story of his life to William D Reichmann who skillfully develops it into autobiographical form; sixty years of exciting, adventure, some circus and horse show life in 19 countries and on three continents.
Celebrated equestrian showman Arthur Konyot, senior surviving member of a renowned Hungarian family of artistes, was born into circus life. His parents owned the Cirkus Leopold, a traveling show typical of the small European circuses from which many famous performing families originated. The Konyos, six boys and six girls, became internationally recognizes as a family of incomparable bareback riders and performer and their unique story unfolds in this absorbing tale. Here is the romance of circus life with its triumphs and pathos; successes and reverses; its courage and resourcefulness.
Through its pages, illustrated with 33 full pages of photographs, move fascinating characters and famous names, from the Hagenbachs, the Rancyys, the Buschs, of Europe to the Ringlings and Norths of North America, to Arthur Godfrey whose show horse Goldie, Konyot trained at Beacon Hill farm.
Today at 72, Arthur Konyot operates a riding stable at Sarasota, Florida, traditional home of circuses and circus families.
Our own celebrated Elisabeth Mihalyi designed the chapter headings and illustrated the story with her drawings. The London born artist, who started her art training on her fatherís estate in Hungary, has become famous in America as a portrait painter of people and horses and doghs. Among her better known portraits are Arthur Godfrey on his horse Goldie; Secretary of Agriculture Orville L Freeman and Mrs Freeman; Mr and Mrs A Q Schimmel, hotel chain; Mrs Myra Curtis, Chicago; Helen Morrison and her Irish Setter, Philadelphia and many other well known individuals. Her illustrations have appeared in Town & Country, Western Horseman, Your Pony and Pony record.
Mrs Mihalyi maintains a studio at Woodside, California and Wayzata, Minnesota.
William Reichmann, the collaborator, is well known in the Chicago area as a breeder and exhibitor of Arabian horses and as a contributor to various magazines. His home is on a farm near Barrington, Illinois.
The regular trade edition is $10.00 and the limited, autographed edition $15.00 Publishers are Hill and Dale Press, Barrington, Illinois.
Written by Charles Hunt
This website composes the private and public collections & lifetime investments of Vizslak peoples around the world with an initial focus on the USA & the field because that is the information SITmUP has processed....so far. Please "respect" our collective work on thevizslaksentinel.com and do not use in an unexpected way. The individual collections form the cornerstones of every Vizsla living and owned by "you" today.
If respected by the readers, the information on this website will remain & grow.
Credit should be given by providing the appropriate Sentinel URL
when quotes or articles are republished.
"The Vizslak Sentinel " (c) Jan 13, 2009
Product of Stuck In The mud Underground Publishing (SITmUP)