Memorable Past Moments In Vizslas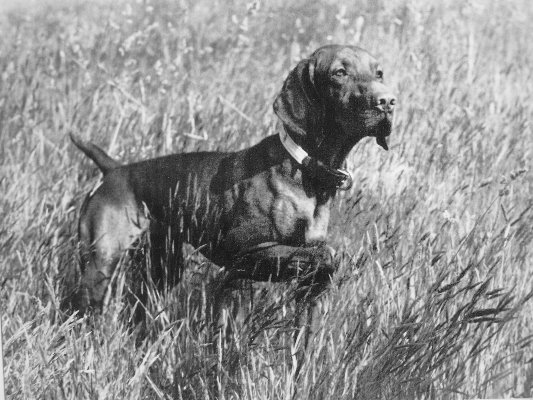 TC Cariad's Kutya Kai Costa UD VC HOF was THE first AKC registered Vizsla to "serve" up official all-breed enthusiasts that the Vizsla was indeed, for real. The real truth of any breed or individual competition in field, show, obedience or agility comes in all-breed competition. "Kutya" was owned by Bob & Marianne Costa (now Megna) & bred by Marion Coffman & Linda Greenfield.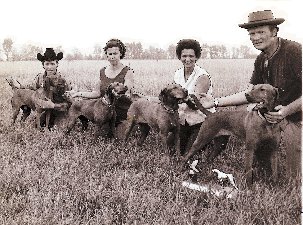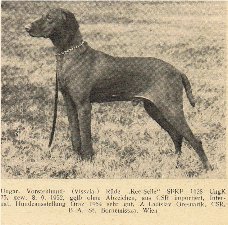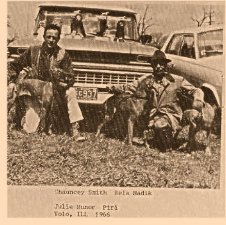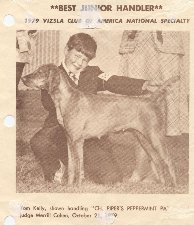 FT Placements of 1,2,3 with 3 future HOFs from Ohioans who founded 3 regional clubs;
Rex Selle a fifties import who became 2nd leading sire of fifties;
Chauncey Smith/Bela Hadik & Futaki Foundation Stock-Julie, Hunor & Piri;
Tom Kelly- Best Junior Handler at 1979 National Specialty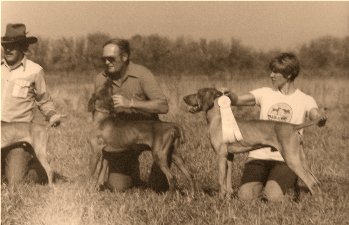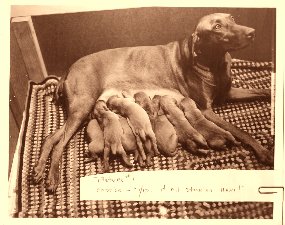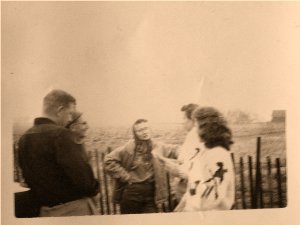 Two future HOFs getting FT Placements-Roz & Deacon;
Maggie z Selle (Bud/Jane Graff) & her very first litter for Weedy Creek Kennels;
The first National FT that Hilda Boggs famous sweaters appeared at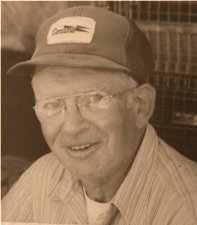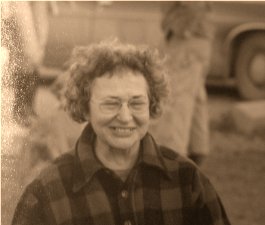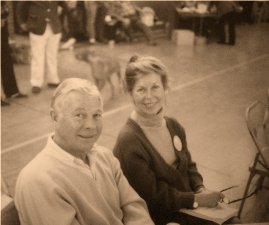 Adelbert Seelye; Helen Seelye-Both were founders of Conestoga;
Dick & Joanne Reinhardt- owners of Haans V Selle HOF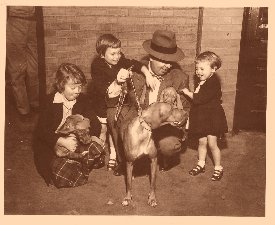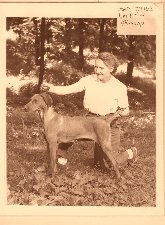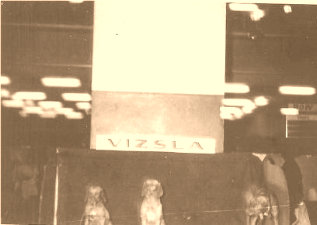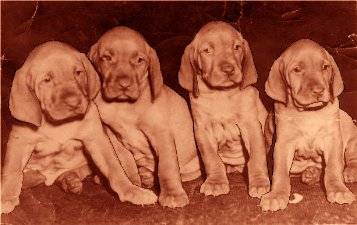 Sari, Shasta & Tito are first documented USA Vizslas to arrive;
Tito being shown by USA professional handler Millie;
The first public exhibit of USA Vizslas;
The first USA Vizsla litter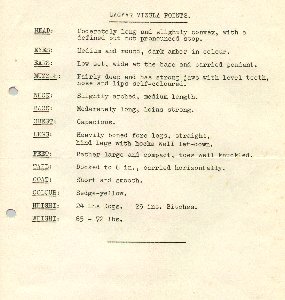 The likely breed Standard that was used for Sari & the other Vizslas that competed in the 1950's AKC Miscellaneous classes.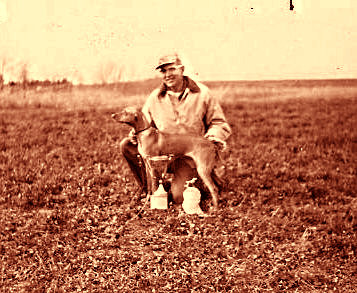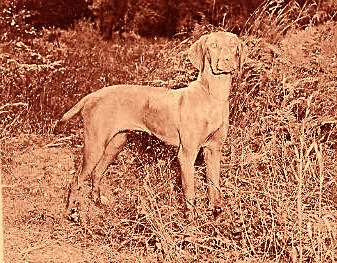 First female FC- FC Osborn's Starfire with pro handler Fred Schulze;
First Vizsla FC- FC Brok Selle owned by Don Anderson of Denver, Colorado;
Nikki of Bayview- first Vizsla to win both juvie National stakes-first USA homebred producer of quality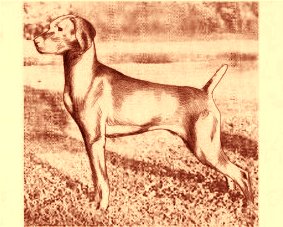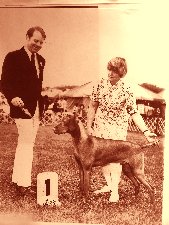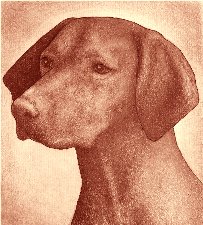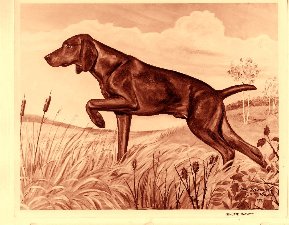 Ch Hunor HOF owned by Count Bela Hadik, trained by Smitty, 1 pt shy of DC;
CH Taunee's Loki Santana CD HOF- owned by Marion Coffman, bred by Marion & Linda Greenfield;
DC Futaki Kiz Szereto HOF-owned by Carol Smith, trained by Smitty, 1stDC bitch;
Brok Olca HOF-owned & imported by Dr Ivan Osborn, 1st 5-generation pedigree import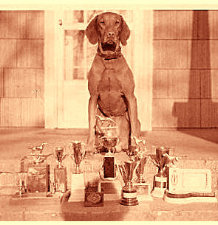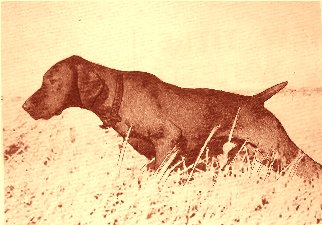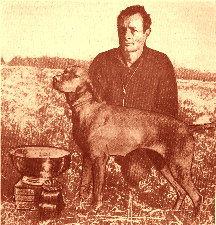 CH Csickas of Goncoltanya-winner of first VCA Puppy & first AKC Sporting Group First;
Haans v Selle HOF-owned by Dick Reinhardt, lacked one major of finishing his FC;
FC Futaki Juliska & Chauncey Smith- owned by Bela Hadik, winner of Esterhazy Traveling Trophy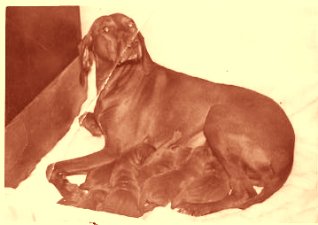 FC Can FC Ripp Barat HOF- owner Betty Kenly, trainer Paul Sabo;
Diana Olca-mother of the Schonweides, was the only Vizsla to live in Hungary & visited the USA to have a litter that was sired by CH Nikki's Arco HOF's sire who was Pepe z Selle. Diana later visited the USA at the age of twelve.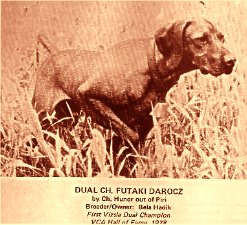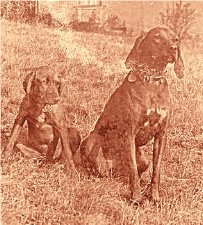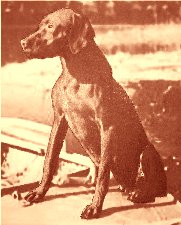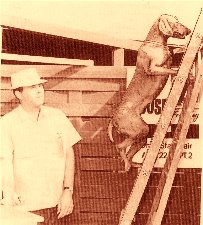 DC Futaki Darocz HOF owned by Hadik, Trained by Smitty, 1st DC:
Annavolgyi Arany-owned by Hunts, first import to finish CH;
Gingo von Schloss Loosdorf- winner of first VCA Shooting Dog stake, beat Brok Olca;
DC Behi Csinos Csiny CD HOF-1st bitch DC with obedience title, climing ladder at Ohio State Fair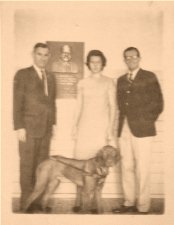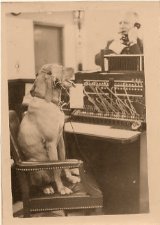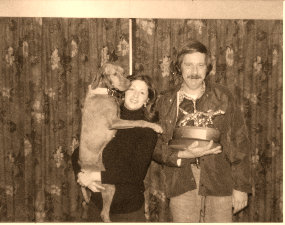 Hilda Boggs-1st Vizsla to Pilot Dogs, begins tradition that would last in Ohio for 25 years;
Mike von Schloss Loosdorf-fifties Vizsla being a breed ambassador;
FC AFC Behi Piri Csiny-1st Vizsla to win a NSTRA FT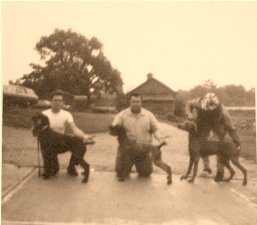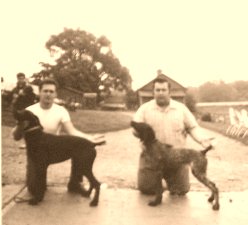 The ONLY water trial (1971)hosted by a Vizsla club, the Miami Valley Vizsla Club at the Hilda & Clif Boggs' home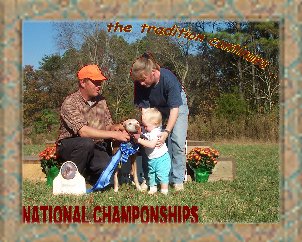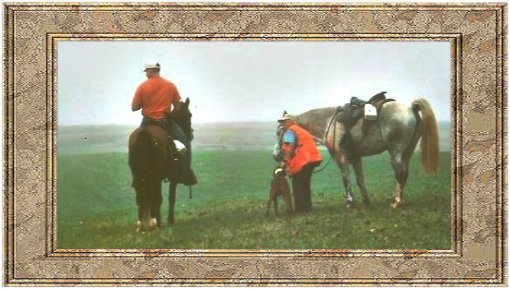 2003- A Future FT Barbie Escorted by a grand lady Mz Sunny & parents;
2003- The next NAFC Champion waiting for the fog to clear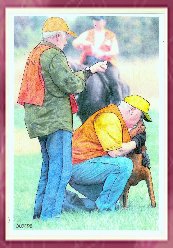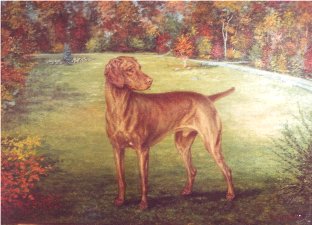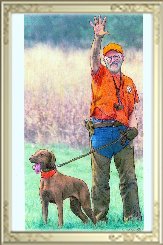 2003 VCA NAFC 2nd Series- Hattie & Dick in waiting;
7xBIS CH Taunee's Loki Santana CD HOF painting by Elisabeth Mihalyi;
2003 VCA NAFC 2nd Series- DC Sunny & Tony after FIVE chukar find for the retrieve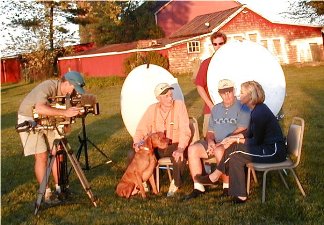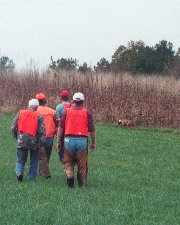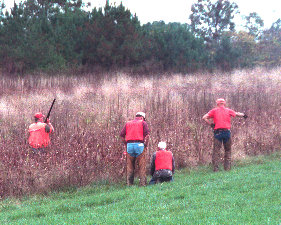 Chauncy Smith (Smitty) & Bernard Boggs (Clif) being interviewed for the ESPN Sporting Chronicles;
2003 VCA NAFC 2nd Series with Tink on point. What followed became known in Jan 2006 as the "Al Lucas Retrieving Rule". The next photo is Al sending Tink for a retrieve. Upon being sent for the retrieve, another bird flew up which Tink went to the area the bird landed to pick up & retrieve a dead bird that was in the spot the bird landed. Tink retrieved a bird who had died in a previous brace. The judges made the decision to throw Tink out for placement in the NAFC. That was THE wrong thing to do. Now the rule exists that "fetch" means "fetch" and if another bird flies up it is acceptable if the dog retrieves the new bird or stops to flush.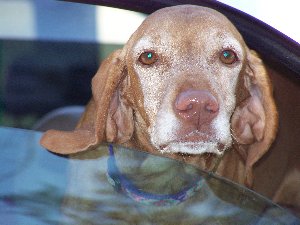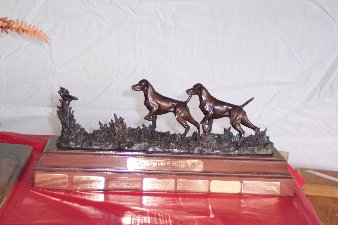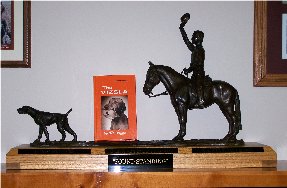 Edie- owned by Lisa Durham, was first Vizsla to complete in all five National Events;
The Denes Burjan Memorial Traveling Trophy for the NFC Champion;
Photo of "The Vizsla 1971" by Clif Boggs with bronze "Found Standing" by Nancy Boggs Heinold DVM while in the library of the National Bird Dog Museum in Grand Junction, TN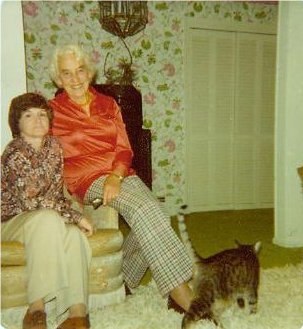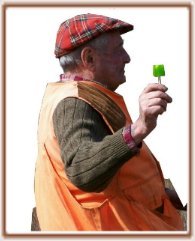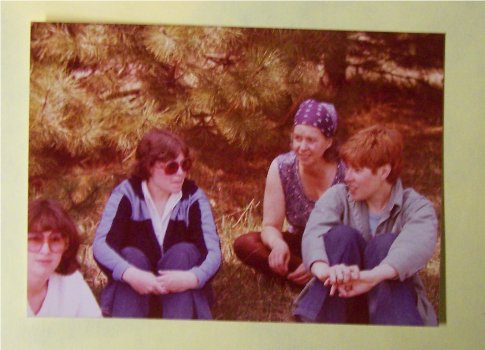 Sixties photo of Elisabeth Mihalyi & Marion Coffman meeting in California;
Graphic of Chauncey Merrill Smith Jr- sucker for the Vizsla;
Carol Feder, Fran Johnson, Hilda Boggs & Julia Bonar at a seventies FT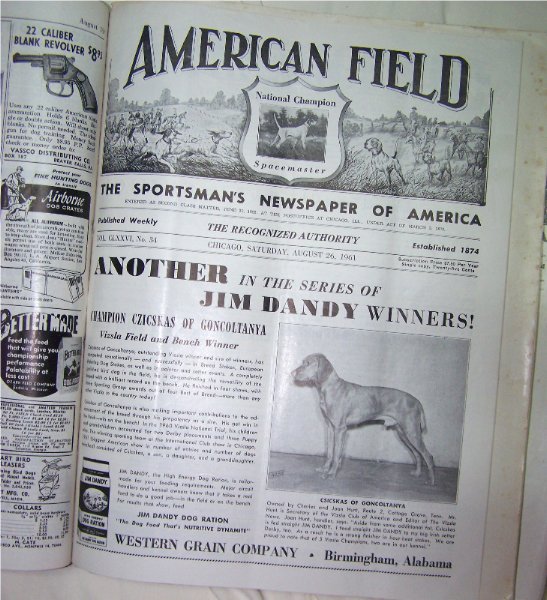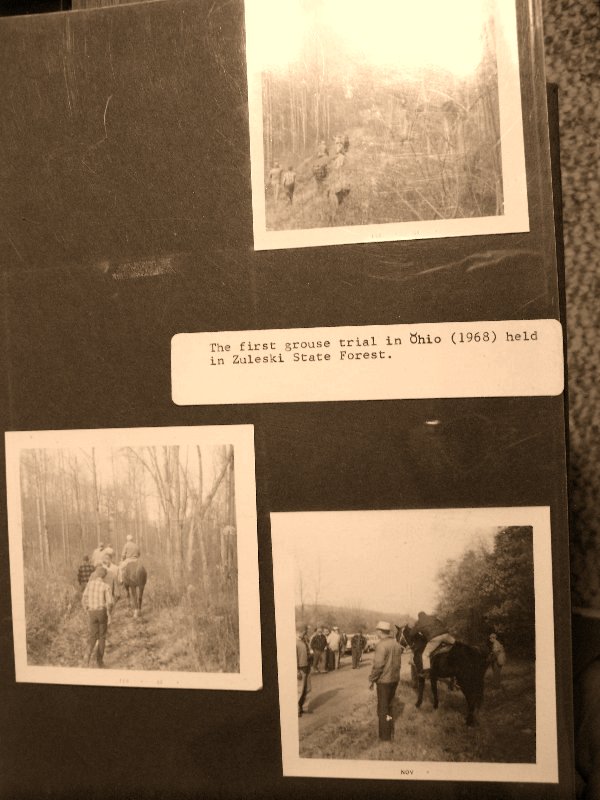 CH Csickas of Goncoltanya, owned by Charles & Joan Hunt- THE only Vizsla to appear on front cover of the FIELD;
The ONLY Ohio grouse field trial-nearly won by a future HOF Vizsla "Trixie", judges did not see point & find
This website composes the private and public collections & lifetime investments of Vizslak peoples around the world with an initial focus on the USA & the field because that is the information SITmUP has processed....so far. Please "respect" our collective work on thevizslaksentinel.com and do not use in an unexpected way. The individual collections form the cornerstones of every Vizsla living and owned by "you" today.
If respected by the readers, the information on this website will remain & grow.
Credit should be given by providing the appropriate Sentinel URL
when quotes or articles are republished.

DC Behi's Csinos Csiny CD HOF (Trixie) climbing a ladder at the Dog House at the Ohio State Fair
Drawing by dlb
"The Vizslak Sentinel " (c) Jan 13, 2009
Product of Stuck In The mud Underground Publishing (SITmUP)