From My Memory Bank-
The Rothans (Fieldstone Vizslas) by bcb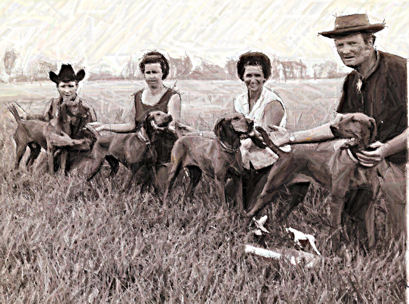 1st- Paul Rothan with Rozsda HOF, 2nd- Shirley Rothan with Csinos HOF, 3rd Hilda Boggs with Trixie HOF
I never thought too much of dog shows, but Hilda and I went to the Dayton Kennel Club just to check it out. The Vizsla was as scarce as hen's teeth and it had a few entries. Hilda sat at ringside and I walked to the ring entry and met Shirley Rothan whose husband Paul was showing a Vizsla (Csinos v Hunt). We learned that she had five children already, was obviously very pregnant, and they lived in Cincinnati. The year was probably 1964.
We invited them to attend a meeting at our place early in 1965 to form a Vizsla club and had people as far away as Cleveland attend. The result was the formation of the Vizsla Club of Ohio, and I was elected President.
Paul & Shirley had owned boxers and never regretted the change which opened up a whole new life for them. We became good friends and they visited frequently and spent the nights where ten kids had to find room to sleep anywhere they could, including outside.
Vizslas controlled their destiny. They moved to a farm, built a house, horse barn, riding ring, bought vans, horse trailer and eventually grew into a motor coach like so many others who followed pretty much in their "footsteps". They were perhaps the first to do that in the Ohio clubs.
We spent many weekends' working our dogs in the water and on land. Shirley and Hilda worked together for a time at their breeding programs. Rothan's first Vizsla, Csinos v Hunt, was worked in advanced obedience as well as some of their other dogs. I wrote her and Rozsda up for the VCA Hall of Fame and they were elected. Both were outstanding bitches.
We held fun training and doing water trials on Cherry Drive and Paul had trouble getting Roz to retrieve in the beginning, so one time he jumped off the dock, swam out to the pigeon, put it in his mouth, and showed Roz how it was done. He did become an excellent trainer and the above paragraph tells the story about Rozda.
When I won an amateur field trial with Ch. Behi's Csinos Csiny, CD (Trixie) I never entered her again except to let Paul and others run her for experience with a trained dog in that stake.
Life has been good for them, their children—all successful—and their many grandchildren and great grandchildren. They are not as sprite as when we first knew them and Paul the athlete, he once was, took its toll on him, and Shirley is not as ambulatory now, but both still have a smile and sense of humor like in their younger days.
Given a chance, Paul, the prankster, will pinch a pretty girl in an effort to have the blame fall on someone else near her. It is wise never to sit near him at a restaurant.
Paul & Shirley have always found time before dinner to have snacks and libations no matter where they might be if possible. It is almost like a second religion that they cannot live without.
Paul & Shirley have had a great impact on the two Ohio Vizsla clubs—Miami Valley and Greater Cleveland with their hard work and dedication to the breed all the years since we first met. These two clubs were family affairs for many of those years and we always included activities and special field trial stakes for the kids and enjoyed a camaraderie that left when the various club families' children grew older.
They are great loving couple who are very much loved by all they have met in their Vizsla world.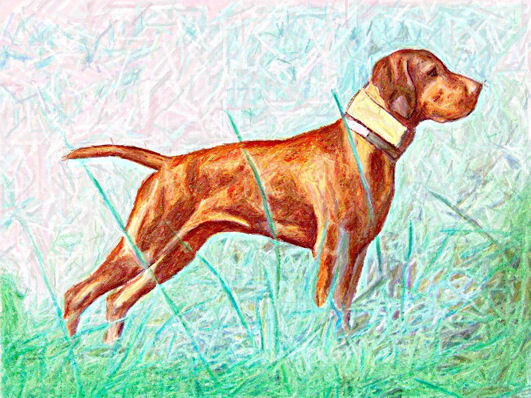 NAFC AFC DC Fieldstone's Tip Top Timmy