IMPORTANT VIZSLA DATES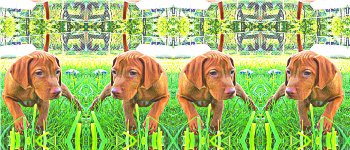 January 1938- Mihalyi Kende sells what may likely have been 2 Vizslas to Joseph Pulitzer (Zsoka of Sashegy & a daughter or a son) (first undocumented arrival of Vizsla)
Jan 16, 1954- First Magyar Vizsla Club of America meeting, Room 355 Fort Des Moines Hotel; Eleven members are present, five vote by Proxy
Jan 18 1958- Vizsla wins first First in Miscellaneous Group
Jan 30 1965- Second "A" Match
Feb 1983-Ch Harannís Tulipman becomes first & only Sporting Group I
Feb 1962- Ch Ripp is first Vizsla to win Best of Breed at Westminster
Feb 25 1951- First public exhibit of Vizsla @ Heart of America KC
February 26, 1961-First Sporting Group Placement- CH Csickas of Goncoltanya
Feb 28 1955- Hunt starts correspondence with Mihalyi Kende. This resulted in the most prolific source of Magyar information for the USA. Joseph Bodi who changed his name to Joseph Body was the first translator for the Magyar Vizsla Club of America & translated all of Kende/Hunt letters.
March 23 1952- First US Vizsla litter born with bucket near in case there was too much white.
March 28 1945- Elisabeth Mihalyi VCA Membership #1 & Panni (with her multi-generation pedigree) begin their flight from Hungary & Elisabeth to the USA & the VCA
April 1951- At the Chicago International Dog show Sari wows them. Present are Hunt, Olsen & Osborn
April 8 1940- Vizsla (Dendi, owned by the Dodge family)being walked on a Florida beach appears in LIFE magazine. Thought to be a son of Zsoka of Sachegy or sent with her in 1938 to the Pulitzer family.
April 17, 1988- First Vizsla MH (three the same day)
April 17 1951- Scanlan/Tallman hold first discussion of artificial semen for a Sari mate
April 17, 1971- DC AFC Amber's Windy Autumn finishes the first AFC of any breed
April 19 1964- VCA "A" Match- Winner Erze de Dus
May 2 1965- Show Championship for the first Dual-Darocz
May 7 1994- First perfect score of 200 in Obedience- Ch. Huntwyck's Woodland Cooper CD TD, JH
May 13-14- First National FT for Magyar Vizsla Club of America
May 15 1961 VCA publishes "Congenital Hip Dysplasia & Its Ramifications"
May 24 1970- First BIS- Import CH Napkeltei Vadasz Dalos
May 29 1920- True birth of the modern day Vizsla-Hungarian Breeders Association was founded
June 18 1951- Rex Del Gelsomino arrives in Kansas City
July 7 1992- Magyar Society is incorporated- established to AKC DNA could be used
July 15 1951- Tallman proposes in correspondence a Code of Ethic
July 17 1965- First Vizsla Dual Champion-Darocz
July 25 1970- First BIS by USA Vizsla is CH Debreceny Dezso
July 26, 1959- Rex z Arpadvar is registered with AKC
August 5 1950- Communications begin between Tallman/Scanlan looking for a Hungarian hunting breed
August 15 1515- Hungarian writes relative requesting a Vizsla to hunt with
Aug 29 1965- First VCA Specialty
September 1961- The first VCA decal & pins are available for order (pin is 2010 Brok Olca re-produced replica)
September 14 1971- VCA becomes officially affiliated with AKC
September 23 1948- Sari is born
September 25-26- First regional FT for Magyar Vizsla Club of America
October 1978- First Hall of Fame Vizslas inducted
October 4 1970- Bratt is first female Vizsla to finish DC
Oct 7, 1950- Sari Arrives in Kansas City
October 21 1965-First Sporting Group I- CH Gypsy's Bronze Bomber
October 25 1980- Kutya is first Vizsla AND dog to finish an AKC Triple Championship
November 1 (All Saints Day 1952 of course)- Diana Louise Boggs was born ;-) (I donít remember that day either ;-))
November 3 & 4 1962- VCA holds its first AKC licensed National FT
November 17 1954-FDSB recognizes the Vizsla
November 19 1948- Panni is bred to Betyar
Nov 25 1960- AKC recognizes the Vizsla. Elisabeth Mihalyi is Membership #1
Nov 26, 1960- VCA Incorporated
Dec 10 1954- AMERICAN FIELD published the October 17 date of FDSB Vizsla recognition