Those Were The Days...
VCA Spring Field Trial 1965
1. Article about FT in VIZSLA NEWS
2. Scans of the first Field Trial catalog
3. Article from AMERICAN FIELD (not yet here)
4. Photos/graphics of dogs & people involved (not yet here
This link already has an article about the Spring 65 Nationals in VIZSLA NEWS & scans of the first FT Catalog created by Clif Boggs.
Am tracking down the article written about this event that appeared
in AMERICAN FIELD along with recreations of some dogs involved. This article should be complete by 071209.
Vizsla Club of America
May 1-2 1965 Spring Field Trial Bloomfield, Iowa
(printed in VIZSLA NEWS, 1965; Editor- Jane Graff)
A total of 79 entries were involved in the running of this field trial. Only 2 of the original entry of 81 dogs were scratched because of difficulty experienced in traveling from the east (the Mississippi River was then on the rampage), but most people experienced no difficulty. Another 8 entries arrived after the closing date so could not compete at this event. This was, without any doubt, the biggest event in number of entries, individuals participating and watching & in area from which entries came from EVER in the history of the Vizsla in America.
Facilities at the trial headquarters, the BLUE GRASS FIELD TRIAL CLUB, were ideal. Their club members handed most all the details for the Vizsla Club of America: taking charge of the horses, bird planting, trial marshals & supplying the judges. An excellent job they did, too! They were a most friendly & congenial group of men & it was a pleasure to work with them. William Byers, president of their club was a terrific host, keeping everything running on an even keel & at the last moment volunteered to take on the additional job of judging on Saturday when Myron Speers was called to active duty on the dikes along the Mississippi.
Field Trial Chairman, Dick Buhman had the ground-work well done-and last minute details were wrapped up in short order with the others on the committee. No one would have suspected from his calm attitude that his cottage on the east bank of the "Big Muddy" was ten feet under water at the time!
Clif Boggs, Field Trial Secretary used his knowledge of shows and applied it to this Field game-with the most welcome addition of a "Catalog". Can't imagine how we got along without them until now! The ads and donations to the trophy fund came to just over $200, the catalogs were both beautiful & most helpful & I am sure they will be a permanent addition to our National affairs. (A limited number are still available- if you would like one, send a LARGE envelope & two five-cent stamps-they are big "uns-will be happy to mail you a copy) All other duties of the secretary were executed in a most efficient manner, including a very fine write-up of the trial, essential data & order of placing from the judges which was sent to AKC Gazette, American Field & the Vizsla News as well as other National publications- in addition to the official forms & reports that go with this job.
The city of Bloomfield was a nice, clean & friendly town- it served good food at reasonable rates. Local motels & camp-sites at the fair grounds & trial parking hosted the entire set of field trailers. The banquet was held at the American Legion Hall, with good food, excellent service & a good bar downstairs.
Unseasonably warm weather put man & dog to the test of "conditioning" and the small pond in front of the clubhouse was a welcome relief for the dogs after competing in stakes or just sitting & waiting their turn. Temperatures ranged in the 80's and 90's with a breeze light to brisk during the 2 days afield. It certainly weeded the men from the boys in a hurry-the youngest entries had to bow to those with more stamina-and in spite of these conditions a great many sparkling pieces of bird work were exhibited & most ran excellent races without showing signs of fatigue. Smitty the stout-hearted sportsman handling the New England entries, held the course for 8 trips around the two courses-but closely equaled by Allen Hahn of Iowa who due to the flood threat had not gotten his entry in before the deadline, but walked almost all of the all-age braces taking notes on handling & judging dogs for future use! Evening found both these men cooling their feet-boots and all-in that pond.
The Puppy & Derby course started along the edge of a big lake, the new growth of green grass made a picturesque scene. There were a number of objectives which separated the "hunting pups" from those of lesser experience. The FT Committee was hoping that there would not be complaints- and most entries welcomed these conditions rather than high brushy patches, but one handler jokingly asked "which green are they planting birds on" The birdfield, just across the trail was very good- with knee-high grass stems & trees provided likely spots for entries to look for birds. The puppy braces showed some tremendous running with stiff competition.
Judges Madison Bogart & William Byers both of Bloomfield commented, "In the puppy stake we are looking for the future potential indicated by their natural desire & drive, therefore, what a pup does from the break-away, around the back course & through an area where there are birds (the birdfield) is of equal importance." A pup that shows that he knows where to hunt, shows the drive & endurance, birdiness when it locates game gets the nod, here. The age spread from 6 months to 15 months.
Behi's Csinos Csiny (Trixie) topped the 15 dog entry with her good breakaway, maintaining a consistent driving pace all the way. She had 3 finds in the birdfield, pointing 1 staunchly & handling others wuite adequately for this age group. Count Laszlo of Weedy Creek covered the back course effectively-adequate & consistent, but not as wide ranging as the first. The outstanding feature of this entry was a sharp piece of bird work; catching scent on a cross wind, Lasz roaded the bird for about fifteen feet and then snapped to a stylish point. This kind of birdwork stands out beside the "accidental" type find of some puppies. Futaki Jocko had a back-course race which was a consistent & driving as the first place dog (littermates) & did an excellent job of handling the birdfield, hunting it thoroughly, but did not make a find. Futaki Orsi laid down a very similar course as Jocko's but not quite as driving or showing quite the desire or intensity.
Many other entries crowded for the top 4 spots that were there to be named. The weather got very hot in the later parts of the day and some of the sharp starters couldn't go the distance in style, an interesting point was noted by the judges when a pup who had run in one of the early braces, finding several birds under judgment was run as the bye dog in the hottest part of the day, many entries had gone birdless, but this little bird finder managed 2 more finds under these adverse conditions.
OPEN PUPPY (Fifteen entries)
BEHI's CSINOS CSINY, bitch, (Haans v Selle-Futaki Juliska) Owner- Clif & Hilda Boggs; Handler- Hilda Boggs; Springfield, Ohio

Count Laszlo of Weedy Creek, dog (Soni Brook Selle-Maggie z Selle) Owner/Handler Bill Fisher; Lincoln, Nebraska

Futaki Jocko, dog (Haans v Selle-Futaki Juliska) Owner- Robert & Nancy Perry, Acton MA; Handler- Chauncey Smith; North Hampton, NH

Futaki Orsi, bitch (Haans v Selle-Futaki Juliska) Owner- Robert & Nancy Perry; Handler- Chauncey Smith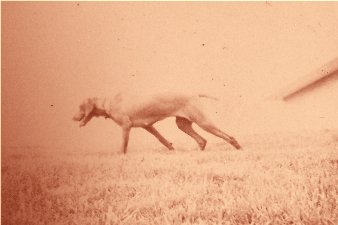 This photo appeared in the article about this Field Trial in AMERICAN FIELD magazine. Contributed by Clif Boggs.
The Derby Stake, run on the same course, but in a wider arch & into an enlarged birdfield started after a break for lunch well after the noon hour. Byers & Bogart mounted into their judicial vantage points & another 6 braces of rust-gold Vizslas took the field.
Weedy Creek Dutchess, a classy little bitch made a good breakaway with a strong & consistent back course. The 2 bird finds were handled most acceptably for this age, & she responded to her handler extremely well. Her manners on game were more highly polished than the other entries, she exhibited a very good nose & demonstrated qualities of a sharp birdfinder. Duchess owned, trained & handled by a young amateur and new-comer to the trialing game, Hank Rozanek, has won this Derby top-spot for 3 consecutive VC of A Field Trials, something that not many dogs can do in this minimum age limit-under two years and another record of accomplishment. Behi's Csinos Csiny had a good breakaway & back course but not quite so reaching. Her response to her handler was fairly good & she made 2 sure finds, pointing 1 with adequate derby manners & the other- a wild flush-with a keen chase. Futaki Csatt didn't have as wide a back course, but was consistent & handled well. Weedy Creek Sasha ran wide & very consistent, showing a lot of hunting desire. She had one very nice find with prescribed Derby manners & worked another fencerow indicating thoroughness & high-tailed class.
OPEN DERBY STAKE (12 entries)
WEEDY CREEK DUCHESS, bitch, (Weedy Creek Skol-Shirbob's Honey Dew) Owner/Handler- Hank Rozanek; Norfolk, Nebraska
BEHI's CSINOS CSINY, bitch, (Haans v Selle-Futaki Juliska) Owner/Handler- Hilda Boggs; Springfield, Ohio
FUTAKI CSATT, dog (Hunor-Piri) Owner Dr Beno Vayda, Arlington, VA: Handler- Chauncey Smith;NH

WEEDY CREEK SASHA, bitch Owner/Handler- Mel Uhlenhopp, Wapello, Iowa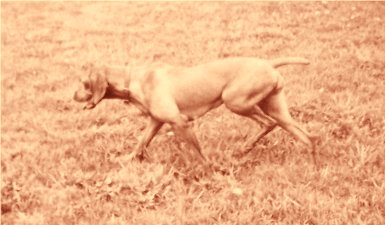 DC Behi's Csinos Csiny HOF (Trixie) Photo contributed by Clif Boggs
Meanwhile on the other course, the older generation of dogs were making some marks of their own. The judges report on winners for each of these stakes were made by Sam D Harris, Kirksville, Missouri & Lester Sprouse, Bloomfield, Iowa.
First out in this field were the Amateur Gun Dogs. Haans v Selle laid down a real attractive back course race. In the bird field he had 2 clean finds with perfect manners. His best performance-showing lots of intensity on point & marking his birds perfectly. Futaki Darocz had a nice back course race, looked in all birdy spots. Had a nice find in the first 20 minutes & another in the birdfield, but moved slightly on his backcourse bird. Ch Hunor had a very attractive race in backfield & one clean find in the birdfield with perfect manners. Pepper Princess had an attractive breakaway, showed a little puppiness at times in application, but had one nice clean find in the birdfield with good manners.
AMATEUR GUN DOG (11 Vizslas)
HAANS V SELLE, dog (Kosa v Selle-Konya v Selle) Owner/Handler- Dick Reinhardt; Scottsbluff, Nebraska
FUTAKI DAROCZ, dog, (Ch Hunor-Piri) Owner- Bela Hadik, NH; Handler- Chauncey Smith
CH HUNOR, dog (Nikki's Arco-Shirbob's Folly) Owner Bela Hadik; Handler- Chauncey Smith
FISHER's PEPPER PRINCESS, bitch (Pepper Olca-Spicy v Kisner) Owner/Handler- Bill Fisher, Lincoln, Nebraska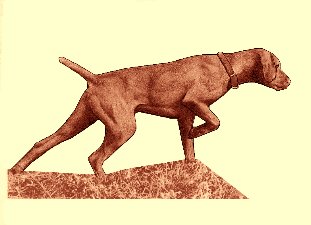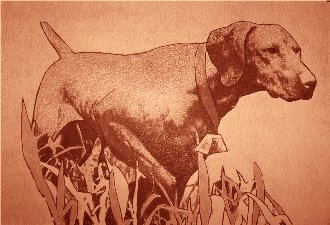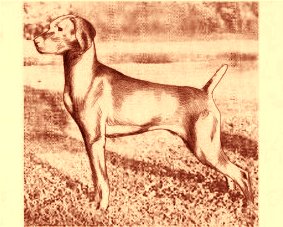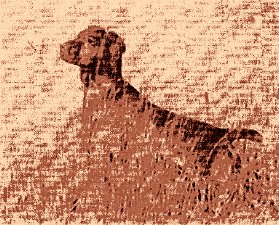 Haans V Selle HOF, DC Futaki Darocz, Ch Hunor HOF & same
(dlb Note: Three
After a short break for lunch, another 7 braces of Vizsla Gun Dogs took their turn around the field. This time, the scores came up in this order: Futaki Darocz again demonstrated his knowledge of likely hiding places for the quail & chukar, giving a good searching, driving run for the prize. He handled two finds in the birdfield with perfect manners. Ripp Barat had an excellent race with one clean find in the birdfield & a nice back with no command. Haans v Selle had good ground race & nice clean find in the birdfield & an honor., Ripp Barat's Rippy had a good breakaway with one nice find, demonstrating extreme style on point. Many stellar performances were witnessed by the gallery atop the hill from among the also ran- with all entries giving a good account to their breed, but the placings indicate those who crowded the top of the list for two men with sharp pencils. The total of 14 entries made the AKC point awards for this stake among the magic "major" wins!
OPEN GUN DOG STAKE (14 Vizslas)
FUTAKI DAROCZ, dog, (given)
RIPP BARAT, dog, (Brok Olca-Rata z Povazia) Owner- Betty Kenly & Dr Meminger; Handler Paul Sabo, Waynesboro, GA
HAANS V SELLE, dog (given)

RIPP BARAT's RIPPY, dog (Ripp Barat-Sissy Selle) Owner- Bob Holcomb; Handler- Paul Sabo
FC Can FC Ripp Barat HOF & FC Can FC Ripp Barat's Rippy, Photos contributed by Clif Boggs
By shortly after 5pm, these stakes were all completed. Man & beast were showing the effects of wind & weather. The FT Committee wisely called for the first brace of the Open All-Age for 7am Sunday & weary trailers fed & bedded down the object of their efforts, their Vizsla friends, washed away the dust of the day & headed for a long cool something or other & a fine banquet at the American Legion Hall. About 50 people from all around the country (signing your cover page) enjoyed the evening; the excellent food, the friendly conversation, the well chaired meeting)complete minutes will be printed in the NEWS when they arrive from the secretary, in the best, most decisive meeting ever attended by yours truly- which goes back quite a ways. By 10:30 meeting adjourned, but people talked & visited far into the night. Don't know when they called "lights out" at the various motels-but at the Camper's Colony, Big Bud blew the whistle at mid-night saying "time for all good field trailers to be in bed" and only the sound of a cool breeze moved through the trees & made little ripples in the little pond at the foot of the hill.
Morning dawned clear & cool. The dogs stirred at the first signs of life-and soon (about 5:30) the grounds were bustling with life. Dick Buhman & Len Hartl made a check of the facilities for getting the first brace off on time; Katie & Burrel Bourn arrived & readied the birds for the festivities; (Katie, a frugal sort of gal, brought out a treasure, a whole hat full of chukar eggs just gathered from the pens) and along with "Shortie" Townsend & any others who were about, enjoyed a breakfast long to be remembered; hot coffee, strawberry pancakes & chukar eggs simmered in butter sauce.
The cooler air stayed with us well into the day & the Open All-Age dogs were treated to better conditions than those of the previous day. Another stake of "major" size brought a more knowledgeable gallery to the brink of the hill overlooking the birdfield. The ahs & ohs were evidence of the many excellent performances, brace after brace. The judges" Sprouse & Harris tagged the top performing entries as follows:
Ace o Hearts III had an exceptional find on the back course & two perfect finds in the bird field with perfect manners. He had a good driving race looking & searching for birdy places. Futaki Juliska had the best searching ground race of any dog in this stake. One nice clean find in the back course & another in the bird field with fine manners nearly pushed her to the magic mark. Carla had a satisfactory race on the backcourse & one in the birdfield with good manners. Ripp Barat had an excellent race with one good find. Of the quality dog work we were witnessing-one remarked that even in those entries not in the top 4 placings were exhibitions of range & class that only a few years ago would have been tagged as "Exceptional". Winners were applauded by those with whom they had run in a show of sportsmanship & that of appreciating the quality of training, handling & good fortune that culminated at this running of the Vizsla Club of America National.
OPEN ALL AGE STAKE (9 Vizslas, 4 GSP)
ACE O HEARTS III, dog (Ace o Hearts-Tiny v Schloosagatry GSP Owner Mrs W L Townsend; Handler- W.L. Townsend; Omaha, Nebraska
Futaki Juliska, bitch (Ch Hunor-Piri) Owner Robert/Nancy Perry; Handler- Chauncey Smith
CARLA VON DER AIBLINGER AU, bitch, (Gold vd Heidhohe-Asta v Gerstled)GSP Owner- N Bentson; Handler- Fred Schulze, Rosemont, MN
RIPP BARAT, dog, (Brok Olca-Rata z Povazia; Owner Kenly, Phoenix AZ & Meminger; Erie, PA; Handler- Paul Sabo; Waynesboro, GA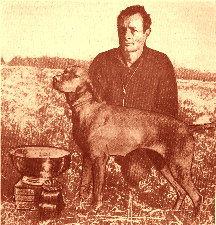 FC Futaki Juliska & FC Can FC Ripp Barat HOF, drawing of Julie by dlb, photo contributed by Clif Boggs
The winners of this stake were given their awards out on the lawn beside the pond, pictures of the crowd & all placing dogs were taken by the many amateur shutter clickers on the field-the most amateur of which was your editor! (netting two rolls of blur) but thanks to Hilda Boggs & Carole Smith, pictoral evidence of dogs, sights & scenes is available in your VIZSLA NEWS.
The "Limited" stake was braced with 7 Vizslas & 3 GSPs qualifying. The sun was bearing down hard as we moved into the final stake of the trial.
Ripp Barat gave an excellent race in the back course & one beautiful honor. He had another clean find in the birdfield with perfect manners. Haans v Selle also had a good back course with an equal number of finds both back in the bird field, separated only by a whisker for these entries. Rip Von Skovmarken, a GSP had a good race in the back course with one clean find & another in the birdfield. Futaki Darocz had an excellent break away with two in the birdfield, but in an effort to show that even perfectly trained dogs can goof on occasion, moved with one bird on the back course which he caught & retrieved.
OPEN LIMITED ALL-AGE STAKE (ten entries)
RIPP BARAT, given
HAANS V SELLE, given
RIP VON SKOVMARKEN (GSP) (Floch Patrick von Buisenborst-Ch Skovmarkens Flinka) Owner- Roger Murray; St Paul, MN; Handler- Fred Schulze
FUTAKI DAROCZ, given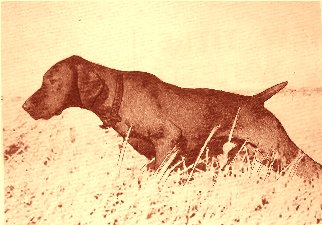 FC Can FC Ripp Barat HOF & Haans v Selle HOF, drawings by dlb
Star Sportsman & top hardware horder was that fine gentleman Chauncey Smith, here pictured with Futaki Darocz (now, officially a FT Champion) who is also just 1 point away from a show Championship. When asked if they were going to be able to find room to take all the trophies back to New Hampshire, Mrs Smith just smiles & said "Oh, we'll manage!"
So now, it is all a matter of record, Clif Boggs summed it all up when he concluded his report to the Gazette & American Field "All participants seemed to have the time of their lives & most will be looking forward to competing at the fall national."
Just so you can start your planning-the Fall FT Committee is making arrangements for Greenup, Illinois October 9-10. Set your cap! IT's all up for grabs then!
@@@@@@@@@@@@@@@@@@@@@@@@@@@@@@
The First National FT Catalog 1965 was provided by
Bernard Boggs (Clif)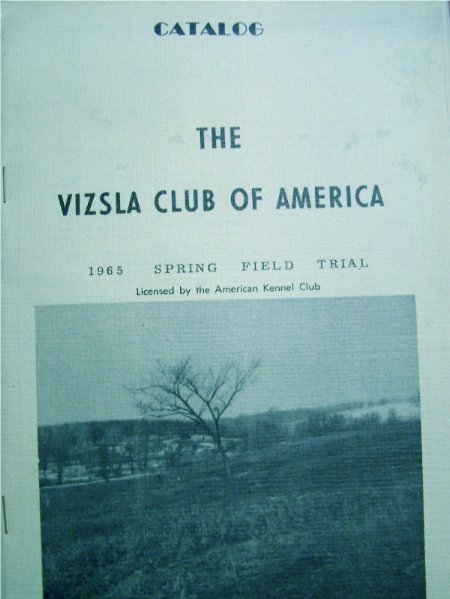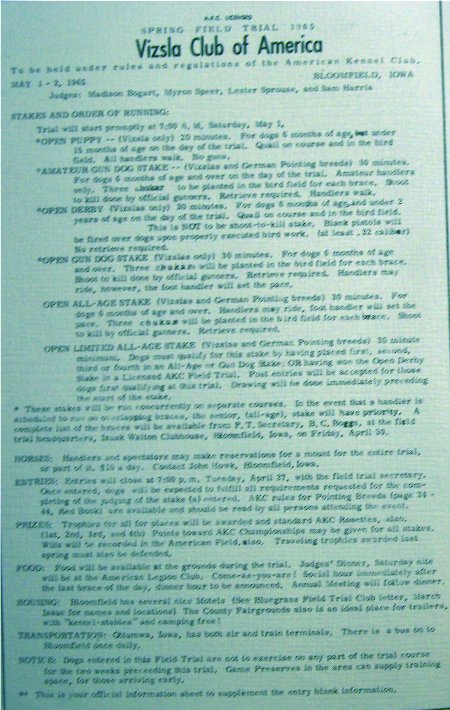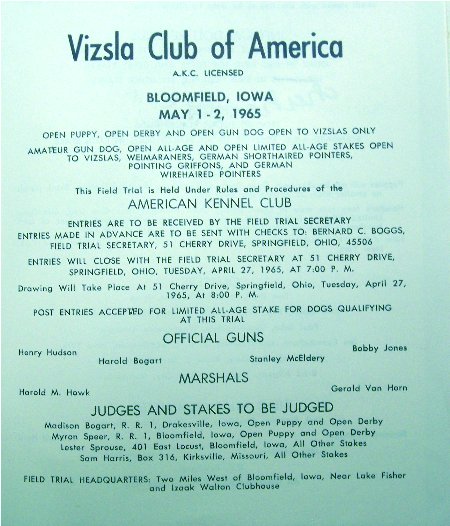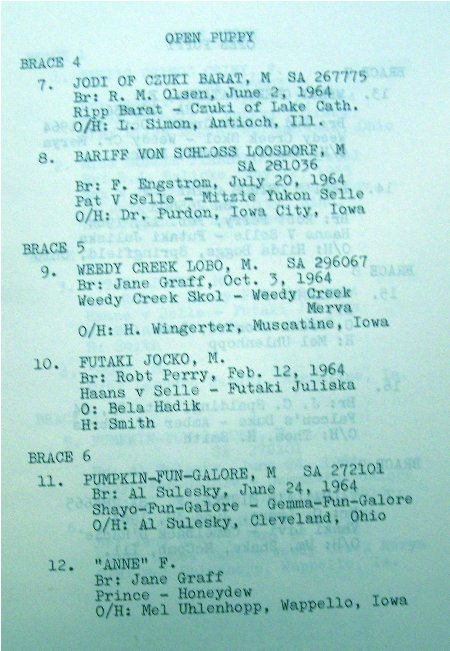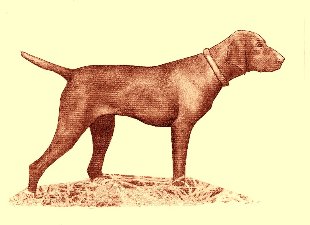 DC Weedy Creek Lobo HOF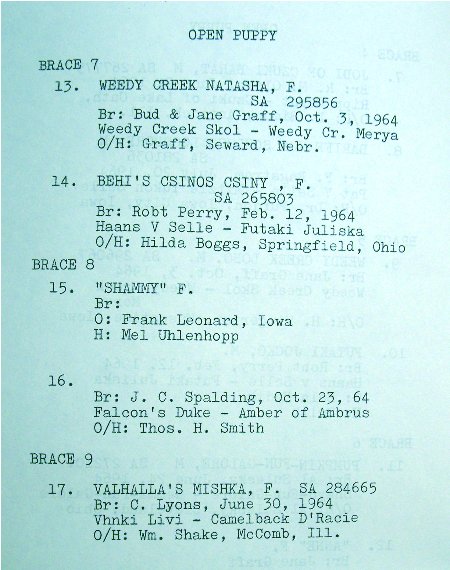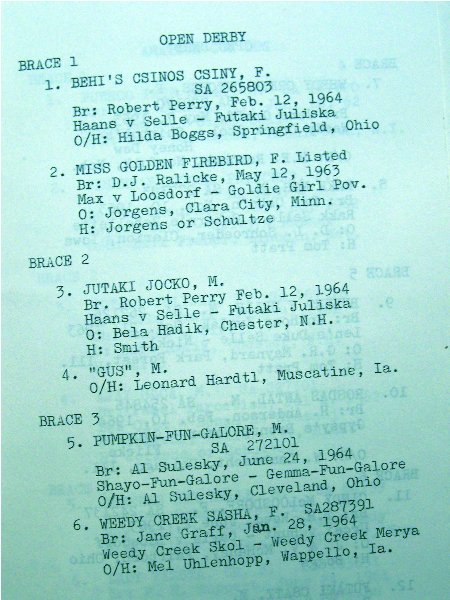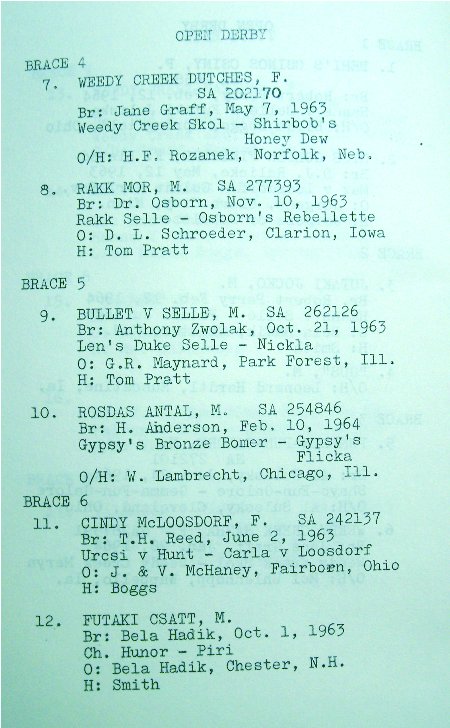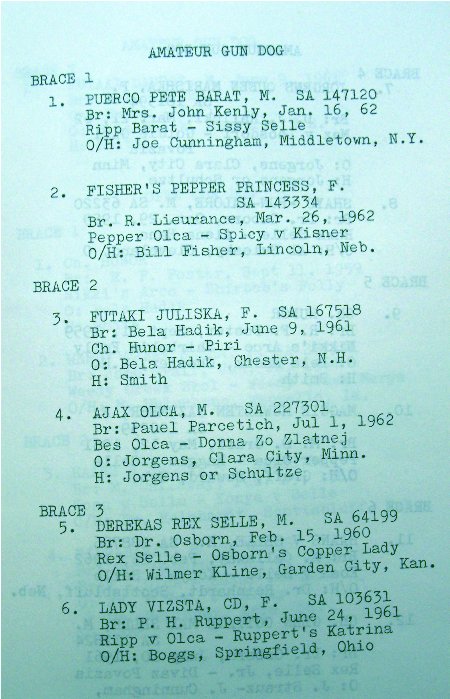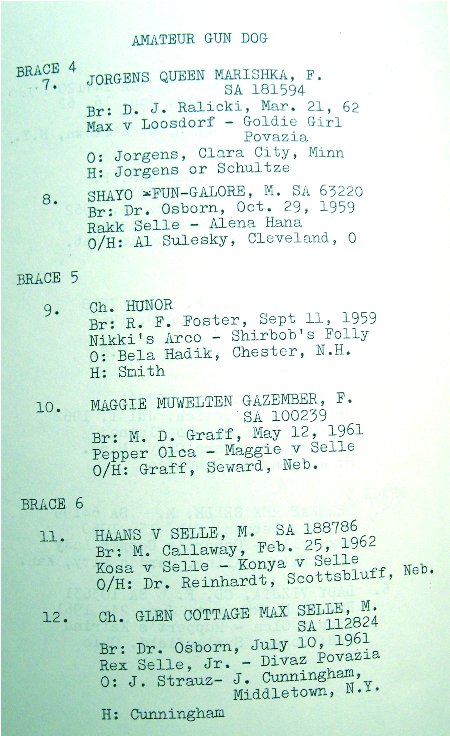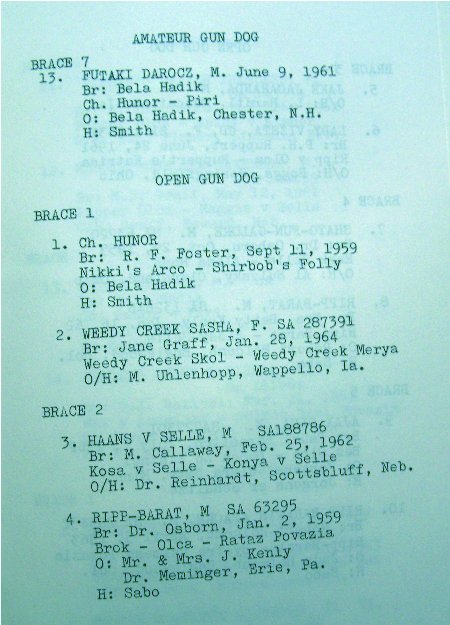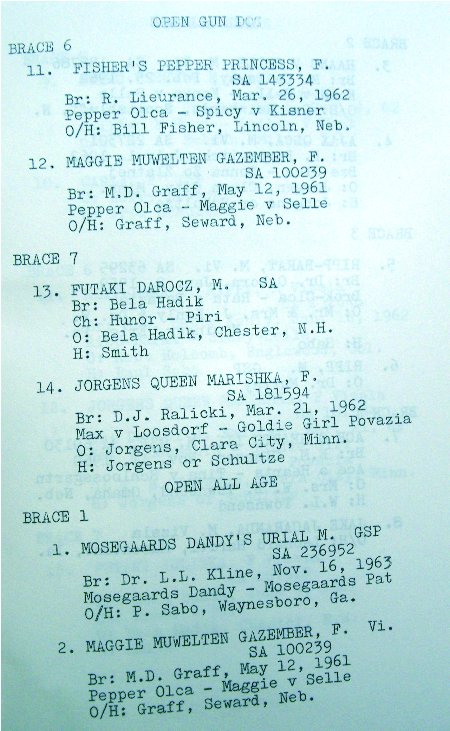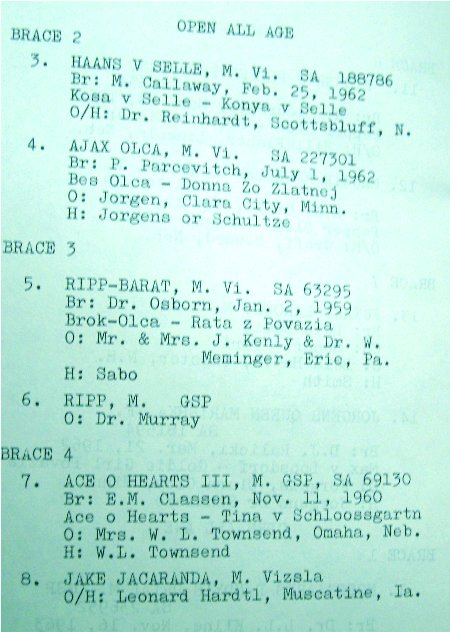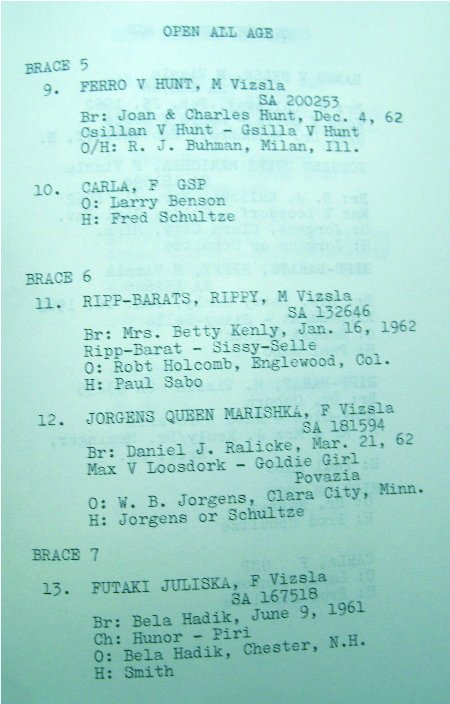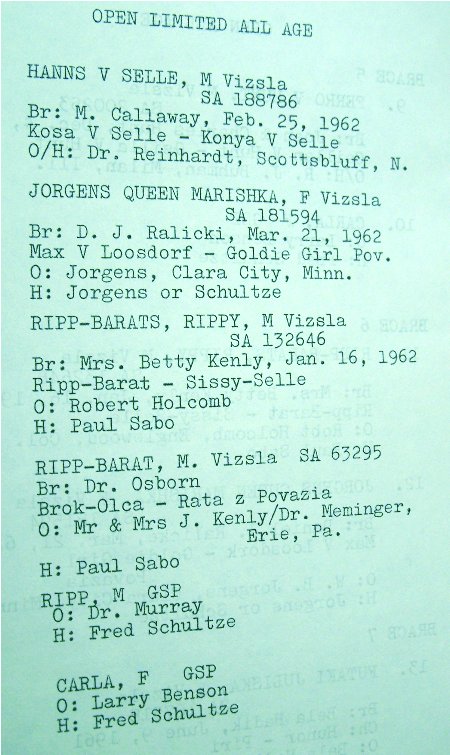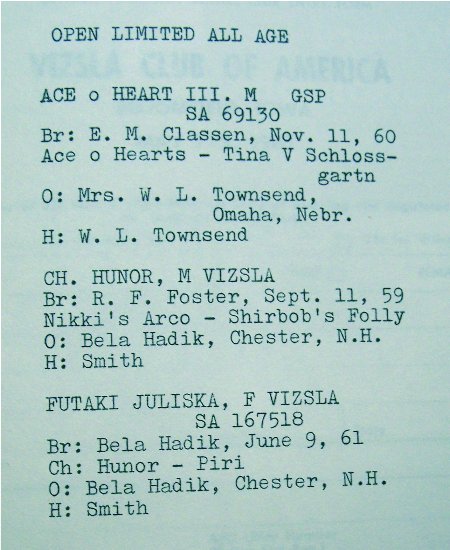 I "think" that no braces were drawn on the Open All-Age
Limited Stake so that dogs that qualified during the FT
could compete in OLAA. If that is true or not & someone
knows please contact.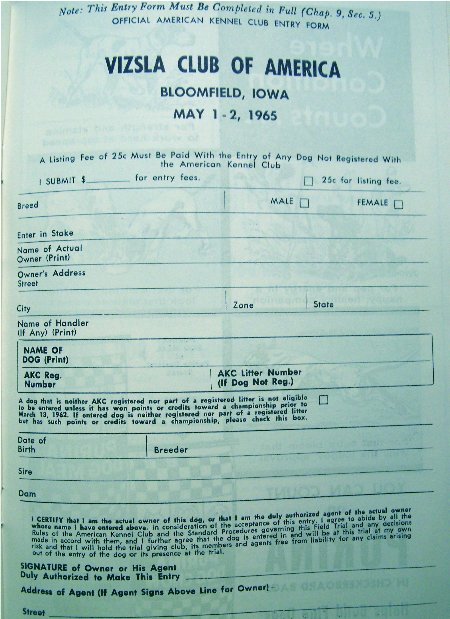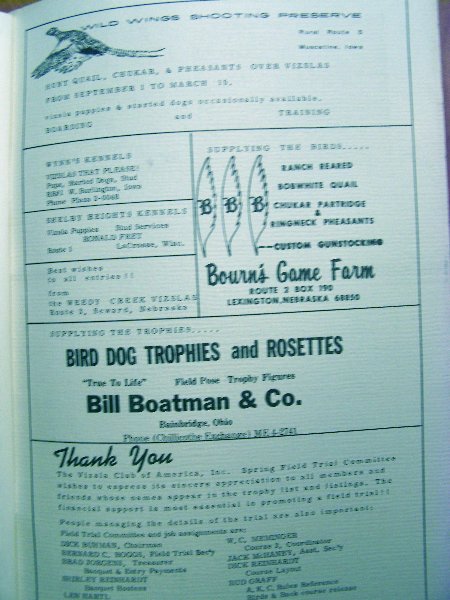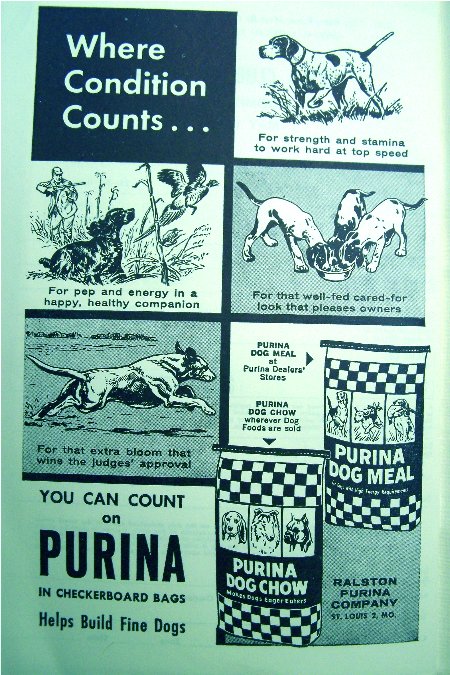 This website composes the private and public collections & lifetime investments of Vizslak peoples around the world with an initial focus on the USA & the field because that is the information SITmUP has processed....so far. Please "respect" our collective work on thevizslaksentinel.com and do not use in an unexpected way. The individual collections form the cornerstones of every Vizsla living and owned by "you" today.
If respected by the readers, the information on this website will remain & grow.
Credit should be given by providing the appropriate Sentinel URL
when quotes or articles are republished.

"The Vizslak Sentinel " (c) Jan 13, 2009
Product of Stuck In The mud Underground Publishing (SITmUP)