PRESERVING VIZSLA HISTORY
Voices of The Vizsla Club of America
(All images & text are copyright protected)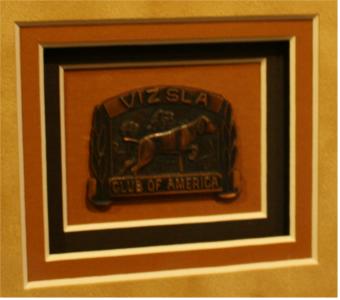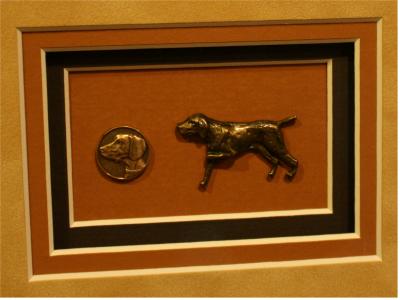 Pieces of a Carolyn Arrasmith Farmer VCA Lifetime Member Pin Collection
We are sitting in a cherry cabin, intricately built & decorated with Americana-Magyar Vizsla accents. The evening is done. The fire is simmering, looking for a rest until another packed for action-day. The lights, the natives & their dogs are out. A wondrous thing happens when one by one, the ghosts of pioneers past float from heaven's mists to gather by dimming coals to fill the last moments of that day. They talk, or rather whisper. You can hear Smitty grate out "Keep Your Powder Dry, Preserve The Integrity of the AKC Gun Dog & Breed DNA". Soon Hilda Boggs groused "Keep the Amateur, Youth & Women In Our Breed". May Carpenter butts in exclaiming the names of Vizslas who should be in the VCA Hall Of Fame. Conversation becomes a huge roar as each pioneer leans forward to say their peaqce to flickering embers, when suddenly sweet Adelbert Seelye calms the din with a satisfied smile & a mischievous shout of "Peanuts." The group grows silent from Del's preferred way of telling his remarkable Vizslas to hush. He smiles benevolently at his
ghostly fraternity reminding all to be more kind-hearted to others.
The reader will have to lean forward to hear what they have to say…."that they are watching you, what you do" & that you will need to provide those legacies you leave behind, for when you join the ghosts...
of The VIZSLA NEWS past in a lasting way.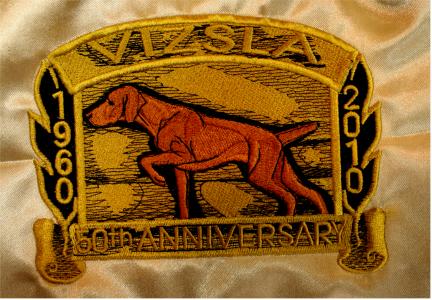 Embroidered Brok Olca HOF Pin For The 2010 50th VCA Anniversary
Our Magyar pioneers never knew that future generations who lived by a magical system that circled the globe, would be looking backwards at them & judging them by the things they left behind. Today we know future Vizsla owners will look back at us. Because preserving in some form of hard copy has engendered an unsound fiscal periodical that does not generate enough support or income to pay for the meat of our history & has become so difficult, unimportant & costly, we risk losing that hard copy angel that has served the Vizsla for nearly sixty years. There are more than one historical article that were pushed back into Magyar mists issue by issue because there wasn't enough income to justify printing the wonderful article, not printed or exhibited anywhere else in the world. Those omissions become egregious, particularly if that article is written by any of our VCA Lifetime Members or is about a long-lost 1950s Vizsla pioneer, especially if they were discovered under a large flat rock that nobody knew about.
Pay It Forward…to the this & the next Vizsla fancier generation…ALWAYS !!
I make the following food for thought suggestions for VCA Publications, to prepare a draft proposal to the Officers & Directors of the Vizsla Club of America concerning VCA publications. I may need help with the details. When you get old, you will understand how much harder it is every day to ignore the alphabet diseases, as well as yours…
Substitute digital (DVD so videos may be included) VIZSLA NEWS issues for the membership fee of $45 or current fee.
Add $5 to the membership dues per hard copy VIZSLA NEWS issue produced in the current year.
Cut advertising fees in half.
Develop scenic "advertising" programs at a discount rate that will promote at least 4 Vizslas per page at a 10% savings. An example would be a field, conformation, obedience, agility on a scenic backdrop of a past VCA Nationals. Another program example would be to promote at least 3 Vizslas per page, presented on a faded scenic background.
Establish departments that will appear in every issue like Health, Rescue, Legal Laws that per issue might be as small as a quarter page.
Reward CHICsters with 10percent savings.
Reward regional clubs with 50% savings a page
Provide at no charge quarter ads for VCA umbrella Rescue groups.
In 2014 do 5 issues each a year of VIZSLA NEWS.& its Supplements
In 2016 do 6 issues each a year of VIZSLA NEWS
Create the position Creative Engineer. Make them responsible for creating, then advocating themed programs.
Build various VIZSLA NEWS & Supplement ADvocators by refusing to wait for advertising or articles to come from the membership, whose responsibility it is for them to initially contact by telephone or in person.
The VIZSLA NEWS CD Supplement
Create a bi-monthly CD The VIZSLA NEWS Supplement that has on it various general information that doesn't "need" to be in the hard copy/DVD of The VIZSLA NEWS, including all VCA regional club Performance & non- Performance AKC events, NAVHDA, etc
Advocators for The VIZSLA NEWS & The VIZSLA NEWS Supplement should be rewarded with a year-end dispensed percentage income or paged-The VIZSLA NEWS or Supplement barter in a future issue. Those Barter ads will be identified in both publications.
Provide small advertising options in The VIZSLA NEWS Supplement at minimal fees.
Provide National Event catalogs on CDs at half the charge of the "printed on demand & not available at the event " hard copy catalog fees.
Current VIZSLA NEWS Staff/Reporters
Have the BOD VIZSLA NEWS staff continue as they have, but they will now timely decide which information goes to the Club Historian, the hard-copy/DVD The VIZSLA NEWS, the CD The VIZSLA NEWS Supplement & the VCA website.
If the current VN staff isn't enough, then add positions.
Have the Reporting VIZSLA NEWS staff continue as they have plus now responsible for providing timely respective interest Vizsla AKC Events for The VIZSLA NEWS Supplement (CD)
Create a VIZSLA NEWS Supplement Editor & Scout (gathers AKC Event data themselves) & engages with local clubs for individual write-ups on events and or history of the club.
The VIZSLA NEWS database…
Gather & digitally scan the complete collection of The VIZSLA NEWS from 1954 to today.
Pay a set fee for every "properly" scanned page. Don't pay by the hour.
Define "properly" as imaged at a standard dpi & size needing no refidgiting & "correctly" numbered as to year, issue of
The VCA may need to create another technical paid person position to establish & regulate the new VIZSLA NEWS database if the current paid VCA webmaster doesn't have enough time to do both.
Scanning every The VIZSLA NEWS issue will copyright all of them. This is important because until the late 70s/early 80s no VIZSLA NEWS was copyrighted.
Charge a set yearly fee (reasonable) for access to The VIZSLA NEWS database.
Have those yearly fees & advertising go into a fund that pays for the VCA website & database.
Volunteers
Ask first for volunteers for VIZSLA NEWS, Supplement, Database & other VCA Periodicals.
Include year-end barter as a negotiating opportunities for the combined VCA publications for VCA Publication Staffs.
If there are no volunteers for a position, then appoint one.
Have volunteers try to communicate in each relationship intermittently by letter, telephone or in person.
Don't depend on email solely. Email has odd limitations that tend to create problems of emotional mis-interpretation for all of its worldly accessibilities.
Give all volunteers & potential volunteers…expectations
Do not fret about the other committee still remaining open positions, but look to appointing someone to step in until they can be replaced if they want by a different volunteer.
Despite the length of this missile, it isn't complete. One person can't think of everything. If you want to support this type of a proposal too, then holler so I can hear or better yet, submit your ideas too…dlb