HONOR RESPECT REMEMBER
Presenting Notable Vizslas & Persons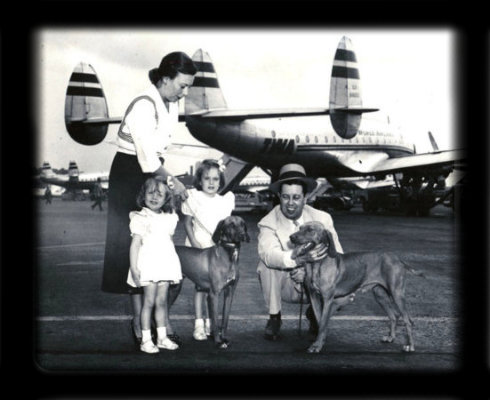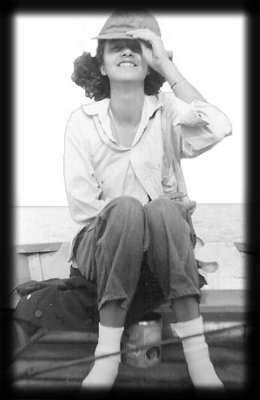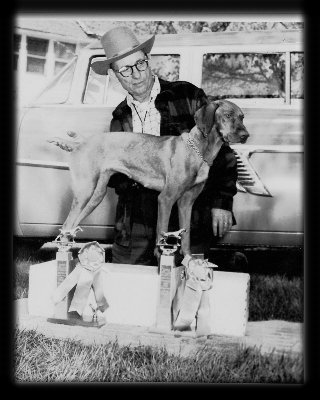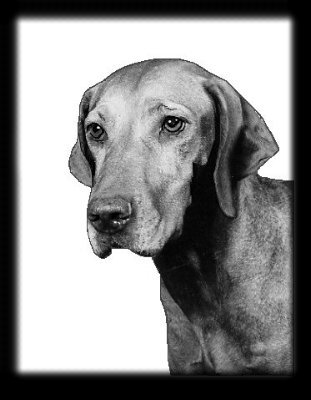 Top- arrival of Rex for future mate Sari & the Tallmans
L- Hilda Boggs; M- 1955 Nikki of Bayview (dam of CH Nikki's Arco HOF);
R- DC Behi's Csinos Csiny CD HOF
Celebrate the 50th Anniversary of the
AKC Vizsla & Vizsla Club of America
by giving special recognition during 2010 of those wonderful
Vizslas(decd)& their peoples(decd & living)of our golden past.
"HRR" will be presented in VIZSLA NEWS in only six VN issues
starting with the April 5, 2010 deadline.
Deadlines are June 5, August 5, October 5, December 5 &
the "HRR Round-Up" February 5,
This is a great opportunity to share our stories, to toast our mentors,
to commemorate dogs (first dog/foundation stock)& our pioneers through the voice of the Vizsla Club of America's, oldest Vizsla magazine...
The VIZSLA NEWS
@@@@@@@@@@@@
For those who wish to promote those dogs & peoples (who no longer have guardians to preserve their memories), donations are gladly accepted. Dogs and persons fitting into that category & needing "donations" are... Brok Olca, Doc Ivan Osborn, CH Csicskas of Goncoltanya, Charles & Joan Hunt, Rakk Selle, Nikki of Bayview & Rex Selle. Contributors' names will appear on the SITmUP back cover page.
It is not necessary to hire a SITmUP designer, but to be included in the "HRR" section one should pay SITmUP $25 whether yours or our designers do full paged advertising.
We are also "loaning" our HRR backgrounds to individual creative engineers.
Loaning fees also include the $25 HRR fee.
A Left or Right HRR background page $50 & may be used multiple times.
Both sides of the "HRR Background" fee in
color or lack/white are $75.
They may be used multiple times in VIZSLA NEWS.
All "HRR" ($25 fees) will go to establish half-page b/w ads for those dogs & persons who have no guardians left to preserve nor share their stories.
The average cost per PAGE from SITmUP Designers range from $50/100 per page if the "HRR" vintage collage is used. If the "HRR" vintage background is not used, then SITmUP designer fees range from 100-150. These fees do NOT include VIZSLA NEWS advertising fees or the HRR $25.
**********
A simpler option is offered by SITmUP for those who want a half-page &/or the convenience of only paying one person, but still has all bills covered.
For half-page ads we offer a package deal that combines design fees, VCA Advertising fees & HRR
$25
into ONE payment.
Half-page ads are $100 per dog or person in black/white.
Color half-page ads are $175 per dog or person.
All half-page ads are on HRR designed backgrounds & include VIZSLA NEWS fees, SITmUP designer fees & "$25 HRR fees.
THE SITmUP "HRR" BACKGROUND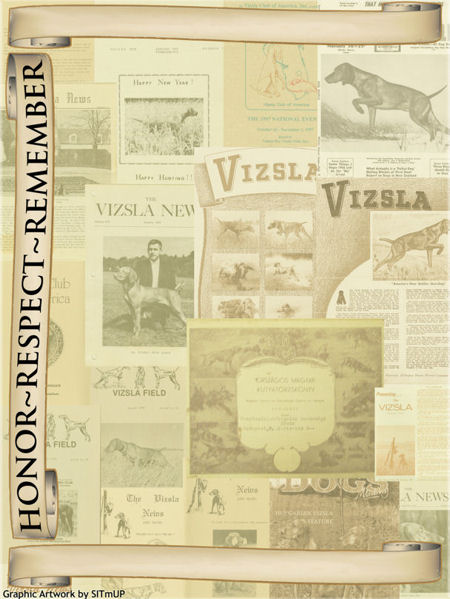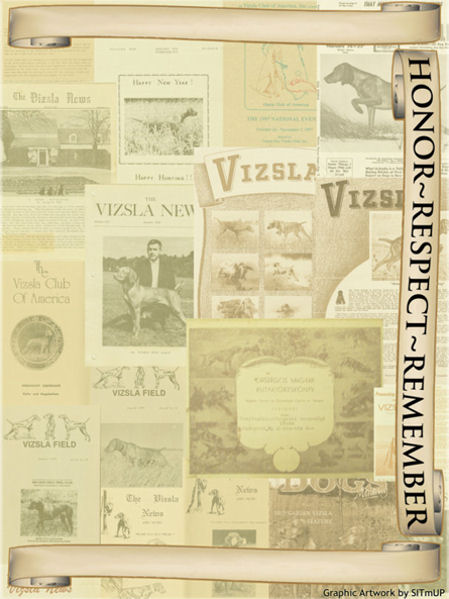 "HRR" paged ads may also appear online at
thevizslaksentinel.com, vizslavizipedia.com & vizslavizsmithsonian.com @ no additional charge.
THINGS TO INCLUDE IN YOUR
SITmUP DESIGNER AD.....
1. State if ad is 1 or 2 pages.
2. State b/w or color

3. State whether a SITmUP designer should do your job OR

if you are providing your own.

4. State any design preferences OR let SITmUP designer choose

5. Understand that the more changes, extra's that get made from selections presented and/or raises time charged

above $100, client will be notified of that

before crossing the pre-estimated charge.

6. Understand that SITmUP designers have access to SITmUP photography as backgrounds & graphic extras like Vizsla specific photographs of events, graphics etc is available when hiring a SITmUP designer.

7. Are accountable to VN Editor for paying VN ad fees deadline by April 5, 2010 deadline.

8. Provide larger photos that are

minimally 300 dpi or resizeable to it.

9. Provide text items desired in your ad.

10. Remember bigger, higher resolution, few multiple photos is Better.

Big is big and simple is "bigger".

11. Anxiously await arrival of VN

after April 5 deadline.

12. Get a glass of Bull's Blood or Tokaj. Settle until comfortable in recliner with latest copy of VN. Look inside to see the baby birthed by you & other notables with a story to tell.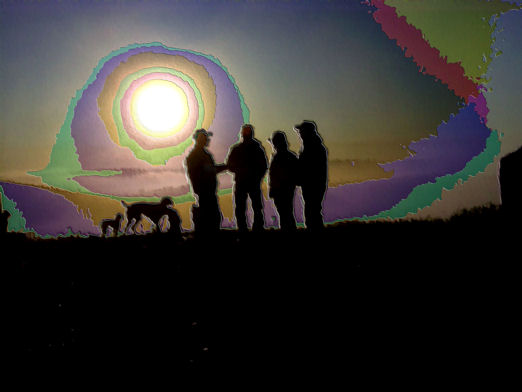 Vizsla Vizipedia is primarily a vikipedia index for Vizslas and their peoples.
Vizsla Vizsmithsonian is primarily an online museum repository for Vizslas & their peoples.
The Vizslak Sentinel is a NewZine for Vizslas & their peoples. It will feature Vizsla event articles, club activities, club histories, individual interests from health to whatever. The Wirehaired & International Vizsla are exceedingly welcomed into The Vizslak Sentinel.
This is a project of Stuck in the MUD Underground Publishing
Diana Boggs vizwizdlb@yahoo.com & Shelli Biediger m1nerva@swbell.net