Older FDSB Stuff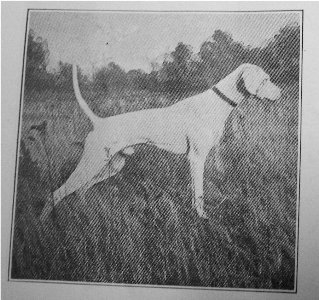 Riggins White Knight FT HOF, handled by Hoyle Eaton FT HOF
I first discovered the American Field magazine in the bathroom as a teenager. When I found Riggins White Knight within its pages I fell in love......darn well hard with the longest running sporting periodical. I especially loved those Xmas issues that have the wonderful articles & magnificent artwork.
It is clear that past magnificence is still order of the day in pointing dogs regarding lasting success. We look for it in our dogs. We must have it in our peoples to have high-class field trials.
The below items are photos from past AMERICAN FIELD magazines. They are not in year sequential order. They are in an "as added" order with newest on top & will be transposed to a WORD document or enlarged as soon as possible. All but the last two selections come from the Bateman Kennels AMERICAN FIELD collection. The last two come from the Boggs Collection. All of these FIELD articles date between 1957-1965. When time permits and/or volunteers type all of the below will be changed to accompanying verbatim WORD documents.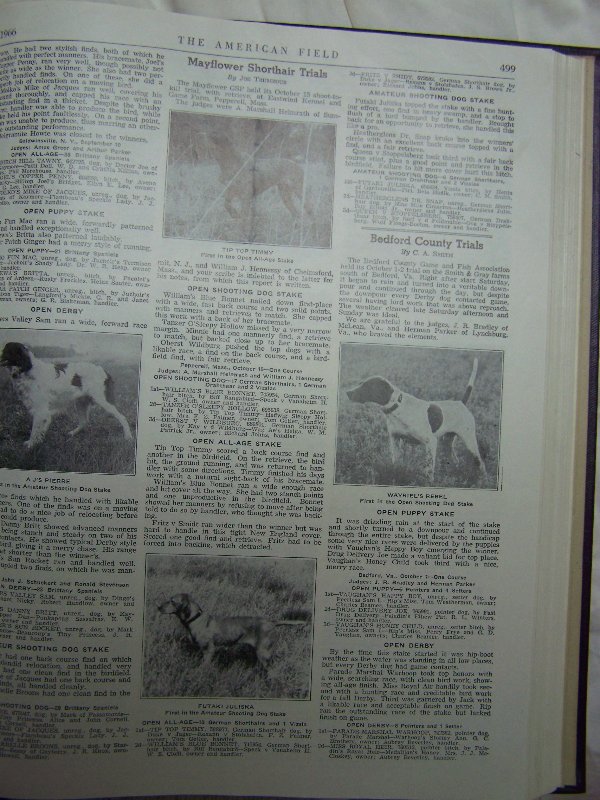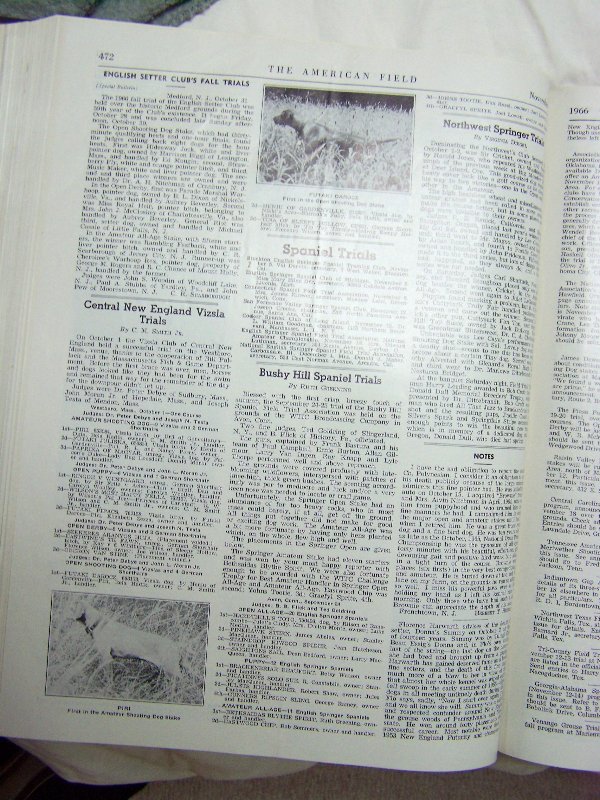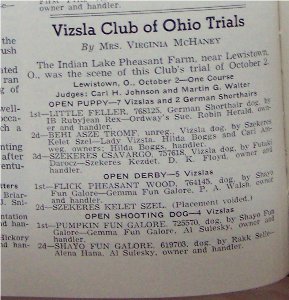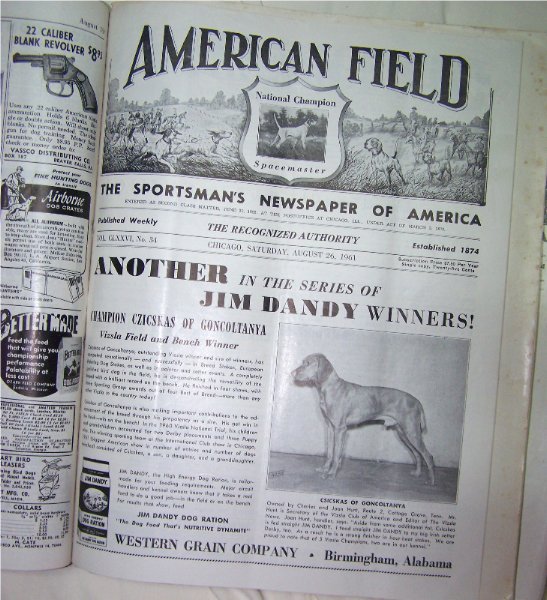 This is very likely the first AMERICAN FIELD cover to be graced by
the Vizsla & unless discovered otherwise may well be THE only
time AMERICAN FIELD had a Vizsla featured on the front page. That issue's star is Joan & Charles Hunts' Ch Csickas of Goncoltanya who was the second Vizsla show Champion finishing one day
after Ch Miklos Schloss Herzog HOF. He was the winner of the Puppy Stake at the first Magyar Vizsla Club of America (MVCOA) regional
field trial held at Fort Snelling in September of 1955.
Whenever one goes spelunking inside of olde, in this case the late fifties AMERICAN FIELD magazines, there are always unexpected treasures. This particular rock=turning occasion scarfed up a most unusual offering on the front page of a late fifties AMERICAN FIELD cover. It was an ad for dog food & the super duper brag was that the female Pointer whelped three litters totalling thirty five puppies in three back to back seasons.
Can you imagine? Yoiks~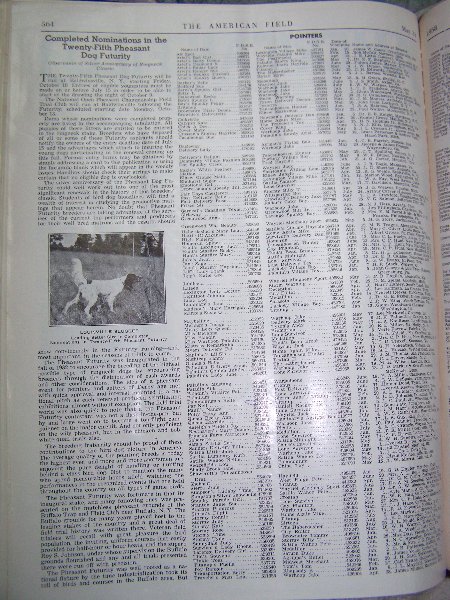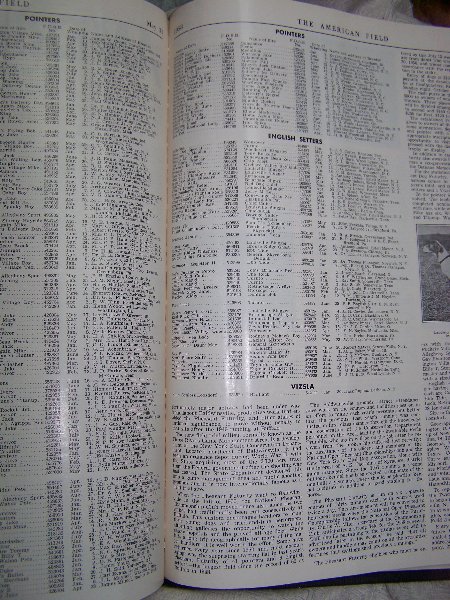 This may well be THE first time a Vizsla was nominated
for an AF Futurity. Keepin our eyes open, we are...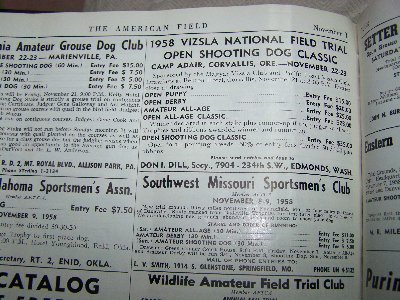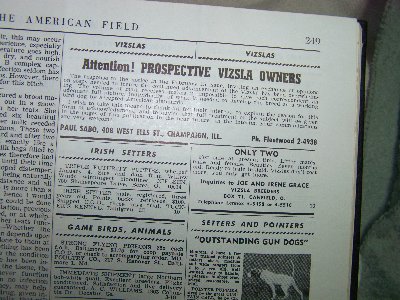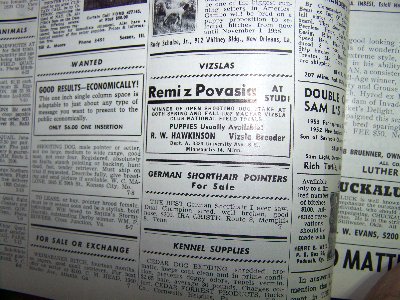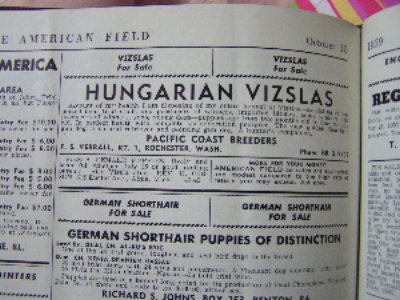 registered crossbreeding fdsb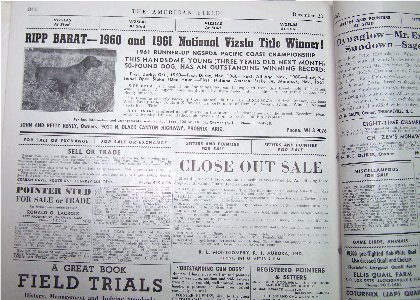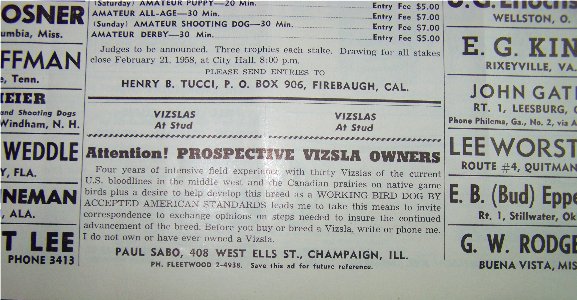 Vizsla Advertising in AMERICAN FIELD late 1950s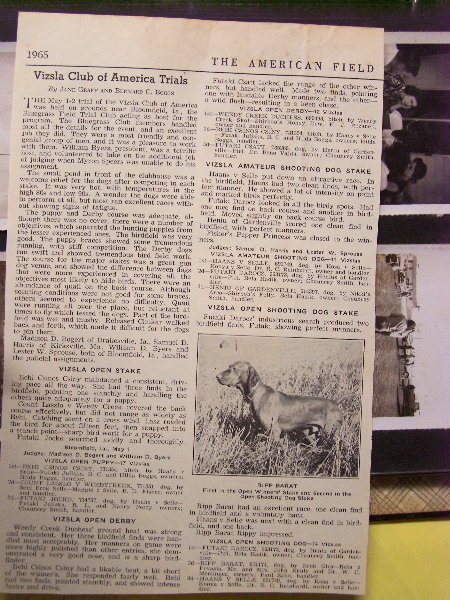 One of the Vizsla Club of America National Write-ups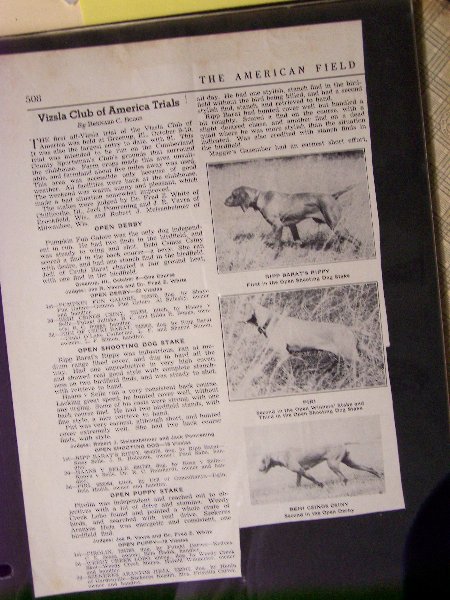 Another VCA write-up for a 1965 Spring Nationals
The Vizslak Sentinel appreciates greatly AMERICAN FIELD graciously giving permission for photo reprint & verbatim articles. For many readers the showcased FIELD articles are brand new pearls to be treasured & help to understand better the building blocks required for every single high class field trial dogs. have no idea of the profound delight headed your way.
AMERICAN FIELD (1874) has been the longest & best voice for FDSB (Field Dog Stud Book) field trials. Its pages are filled with detailed event reporting, prolific & respected writers and simply wonderful works of art (Xmas issue) as well as articles about the famous dog sporting artists.
americanfield.com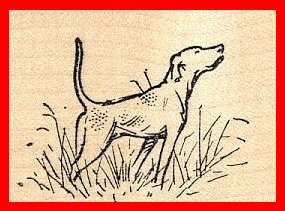 This website composes the private and public collections & lifetime investments of Vizslak peoples around the world with an initial focus on the USA & the field because that is the information SITmUP has processed....so far. Please "respect" our collective work on thevizslaksentinel.com and do not use in an unexpected way. The individual collections form the cornerstones of every Vizsla living and owned by "you" today.
If respected by the readers, the information on this website will remain & grow.
Credit should be given by providing the appropriate Sentinel URL
when quotes or articles are republished.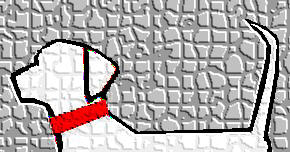 "The Vizslak Sentinel " (c) Jan 13, 2009
Product of Stuck In The mud Underground Publishing (SITmUP)