The Chicken Dance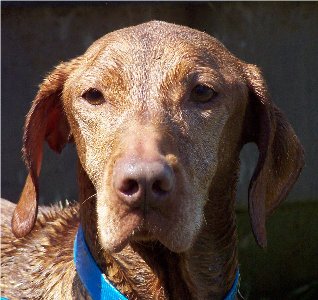 Once upon a time there were two lovely Vizsla ladies
who spent hours in water even if it was just a big bucket. Obviously big buckets would need top flight VizEngineering.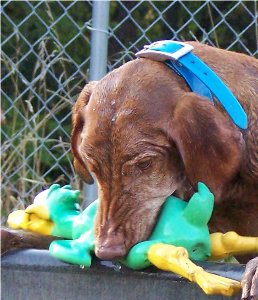 There also once lived a Chicken in this same VBurg
who thought he could flirt with she-devils &
not pay the ultimate price.....DEATH BY BITCHINS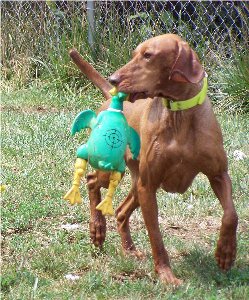 Stella became so furious that she ripped
the Chicken right out of Delta's teeth.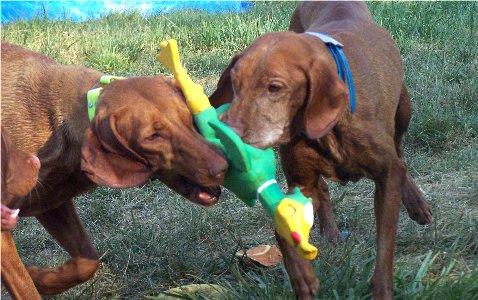 Frantically Delta tried to snatch the Chicken back.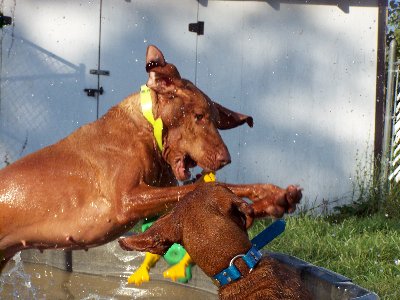 And nearly did until lo unbelieving eyes, the chicken....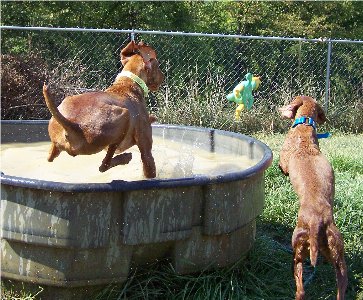 Flew away as fast as he could go.
The She-Devils could NOT believe it.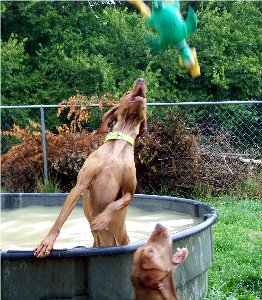 Suddenly UP UP UP the Chicken jumped screaming
out loud when he looked down & saw Delta's
jaws of waiting death.
PART II To Be Continued
This website composes the private and public collections & lifetime investments of Vizslak peoples around the world with an initial focus on the USA & the field because that is the information SITmUP has processed....so far. Please "respect" our collective work on thevizslaksentinel.com and do not use in an unexpected way. The individual collections form the cornerstones of every Vizsla living and owned by "you" today.
If respected by the readers, the information on this website will remain & grow.
Credit should be given by providing the appropriate Sentinel URL
when quotes or articles are republished.
"The Vizslak Sentinel " (c) Jan 13, 2009
Product of Stuck In The mud Underground Publishing (SITmUP)