Tri-Valley Wildlife Area,
approximately 15 miles north of Zanesville, Ohio from I-70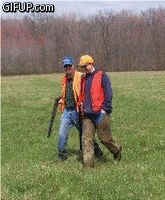 photos by dlb
MVVC gunners can't wait to rock & roll @ Tri-Valley.
"Ah said dance, pilgrim, dance" John Wayne
The Miami Valley Vizsla Club proudly presents the premium that introduces the next generation of field trialers to MVVC Field with high class grounds, with all Stakes open to all AKC Pointing Breeds (which means a larger cross-section of high class bird dogs), with native quail with chukar & pheasant & their big-bird smell, with judges with discerning eyes & with a Field Trial Committee committed to high excellence & camaraderie. We hope you enjoy.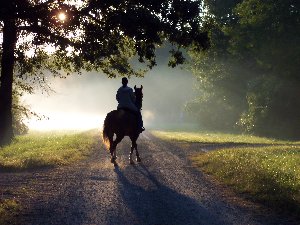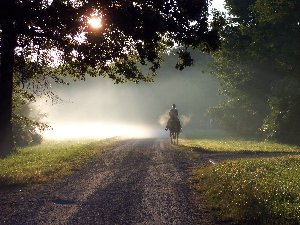 "Riding To The Breakaway In The Fog" Photos by dlb
"Let's Go !!!!!"
"The correct event number for this event is 2009167405
NOT what is on the pdfs for premium & entry form.
TRI-VALLEY WILDLIFE AREA PHOTOS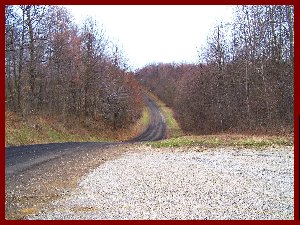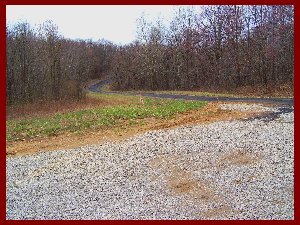 Approach from East (left) and from West (right)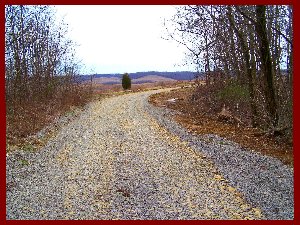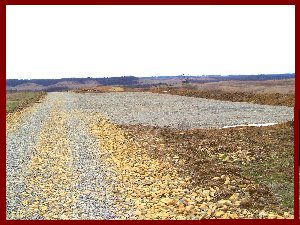 Drive to and including First Parking Lot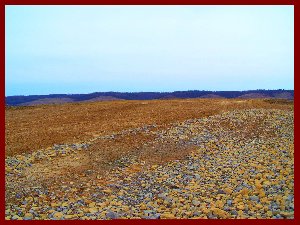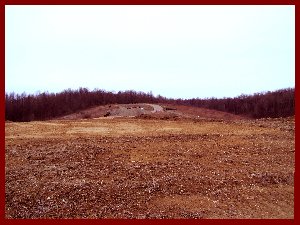 Clubhouse on & off the building site.
All Tri-Valley photos are by Justin Allen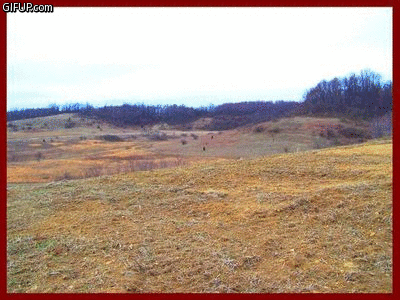 Part of a 360 degrees (1/2?) course view from clubhouse point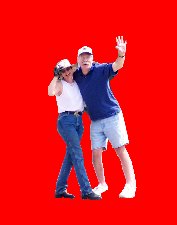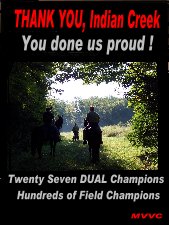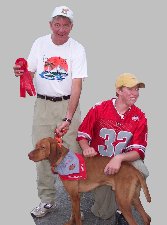 It isn't easy bidding a Buckeye farewell to Indian Creek.
Indian Creek remembrances are sprinkled through-out the various narratives.
Nestled in the rolling hills of reclaimed Ohio coal country in Muskinghum County near Zanesville lies the new field trial home of the Associated Bird Dog Clubs of Ohio. The Miami Valley Vizsla Club will host
the third field trial ever on Tri-Valley Wildlife Area October 10 & 11, 2009.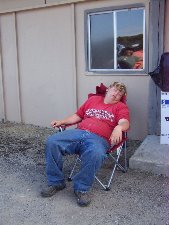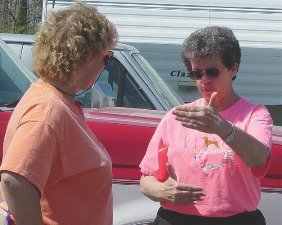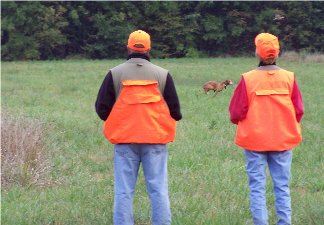 Previous NAFC "Zack" awaiting callbacks @ Indian Creek; Youel Blair's (wrangled for MVVC for decades) son Josh's first FT by himself) Can you see the funny in the window?; "Yessiree my dog's bird was THIS big" Rhoda Ezell & "No way do I believe you" Karen Fischesser; " Anticipating The Retrieve" Jon Peck & Holly Hanna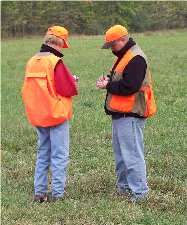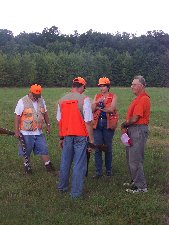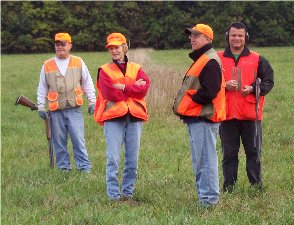 motley crues ;-) Photos by dlb
Holly Hanna & Jon Peck; Jim Busch, Nancy Boggs Heinold, Don Keeton, Matt Rogers; same crue, ; Don, Holly, Jon & Bill Monk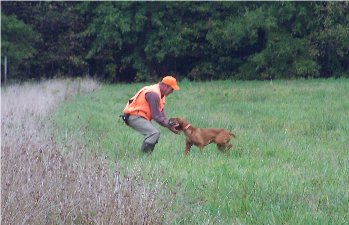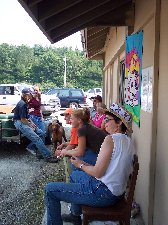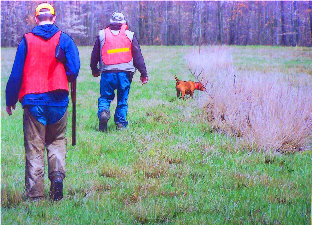 Bobby Seelye & Octane with THE retrieve; "Awaiting Placements"; "The Honor Guard-Justin Allen, Jim Rowell & Maggie
Tri-Valley is composed of slightly over 16,000 acres. One can find the ODNR Tri-Valley Map by googling "Tri Valley Wildlife Ohio". The link is too long to provide at this time. Tri-Valley headquarters is at 5960 Memory Lane, Zanesville, Ohio 43701 located next to the ODNR Forestry Nursery. The closest town is Dresden.
The nicest thing about Tri-Valley are the wild birds. Quail have a tendency to not do well on the northern fringes of their natural habitat but that is no longer true at Tri-Valley because of the ODNR game restoration of habitat. Zanesville is a northern quail fringe although not that long ago there were quail in all 88 Ohio counties. It takes 8 to 15 quail to survive a winter. They "park" so to speak in a rosette & generally weigh at least 2 more ounces than a southern Bob White. There now appear to be enough quail
that for most winters their survival rate keeps rising each year.
"Unfortunately, the winters of 1976-77 and 1977-78 were particularly devastating to Ohio's bobwhite population," the Division of Wildlife history says. "Several months of snow cover and below-normal temperatures characterized the winter of 1977-78. On Jan. 26, 1978, temperatures fell 40 degrees in five hours, and precipitation changed from rain to blizzard conditions with wind speeds of 56 mph
gusting to 70 mph statewide! " stated the Ohio Department of Wildlife.
Recently the ODNR has had good success with transplanting Kansas quail into Ohio co-inciding with habitat replacement & bringing back to eastern Ohio the piercing "bob white" song. It was the local birdwatcher's club who brought the return of the Bobwhite quail to the attention of the ODNR. That combined
with transplanting Kansas quail has brought back the wild game aplenty.
The State of Ohio is not permitting any quail to be released on the FT grounds THIS FALL because of health concerns for their quail restoration program. The plan is to trap & move the wild birds to other parts of Tri-Valley. Until then FTs can only use chukar & pheasant.
While some may see this as a problem, many love the bigger birds. There won't be any worries
about dogs catching chukar or pheasant. Enjoy the wild birds whilst we have them.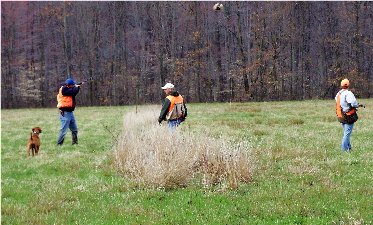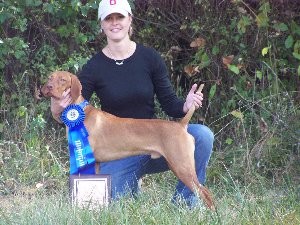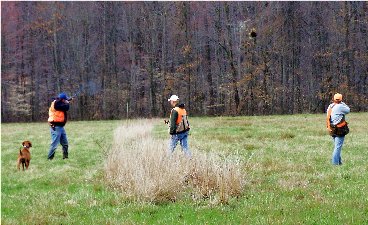 Justin & Stephanie Allen "In Action"- Supporting cast is Captain, Cutter, Clint Sails & Skip Wonnell
ADVANTAGES OF TRI-VALLEY
Wild Birds
Close to major Interstate
360 degree view from clubhouse
Close Accomodations, Services & Food
Figures to become an East Coast FT perennial favorite
Surrounded by acres & acres of developing wild bird habitat
ODNR & ABDCO working together on habitat/upland game programs
RESTAURANTS- Zanesville
Starbucks, Bob Evans, Apple Bee's, Red Lobster, Lees Chicken, Ruby Tuesday,
Golden Corral Buffet, Popeye's in Dresden & theTumbleweed Grill & Bar
HOSPITAL- Zanesville
Bethesda Hospital- 1740 Blue Ave, Zanesville 740-454-4000
VETERINARIANS- Zanesville
Brandywine Hospital- (740) 453-0539; James W Booth- (740) 452-3332 ; David Brinkman (740) 454-3355; Countryside Animal Clinic 740) 453-4726; Hillside Vet Clinic (740) 454-3355 ; Jeff Hustey (740) 453-0539
Karen Osborn (740) 454-6295; Martin Ken (740) 454-6295; Maysville Animal Hospital (740) 452-9660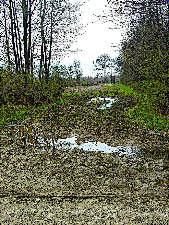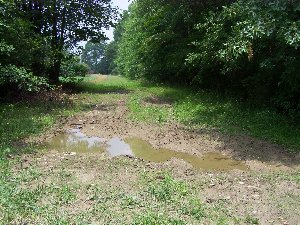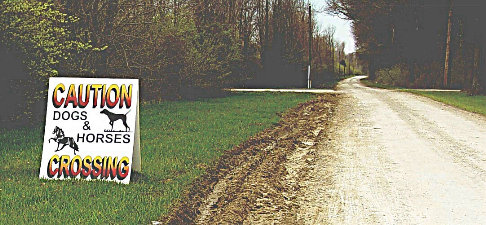 "The Denver Kilburn Mudhole" @ Indian Creek (since 1952 Denver has been trying to fill up his own personal mudhole. We've seen it dry, but we have never seen Denver win.); Sign @ 2003 VCA NGDC This photo by Jan Wallace (The AKC Rep said it was much worse at Killdeer Plains the same weekend that mud became quicksand.)
The Ohio Ornithological Society has an active chapter who regularly scout out all species of birds & are usually found in the northern part of Tri-Valley, the grasslands south of Dresden, Ohio. Below is a link from one of the many Tri-Valley birdwatchers that gives one the lay of the land, so to speak & on a bright sunny day.
Ohio University tries to bring back the Chestnut tree to Tri-Valley.
My Topo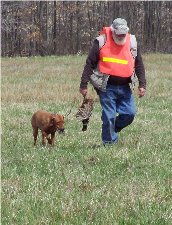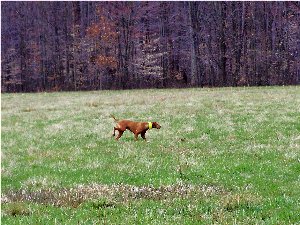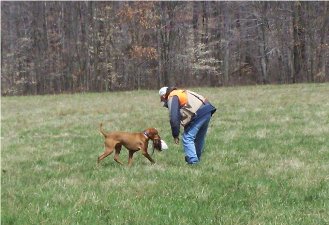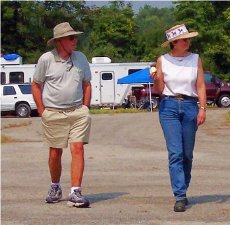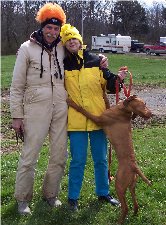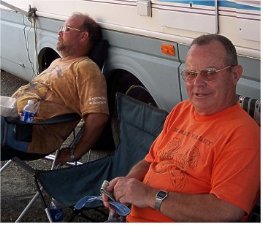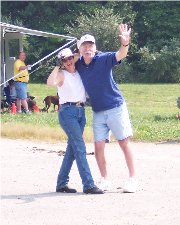 Darcy & Jim Rowell; ?; Cutter & Clint Sails; Clif Boggs & Nancy Boggs Heinold; Dave Pomfret, Diana Boggs & Stella;
Denny & Don Keeton; Nancy Heinold & Chuckola Parker
NEARBY SIGHTS
Dresden- Birthplace of Longaberger Baskets & wonderful shopping opportunities
of a crafty nature/ Be sure to stop in at Popeye;s for a burger. There are several
Bed & Breakfast Inns but none allow pets.
The Wilds-10,000 acres for 25 species from America, Asia, Africa
Muskingum River Water Trail-longest river lying wholly in Ohio
Dillon Dam- rolled earth filled structure with impervious clay core
American Electric Power- 30,000 acres available to the public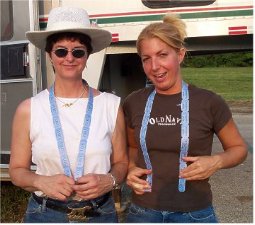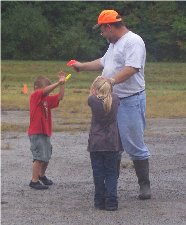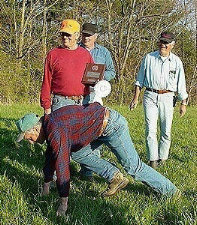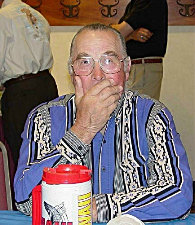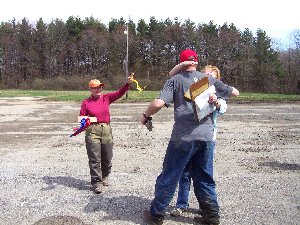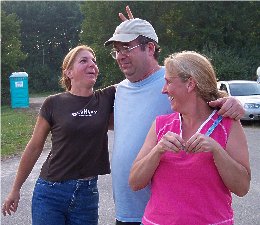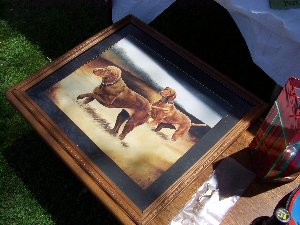 Field Trial Barbies (yes, they do exist @ MVVC FTs, In fact "if you want to see good-lookin women, come to MVVC" says Steve Whitney as he coyly smiles at his wife); MVVC has a long history of youth activities; Perry Williamson posing for the missing Kayser dog for a 2003 VCA NGDC placement; Field Trial Barbie Playtime; Jim Busch @ 2003 VCA NGDC Photo by Jan Wallace; Roger Hatch's first Gun Dog placement; Potty Humor; Portrait of Kayser dogs by
Dave Heinold that lived on the Indian Creek Clubhouse wall for over twenty years.
Excerpts from Zanesville Times Tri-Valley Article
A new bird dog field trial area is being developed in the Tri-Valley Wildlife Area by the Ohio Department of Natural Resources' Division of Wildlife.
A parking area is under development just off McLaughlin Hill Road and Ohio 208 just east of Dresden and a post-frame building will eventually be added at the site to serve as a clubhouse, said Jim Marshall, assistant chief of the Division of Wildlife.
Approximately 2,500 acres of the wildlife area will be used for bird dog field trial events, which will be moved from Killdeer Plains Wildlife Area near Marion after the new site is established, Marshall said. The project could be done as early as this fall.
Marshall said there was an issue with using federal grant funds at the Killdeer site, as well as concerns over an endangered species of snake that forced the state to consider relocating the field trials.
A water well was dug at the site to provide water for the dogs and horses and stone was brought in for the parking area. Discussions are also underway with American Electric Power to provide electrical service to the site, Marshall said.
Once the weather warms, concrete pads will be poured where dog kennels can be placed during events, a corral for horses will be set up and then a post-frame building where event meetings can be held. The division is spending between $50,000 to $100,000 on the project, Marshall said.
(Excerpts from Zanesville Times Recorder article about TriValley)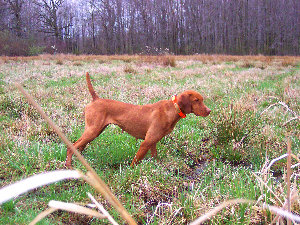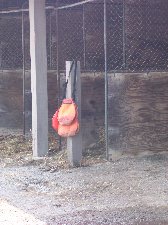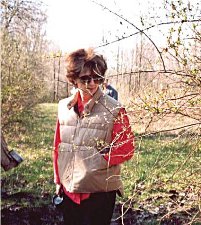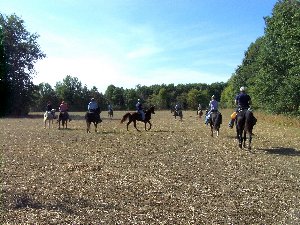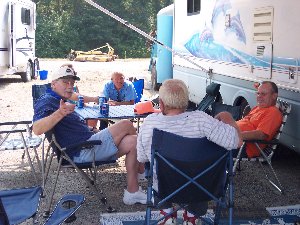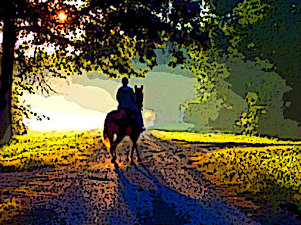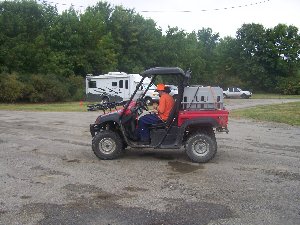 Kansas before an MVVC FT; Hanging Game Bags; Carol Feder-one of four living MVVC Founders-Breeder of three Dual Champions & Owner of First Vizsla to win a NSTRA Stake; Hindsight By The Old Cabin"; FT Guys Love To Be FT Guys; A different kind of a look @ Indian Creek fog; Trish Burden & Her Lovely Toy
NEARBY OHIO WILDLIFE AREAS
BLUE ROCK STATE FOREST
Blue Rock State Forest is 4,579-acre parcel is 12 miles southeast of Zanesville on state Route 60 and Cutler Lake Road. Several horseback riding trails scattered through the forest provide easy access to remote areas. E-mail questions or requests for more information about Blue Rock State Forest can be sent to
Perry.Brannan@dnr.state.oh.us
.
DILLON WILDIFE AREA
Dillon contains three large parcels totaling over 3,600 acres. Area One is off of state Route 16 south of the village of Marne. Area Two is south of the intersection of state routes 586 and 146. This section is the largest of the three. The third section is northeast of state Route 146. The key to accessing this portion is finding county Road 500 (Cemetery Road), which leads to the heart of the area.
Camping and picnic facilities are available at Dillon Lake State Park. The state park's cottages are popular among visiting hunters. There are 29 family cottages nestled in the woods overlooking the north lakeshore. Each cottage has air conditioning, cable television, gas heat, two bedrooms, a bath, a living room with sofa bed, an all-electric kitchen, a dining area and a screened porch. One cottage is handicapped accessible. Linens, towels and kitchen utensils are furnished.
For more information, call (800) AT-A-PARK or the Dillon State Park office at (614) 453-4377.
POWELSON WILDIFE AREA
Powelson Wildlife Area is east of Dillon Lake and approximately 10 miles north of Zanesville adjacent to the Muskingum River between state routes 60 and 666. It has a great mix of habitat, with several streams that are surrounded by mature foresy. Parking lots are abundant throughout the area. Powelson Wildlife Area's relatively small 2,775 acres can offer great hunting on weekdays during the gun and muzzleloader season.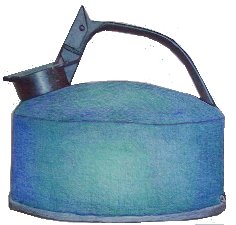 The last item to leave the Indian Creek clubhouse was the above teakettle. It has set up on a shelf & not used in the last fifteen to twenty years of Indian Creek. All covered with dust the tea kettle awaits its new home @ Tri-Valley. It looks very different from the brightened graphic-drawing. Property of Clara Kayser.