A Field-Trial Gaited Community
By Diana Boggs, 2011 COPYRIGHT PROTECTED;
DO NOT REPUBLISH WITHOUT PERMISSION
"Dancyville ain't very big but they sho is lots goin on". Local Resident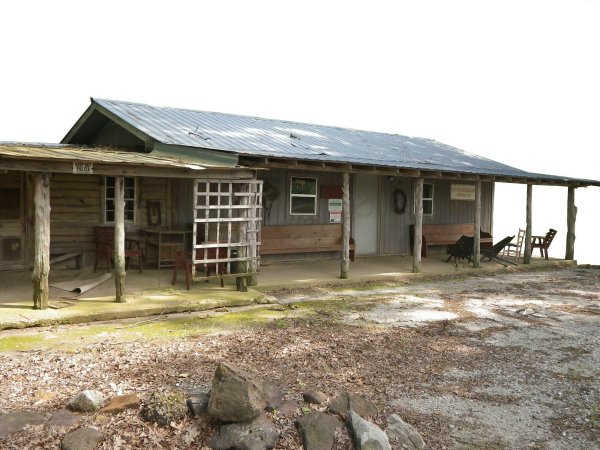 Dancyville "Holy Grail" or Field Trial Clubhouse, Photo by Ken Blackman
Thirteen miles south of I-40 on Dancyville Rd in western Tennessee, lays the sultry, seductive town of Dancyville, often referred to as "Bird Dog Alley" and a field-trial paradise. Twenty miles south of Dancyville is the Ames Plantation in Grand Junction where the 3-hour American Field National Championship starts on the 2nd or 3rd Monday each February. The National Championship, first run at Ames in 1902, is THE premier pointing event and like a grizzly bear securely occupies the highest tiers of field trialing. According to long-time American Field field trialers, particularly All-Age fanciers, a high-class field trial must earn and keep that reputation through longevity, sportsmanship and integrity with wild-birds, game habitat, consistently good performances and great judging. In Grand Junction, one can find the National Bird Dog Museum & Wilson Dunn's (d. 2011) Sporting Goods which in itself is a bird dog museum. If Grand Junction can be known as the "Cradle of Bird-Dogs" and the epitome of a high-class field trial, then because of decades of focused classic field trialing, Dancyville must be called "The Cradle's Rocker".
The town of Dancyville (current population 1,800) had its birth in 1837 and was named after a local blacksmith. By 1877 there were 5 doctors, 3 churches, schools, post office, cotton gin, dry-good stores, blacksmith shops, hotel and a population of 150. Some of the families that settled over 100 years earlier still remain. Local interaction has been invaluable to Dancyville whether it's from the community or field-trialing. A testament to Dancyville's early ability to provide revenue is the July 22, 1886 public barbecue where they raised $10,000 dollars in one day…to build a school. Their buoyant community spirit would later translate significantly to Dancyville field-trial growth.
West Tennessee has very few rocks, with greatly eroding fertile river plains. Because of erosion and ground instability from the New Madrid fault line, many ditches in western Tennessee were formed. West Tennessee is farm country for cotton, soybeans and corn. In between the monstrous fields, honeysuckle would grow in the ditches, which quail love. Then quail made those ditches their home, which provide dense cover from avian & mammalian predators. Edge country is tree and shrub lines, usually more squat than tall, longer than shorter and are often found in lower, meandering ditches with rolling hills laying just above the "edges." Edge terrain allows for dogs to scent and point while not in cover, thusly becoming an unwritten sin for higher-class bird dogs to "dig in" to the dense edged cover.
Ray Smith, professional-trainer, moved to Dancyville by 1930. He was a pivotal catalyst that cemented what would become a large field-trial future for the community. While preferring to compete with Setters which some would become Hall of Famers, Smith would win the National Championship with a Pointer. Setter CH Glencrest Doctor FIELD TRIAL HALL OF FAME was trained by Smith and owned by local Bob Archbell. Smith was buried in the Dancyville Methodist cemetery, which dates back to 1869. His footstone gives his name, dates and "FIELD TRIAL HALL OF FAME." The Quail Futurity, which compares to the Kentucky Derby, was held in Dancyville in 1939. However, Dancyville was regarded as a premier field-trial Mecca long before then. From the beginning, Dancyville field trials had large purses, purses that today could translate as much as $100,000 or a pick-up truck. Due to corporate and local sponsorship for many field trials, not just in Dancyville; the ability necessary to win field trials with lofty purses greatly raised dog values as well. It wasn't unusual to sell a field-trial winner for over $25,000. Champions brought in even more. The Archbell, Lanier and Currie families formed the West Tennessee Field Trial Club in 1930. The "Chapel of Dancyville," their field-trial clubhouse, was built on Currie land and is located at the corner of Blalock and Miller roads. Today's Dancyville field trialers make no attempt to estimate the number of wood cords burned there for decades of Saturday night bonfires. Later "the chapel" would become the start of the National Bird Hunters Association (NBHA) and permanent home for its Championship. Dempsey Williams and Buddy Smith FIELD TRIAL HALL OF FAME were the NBHA pioneers. Local native Norman Groshe formed the Fayette County Field Trial Club during the early 70s.
In 1986 Steven Walker of Winchester Farm moved to town. With him he brought Bill Hunt, a professional-trainer and his wife Linda Hunt, the long-time Amateur Field Trial Clubs of America Secretary (AFTCA). When 14 x CHAMPION Rebel Wrangler FIELD TRIAL HALL OF FAME passed on, a magnificent tombstone was erected naming all of Walker's Champions. At a single time, there were as many as eight living Winchester Champions. Integrity is perhaps the most vital quality for lasting field trial success. According to Linda Hunt when she asked Stephen Walker, owner of Winchester Farm "Why did you hire Bill, with so many trainers available"? Walker replied that he hired Bill "because of his integrity". Bill doesn't hesitate when asked about field trialing to emphatically state, "DNA is the best thing to ever happen to field trialing." Ray Smith, 1930s-1970s and Bill Hunt, 1986 to present, became a glue that made Dancyville a classic field-trial community; while the families, particularly the multi-generational families, field-trial and non field-trial, kept Dancyville as a complete field-trial community for over one-hundred years.
Dancyville's bird-dog history would not be complete without the Sunny Side story. It is not known precisely what year that Hobart Ames (shovel-maker) FIELD TRIAL HALL OF FAME visited the Sunny Side plantation for hunting, but it was before the turn of the century. This was Ames' first time ever to West Tennessee. He was so inebriated with the plentiful wild birds that he immediately began a search for appropriate field-trial property. Hobart Ames settled on about 16,000 acres just north of Grand Junction, TN and called it the Ames Plantation. Hobart was not the end of Sunny Side Farm's involvement in Dancyville field trials and its over one-hundred years of contributions to the National Championship. John A Smith, who Hobart visited, was born on Sunny Side Farm in 1877. Smith would become an ardent bird-dog fan whether telling stories, hunting, training or field trialing in Dancyville, on his farm to Canada or at Ames where he became an intrinsic part of the National Championship from its inception. Smith owned many good dogs including Mandy May Whitestone who was a great-granddaughter of Count Whitestone II. John Smith was instrumental in organizing the West Tennessee Club. Close local friends of Smith were James Avent FIELD TRIAL HALL OF FAME, Hobart Ames FIELD TRIAL HALL OF FAME, Albert Hochwalt FIELD TRIAL HALL OF FAME, and Dr T Benton King FIELD TRIAL HALL OF FAME. & Nash Buckingham FIELD TRIAL HALL OF FAME. According to locals, Ray Smith FIELD TRIAL HALL OF FAME, who was not related to Sunny Side Farm's first Smith, moved to the plantation. Many of the credentials for electing Ray to the most prestigious award that bird-dog fanciers was due to his unfailing dedication to Ames Plantation and its National Championship. The current residents are Alice and Ed McClanahan who still hold (and cook too) Dancyville field trials on Sunny Side land. The person who built the Ames Plantation, also allegedly built the main Sunny Side house in 1857. In 1961 Ed McClanahan's father purchased Sunnyside Plantation. In 1963 Ed married his wife, Alice. They raised up four young ladies who were introduced early to the hardships of plantation life, trying to build good character. The McClanahan family like many locals, have cooked for decades at Dancyville field trials. While not owning a field-trial dog, they do have a personal hunting dog. Their 1500 acres fills a major part of the 8,000 available acres for bird-dogs and has long been an official part of Dancyville field trials. Today, Ed is retired & leases out his acreage, but still continues to support Dancyville field trials. Despite living through the difficulties of farming life, Ed still sits on a tall sense of humor. Answering the telephone and queried if this was Ed McClanahan comes a chuckle in a soft southern drawl "What's left of him."
Field trialers from all over the world have come to Dancyville to compete at two field-trial club grounds within one mile of each other. Approximately 8,000 acres surrounding Dancyville are regularly used for bird-dogs. It is not unusual to run a Dancyville field trial at the same time as the National Championship at the Ames Plantation. One notable National Championship winner was Miller's Silver Ending (trainer David Grubbs FIELD TRIAL HALL OF FAME) who won a weekend Dancyville field trial, then took a ride down the road a few days later to put on his 3-hour winning National Championship performance. Field-trial locals and visitors are prone to wearing apparel with their kennel names embroidered on them and work dogs for miles never worrying about crossing property lines. Local police patrol every Dancyville field trial. Field trialing is a part of Dancyville culture even if residents don't own a dog. Their families have helped for decades. So they help too. Dancyville ladies have provided feasts for decades even riding on horseback to cook a meal. Ray Smith's daughter-in-law, Mary Kay "Dancy" Smith is still a community leader and regular contributor for the website dancyville.net. Today Linda Hunt and others are helping to pay back their community by restoring the old schoolhouse as a Community Center. On a humorous note, it was tradition on Halloween to have a cotton wagon carting kids down local roads to be haunted by "spirits." Bill Hunt was designated ghost the year his wife Linda went to a field trial, borrowed (without permission) Linda's dependable, reliable field-trial horse. Bill draped himself with white sheets. At the rendezvous, Bill furiously shot off his gun clip, trying to scare his victims, who shrieked so loud that Bill's horse became terrified taking off through the brush with sheets flapping, as if Bill really was Ichabod Crane. Bill would indeed become a "headless horseman"…when Linda arrived home to her reliable, dependable field-trial horse who was forever "sheet shy."
Below, the number of Champions (3xCHAMPION) is listed when numbers could be accurately verified. Some titled Dancyville dogs are:
2011 NATIONAL CHAMPION Touch's White Out
14xCHAMPION Rebel Wrangler FIELD TRIAL HALL OF FAME
CHAMPION; Glencrest Doctor FIELD TRIAL HALL OF FAME
CHAMPION Turnto FIELD TRIAL HALL OF FAME
NATIONAL CHAMPION Peter Rinski
CHAMPION Admiral Rex
CHAMPION Shadow's Tennessee Girl – Blake Kukar
6xCHAMPION Oliver Warhoop
2xCHAMPION Blazing Saddles
CHAMPION True Survivor
5xCHAMPION Ronco's Lucky Strike
3xCHAMPION The Kodiak; Three
3xCHAMPION Classic Editions
2xCHAMPION Hawk's Nimrod
CHAMPION American Made
2xCHAMPION American Way
CHAMPION Bitteroot
CHAMPION Ormond Smart Alec
CHAMPION Admiral's Smarty Girl
CHAMPION Miller's Crossbow
CHAMPION Turnto Jr
CHAMPION Ard Righ Justina
CHAMPION Tender Fury
2xCHAMPION Survivor's Little Bill
Ben Adams (named after Ben Adams FIELD TRIAL HALL OF FAME) and (littermate to 2010 NATIONAL CHAMPION In The Shadow)
People in Dancyville have titles too. Once a year two exemplary (deceased or over 65-years old) field-trial individuals are voted into the Field Trial Hall of Fame and are commemorated with profiles inside the National Bird Dog Museum. Titled Dancyville field trialers who have been inducted into the Field Trial Hall of Fame are: Dr T Benton King, Ray Smith, Bill Hunt, Linda Hunt and Dr Jack Huffman, (Whipporwill). Other Dancyville field-trialers are Keith Wright and Ike Todd (co-owner & trainer of 2011 NATIONAL CHAMPION), William Currie and his family (5-generations), Jim Waddell and his family (3-generations), Steven Walker (Winchester Farm), John Dubson (professional trainer who learned from Jack Harper FIELD TRIAL HALL OF FAME), Dempsey and Jo Williams, Rich Boumeister (Minnesota field-trial snow bird), Glen Crutchfield, Austin Mann (professional trainer), Mark Haynes (professional trainer), Marcia Schlesinger (AKC Vizslas) and Blake Kukar (Pointers, Setters, AKC Vizslas, AKC Weimaraner). It would be remiss to not include regular Dancyville visitors like John Rex Gates FIELD TRIAL HALL OF FAME (winningest field-trial handler), Joe Walker FIELD TRIAL HALL OF FAME (reporter) and Buddy Smith FIELD TRIAL HALL OF FAME.
The latest to move to the area are Keith Wright (Indiana) and Ike Todd (Montana). Wright Kennels own acres of Dancyville acreage plus NC2011 Touch's White Out, Whipporwill War Dance and CH House's Ring of Fire. Dancyville mystique has also persuaded American Kennel Club (AKC) field trialers Blake Kukar and Marcia Schlesinger to move into their field-trial gaited community. Blake switched field-trial registries and his dogs have become successful winning American Field (AF) Championships. His 2xCH Bill will compete in the 2012 National Championship starting in February. Regular visitors AKC All-Age Brittany fanciers Neil Mace (FC Odyssey's Tequila Azul) and Ken Blackman (FC Le Grande Tank du Fayette have an unquenchable thirst for Dancyville whether it is an AF or AKC field trial, the Bird Dog Chapel or the home of a local field-trial resident. Blackman stated "Dancyville is where I learned all about the world of competitive Field Trial Pointing Dogs, just hanging around the likes of Bill (and Linda) Hunt, Dr. Jack Huffman, Wilson Dunn, Dempsey Williams, Buddy Smith, Robert Milner and Joe Walker (FIELD TRIAL HALL OF FAME). They have a richer knowledge of the sport than anywhere else I've ever been. Secondly, what's going on in the area is an expansion of opportunities to bring all Pointing Dogs to the sport. Dancyville is opening their doors to the next generation & all-breed field trialers just because they enjoy seeing a good dog compete on great grounds. I just hope that, us Baby Boomers, can have a group of youngsters to pass along our knowledge." In 2011 Dancyville hosted the Vizsla Club of America (VCA) National Gun Dog Championship (NGDC), an hour walking trial on those same grounds that spun a bright light on high-class grounds for an AKC field trial Championship, championships that include the 2012 AKC Gun Dog Championship to be held twenty miles south of Dancyville to be run on native game only at the Ames plantation.
Dancyville's distinctive heritage is known the world over. Consider this: A Dancyville field-trial native was floating on a boat in the Black Sea when he was questioned about his home. The field trialer mentioned a few names, combined with the word "Memphis". That person knew those names weren't from Memphis, but Dancyville and that this "Memphis" person was from a "field-trial gaited community" called Dancyville that has more people and dogs per capita as FIELD TRIAL HALL OF FAMERS than anywhere else on the planet.
Epilogue: Lines from "Dancyville Road" 2nd cut on the Smith Sisters Road Runner CD
"Somewhere between Jackson & Memphis…
There's a sign stuck between the fences…
Dancyville Road, Dancyville Road…
Time stands still down Dancyville Road…
And when this world starts closing in…
And I start to feel I just can't win…
I close my eyes and off I go…
Walking down Dancyville Road."
Diana Boggs springs from an AKC Dual Championship Vizsla family (Behi (50 yrs), Paradox (35 yrs), Snow Ridge and Mudsville). A big thank-you from the author to Dancyville, Tennessee, dancyville.net, Linda FT HOF and Bill Hunt FT HOF, Tom Nygard, Neil Mace and Don Bonnice. A special thanks to Blake Kukar and Ken Blackman (photographer) who enlightened a keen interest in bird dogs and a good story. A similar version appeared in the Xmas issue of 2011 AMERICAN FIELD. Thank you Bernie.
COPYRIGHT PROTECTED; DO NOT REPUBLISH WITHOUT PERMISSION