More Event #2009167405 Info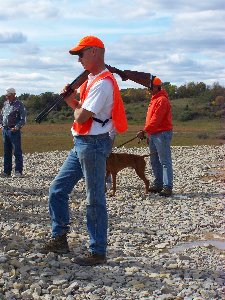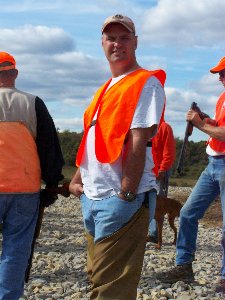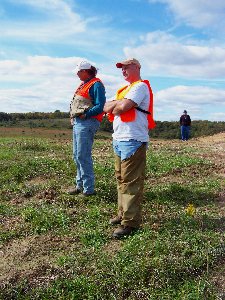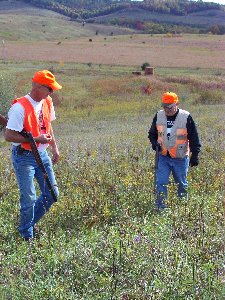 Gunner- Bob Winter; Art Terstage; Judges- Julie Larue & Art; Gunners- Bob & Don Keeton
The Miami Valley Vizsla Club was first organized in 1969, one year after the Vizsla Club of Ohio was changed to the Vizsla Club of Greater Cleveland. Club founders Hilda (deceased)/Clif Boggs & Paul/Shirley Rothan & Carol Feder are still current MVVC members. MVVC has the most Dual Champions of any regional Vizsla Club, TWENTY EIGHT.
The Miami Valley Vizsla Club & the Vizsla Club of Ohio field trialed at Indian Creek during the sixties, with several other FT locations like the Wright Patterson Microwave Area, Cherrybend Pheasant Farm, Killdeer Plains & Lloyd's Wildlife Area in northern Kentucky. MVVC has field trialed at Indian Creek over twenty-five years until forced off those lands, as well as its big sister Wildlife Area, Kildeer Plains, due to a different interpretation by the present day United States Fish & Wildlife & Ohio Department of Wildlife (USFWS & ODNR) officials of the 1936 Pittman-Robertson bill more than seventy years later. This change in relations occurred after over fifty relatively successful years of "understanding" (legal & in real life) between the Associated Bird Dog Clubs of Ohio (ABDCO) and the Ohio Department of Natural Resources (ODNR). That working together of State & ABDCO still rolls forward, just in a different direction, as the facilities of Tri-Valley expand & grow.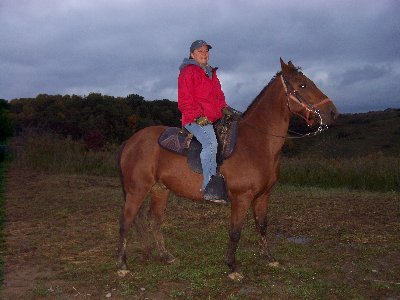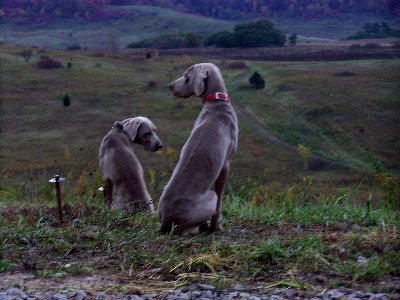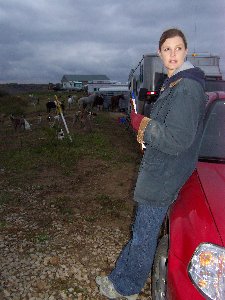 Judge- Laura Bauman, The funny thing about this photo is look at the wispy forelock. This horse INSISTS on getting into a trailer & crawling his entire front end INTO the manger-that mane wisp is all he has left from his odd habit; Weims on Mike Mullineaux string; Line Marshall- Stephanie Allen
Pittman-Robertson is one of few US taxes that was wildly successful, particularly in creating large revenue that it spawned later bills like the Dingle-Johnson, which did for fishing what PR did for hunting & field events. The reason PR & DJ are so successful is that they are a user tax. PR originally provided numerous areas to field trial upon across the USA so listed in the original legislation. Field trials are a great form of education for families, for hunting. They test the dogs used in breeding programs by competitions that fund hunters with skilled hunting dogs. All of those USA PR acreage, purchased like Indian Creek & Killdeer (both in 1952) areas have been rescinded by the various States & allow no more field trialing on their grounds. Ohio was the last state to lose Pittman-Robertson grounds. Because parts of Tri-Valley are funded by PR monies, no field trial can occur on that particular acreage & can take place only on State owned TV lands. Because the Retriever folks also field trials use PR acreage in the form of water, they too have lost access to PR funded public acreage.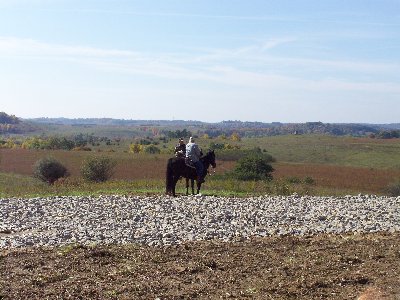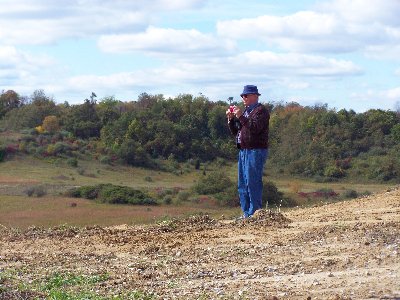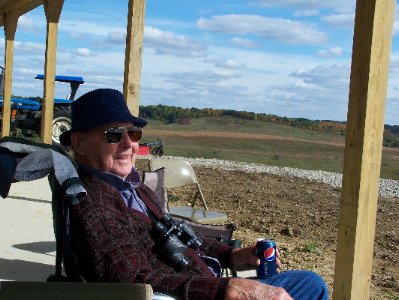 FTers Viewing; Clif Boggs Viewing Too; We think bcb approves Tri-Valley! How about you?
TRI-VALLEY & MVVC OCT FT COMMENTS
Various Comments about Tri-Valley and/or the MVVC Field Trial are welcomed & are likely to be used.
Clif Boggs made it a point to come visit the October field trial, as well as support his daughters' presence inside of Vizsla field trialing. At 85 years young, he stood with wrinkled visage on the front porch of the club house which sits on a high hill jutting into the great valley like it was a ship sailing the ocean with a resplendent 360 degree view of vibrant fall colors. With a wry warm smile stated "I used to hunt "Trixie" (Dual Ch. Behi's Csinos Csiny, CD HOF) in the hills that were here before the big shovels removed the black gold for miles to make this valley back in the seventies." He wondered aloud if those terrible briars were still there. "Yes indeed, they are" Nancy later told him. Clif went further in his comments about Tri-Valley to state that he was tremendously impressed with the place, as well as the efforts of Justin Allen who was this event's FT Chair, who ensured that a strong foundation of future field trailers to come had a great place to step higher on the field ladder & breed improvement for not just the Vizsla, but all of the American Kennel Club (AKC) and Field Dog Stud Book (FDSB) Pointing breeds. This field trial was double-registered for AKC & AF field trials, another first for the MVVC.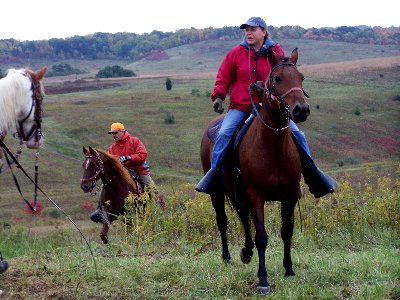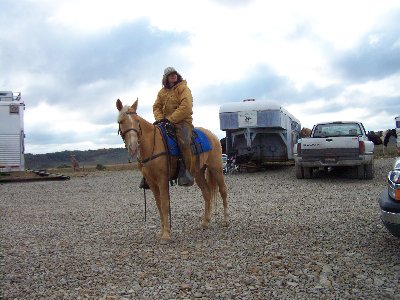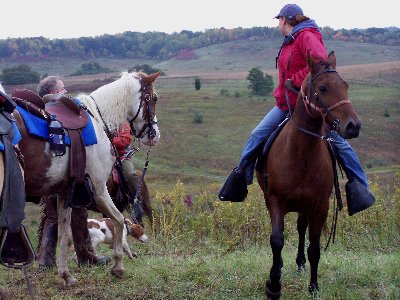 Judges- Bill Fazio & Laura Bauman; Professional Handler- Jean Webb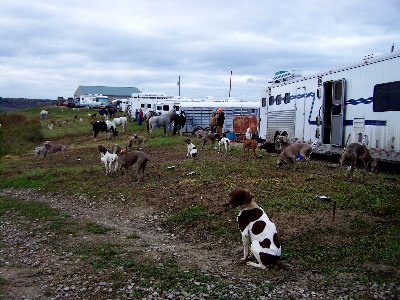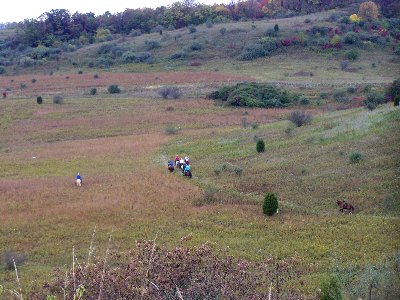 Scenes Around The Parking Lot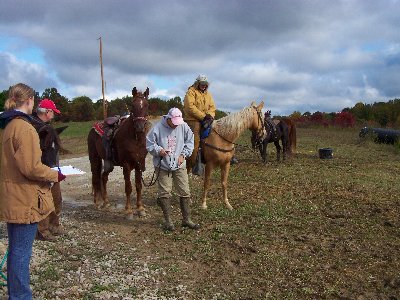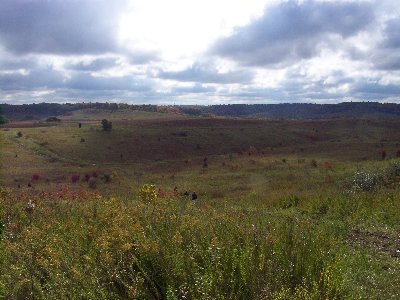 More Scenes Around The Field Trial; Fellow with the pinto is Chris Streitenberger; Diane Fazio in gray sweatshirt
Other comments and remarks on this field trial are forthcoming. If you have a comment to make about this FT please contact Diana at ssmudsville@yahoo.com