2007 Vizsla Club of America
National Gun Dog Championship
April 16-19, 2007
Pine Island FT Grounds
Hosted by the Central Wisconsin Vizsla Club
National Gun Dog Championship (33 entries)
Judges- Robert Creany/Charlie Blackbourne
Rolling Rock- O/H/B Mike Dalby

NGDC DC AFC Onpoint's Tuff Stuff FD- O/H John Reid

FC AFC Semper Fi Colonel's Pride-O/H- Dave Pomfret

Ch Fieldfire's High Octane-O- Joan Heimbach, H- Bobby Seelye
AOM- DC Everedi-N-Melto's Hey Toots- O/H/B- Lin Kozlowski
AOM- FC AFC Oakleaf's Runnin Down A Dream- O/H Mark Smith
Open Puppy (19 entries)
Judges- Dennis Sullivan/Jim Couris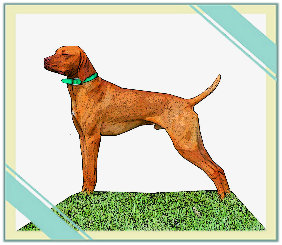 Bravo Haulin's Olympic Speed-O/H/B- Julie Larue

Wegler Garnet's Samantha-O/H/B- Greg Wegler

Crimson's Lord Rigby of Linden-O/H- Mark Spurgeon

Bravo Haulin's Olympic Flame- O/H/B- Julie Larue
AOM- Winddance Tidal Wave- O-Carol Stout,H-Bob Seelye
AOM- Bravo Haulin's Olympic Gold- O/H/B- Julie Larue
AOM- Bravo Haulin's Olympic Spirit- O/H/B- Julie Larue
AOM- Little Bit of Zeke- O-Cindy Rosbrough, H-Bob Seelye
Field Trial Committee
FT Chair- Mark Smith, FT Sec- Michel Berner
Mark Johnson, David Kayser, Ginger Tierney,
Rodney Albin, Jim Gingrich and Julie Larue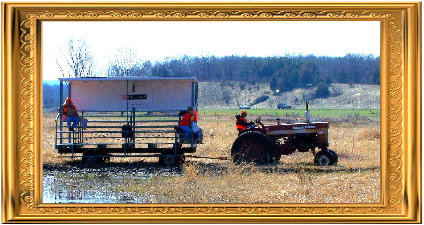 Qualifying On Line Judge
Linda Kelly
A huge toast belongs to the Vizsla Club of America and the Central Wisconsin Vizsla Club who hosted the sixth hour-long walking AKC Vizsla Championship. It was a high quality trial on grounds that was wide open and encouraged the footback Gun Dogs who competed to reach beyond their normal walking application with style and great class.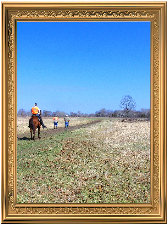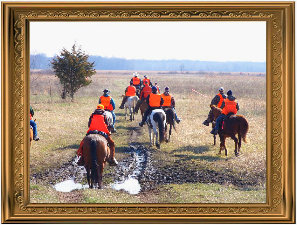 The Pine Island FT Grounds are named not for its pine trees, which are primarily Cedar, but for a tiny island nearby. A tornado the previous year wiped out many of the area trees and objectives. The grounds themselves are nestled between an escarpment formed by glaciers, two rivers and the town of Portage. The previous week there was a large multi-inch snow storm that would have damaged foot handlers in almost any environment not composed of sand/granite as this trial grounds were. The tangled vines of the dewberry are the only earth-made potential problem. At first appearance the grounds seem flat. That is not the case for there are many depressions, depending on the wind direction, that allowed dogs unique opportunities to smell game and when needed an unfettered opportunity to traverse non-bird areas across the front to game on the opposite side of the course, several times without being seen. Judges, handlers and scouts had to be on their top mettle, despite the falsely lulling level grounds appearance of the grounds.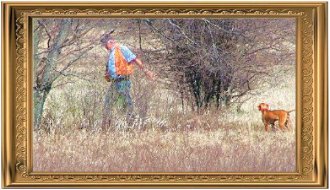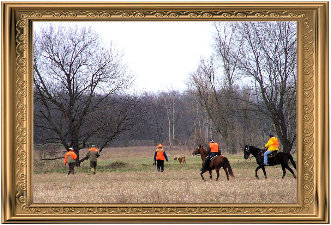 Of note was the youth of the handlers of winners and many placements. The addition to the NGDC of the covered gallery wagon was greatly welcomed. The catalog, done by Martha Lacko with graphics created by Diana Boggs was top notch in color and lauded the best ever by many. Competitors came as far north as Canada, as far east as Massachusetts, as far south as Florida and as far west as California. There were many who sacrificed a week of vacation to help run the trial and could not run a dog themselves. Without those folks, many AKC National FT's could not take place.
Out of the 13 placements/AOM's, seven were Breeder/Owner/Handler. Four were Owner/Handler and the rest of placements were professionally handled with two placements owned/handled by them. Out of the placements and Award of Merits only five were handled by professionals with the rest being handled by amateurs.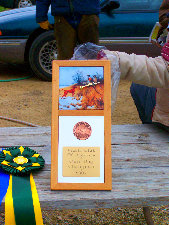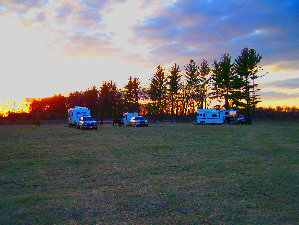 The National Gun Dog Championship was judged by Charlie Blackbourn and Robert Creany, both who are from Wisconsin. Charlie is a retired veterinarian and long involved in bird dogs, specializing in GSP's, along with notable national judging assignments. Charlie's judging companion Robert Creany is a long time bird dog man in GSP's and has garnered much national glory in competition and judging assignments. Both men are well qualified and according to many participants did an excellent and unbiased job of judging.
The winner of the NGDC had 7 open Championship points entering this Championship and by winning is believed by the owner to have completed requirements for the AKC FC, making the dog officially NGDC FC (pending) Rolling Rock. Rock is amateur trained, handled and bred by Mike Dalby who has been involved with Vizslas for over ten years. Rock started out life as an AKC Hunt Test dog and Master Hunter at which point folks told Mike he ought to take him to field trials. Mike completed the MH requirements at approximately age two and by age three has a NGDC win to his credit. Look for more great things from this team.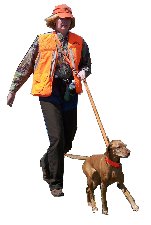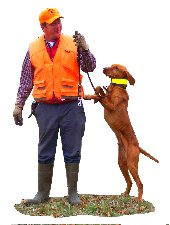 The level grounds with stretched out objectives parlayed well into the theory that the Vizsla, regardless of being horseback or footback handled, will go as far, as completely as the cover to be hunted, dictates. A high number of NGDC competitors averaged clean 7-9 finds. Several others found themselves with one too many birds after the 45 minute mark. Out of the six NGDC events the VCA has presented, this one by far had the highest number and average of quality performances. While this course is not indicative of the historically true Gun Dog course which has objectives and cover placed closer and deeper, it did excel in the AKC Gun Dog description of effectively hunting the cover and terrain present and allowed for many competitors in both stakes to reach beyond their previous ft performances which caused elation for many non-placing NGDC competitors. FC Raany owned by Jim/Linda Busch was the top sire of NGDC entrants.
The NGDC Puppy Stake was judged by Dennis Sullivan and Jim Couris from Illinois. Like the two NGDC judges, both judges have multiple decades of bird dog involvement in breeding, competition and judging. Jim Couris was the only judge who was a Vizsla owner. Like the NGDC, the course allowed for puppies to extend their normal application and many had the best course of their young lives. There was also a goodly amount of mature bird-work and the placements from First place to Award of Merits were hotly contested. Of note was the Julie Larue/Medda Rawhut combination where all four of their puppies garnered national glory, indicating a great national future for both Julie and Medda as trainers/handlers/breeders. FC AFC Pointe Blanc's Rusty Miracle, owned by Carrie/Mike Syczylo was top sire in Puppy with all four of his puppies garnering official glory.
It is IMpossible to not mention the Gallery Wagon which was very well received. And the most special award went to one Joan Heimbach called the Brass Ass Award because she was the only person who rode every single brace & every single mud hole. That is documented somewhere above.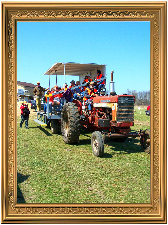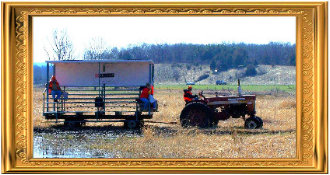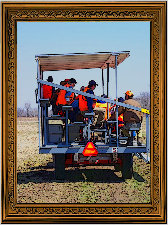 The 2007 rendition of the VCA National Gun Dog Championship was an event to take great pride in and indicative of breeding and education programs/mentors providing great direction and goals.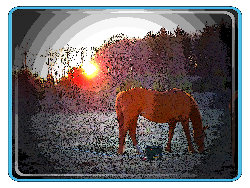 All photos & graphics by dlb.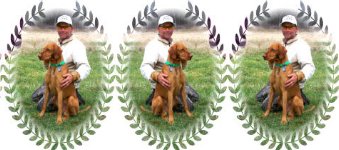 Please vlivk on the below link for the
2007 National Gun Dog Championship Photo Galleries.
This website composes the private and public collections & lifetime investments of Vizslak peoples around the world with an initial focus on the USA & the field because that is the information SITmUP has processed....so far. Please "respect" our collective work on thevizslaksentinel.com and do not use in an unexpected way. The individual collections form the cornerstones of every Vizsla living and owned by "you" today.
If respected by the readers, the information on this website will remain & grow.
Credit should be given by providing the appropriate Sentinel URL
when quotes or articles are republished.
"Thomas" competing in the VCA 2006 NFC
"The Vizslak Sentinel " (c) Jan 13, 2009
Product of Stuck In The mud Underground Publishing (SITmUP)