VIZSLA REFLECTIONS
The Fifties
by Diana Boggs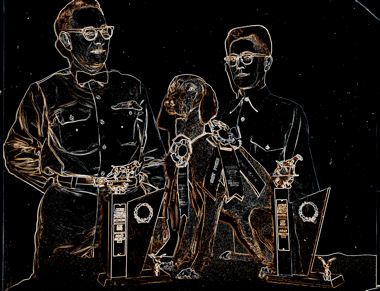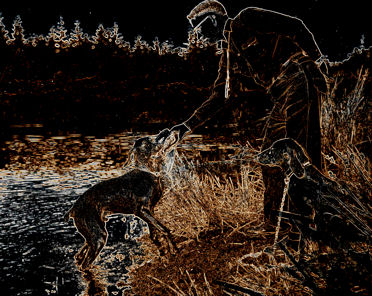 Nikki of Bayview Rakk Selle
"On native game birds, the Vizsla should be able to go an hour, handled from horseback, before he will be accepted by the rank and file American upland bird hunter" Paul Sabo, Jr in "The Vizsla". This pretty well sums up the story of allEuropean pointing breeds as bird dogs." Paul Sabo, Jr in "Vizsla Potpourri" (late fifties AMERICAN FIELD, sixties VIZSLA NEWS)
So said the inimitable Paul Sabo, Jr, professional AF Setter field trainer, on the eve of AKC breed acceptance (1960) about the Vizsla. Sabo was an immigrant from Hungary & helped his father train Setters with falcons in Europe. Until the son reached America, he had never seen a Vizsla.
The first documented USA Vizslas were Sari & two pups who arrived in Kansas City, Missouri on October 7, 1950 to a Frank & Jane Tallman, personal friends of President Truman. On March 17, 1951 Sari & one pup were publicly exhibited in the indoor field trial at the Chicago International Kennel Club. They wowed the crowd. The event is described as "Mass interest centered on the exhibiting of two of the only three Vizslas in the country by Mr & Mrs Frank Tallman, who own them jointly with Emmett Scanlan of the American embassy in Rome. The cinnamon colored Hungarian sporting breed is now "locked" behind the native government's iron curtain against shipping of blooded stock." (NY Times Newspaper Clipping). At that show were Jack Hatfield, William Olson (Waldwinkel GSPs & Weimaraners), Dr Ivan S Osborn DVM (pioneer for OFA) & Charles Hunt, who would see the Vizsla for the first time. With Tallman, these five men would import approximately 80 Vizslas during the fifties, with Dr Osborn importing the most (over 40 AND a Wirehaired Vizsla, probably Harry Selle). Three-generation pedigrees (needed by AKC & FDSB) for Vizslas were rare because of WWII & Russian occupation. Only one Vizsla registry (Czechoslovakia) still held intact studbooks.
On April 1, 1952 Rex Del Gelsomino's (imported by Frank Tallman) registration papers were accepted for future breed recognition by the FDSB registry and signed off on by Howard Peterson, FDSB Registrar. Rex would later be in the first official grouping of Vizsla FDSB registrations in November 1954, as well as the first AKC registrations in May 1961. Rex would become the first FDSB registered Vizsla to win ribbons in FDSB sanctioned field trials & water trials.
On November 17, 1954 FDSB registry (Registrar-John Walsh) recognized the breed. Those 37 Vizslas first appeared in the December 10, 1954 AMERICAN FIELD. All of the inaugural FDSB registrations were "imports". There are two kinds…foreign-blood born on foreign soil…foreign-blood born on USA soil. Nineteen males were registered. Of those, only five were "true" foreign born-imports, leaving 14 males of "foreign blood, USA born" chosen by the USA breeders. Eighteen females were registered. Of those only five were "true" foreign born-imports, leaving 13 females of "foreign blood, USA born" a result of being chosen by USA breeders. It is perhaps this second type of import (foreign blood, USA born) that became "most" important, as this was the USA making their initial choices of selective breeding.
The Vizsla's first regional FDSB sanctioned field trial was held in Fort Snelling, Minnesota September 25, 1955. Csicskas of Goncoltanya, (eventually 2nd Vizsla to become CH, first AKC Sporting Group placement, first Brace Sporting Group and only Vizsla to ever grace the cover of AMERICAN FIELD) owned by Charles Hunt won Puppy. Rakk Selle, owned by Osborn won Derby and would become the FDSB winningest Vizsla trial dog of the fifties. Gingo Schloss Loosdorf, owned by Olson, won the Shooting Dog stake. Brok Olca, owned by Osborn & handled by Paul Sabo, Jr took second in what was called a "thrilling run-off." There was a large gallery (over 100 horses). The judges were Fred Schulze & Joseph Deiss. It was also at this first Vizsla field trial, that age-old bird dog man battles about field application between FDSB and other ft philosophy, began for the USA Vizsla. Jeno Dus, Hungarian immigrant, (Orszagos Secretary & a new "USA professional" handler) made more than one handling blunder. Afterwards Dus exclaimed, "Americans were not sporting gentlemen" possibly due to the influences (faster pace) of other experienced FDSB breed competitors, like Paul Sabo.
CH Csickas of Goncoltanya Gingo v Schloss Loosdorf (USA import)
The only Hungarian immigrant of noble birth, who "got it" early on, was Count Bela Hadik (Futaki Vizslas). He understood to have breed longevity the Vizsla would have to be all-breed competitive. Even so, the Count and Paul Sabo, Jr reached loggerheads that embroiled the club into terse confrontations well into the sixties. Neither could see that they both agreed about the field trial Vizsla. Despite Sabo's accomplishments in galvanizing field trial fanciers, it is also true that until 1966 Sabo was the sole horseback handler and ran dogs in Amateur stakes (under AKC umbrellas) as a pro. While charming, and always mounted on THE very best horseflesh available, Sabo had a biting tongue.
It should be noted that an article appeared in AMERICAN FIELD from another breed fancier who attended that event. He said (paraphrase) that "the Vizsla's first field trial reminded him of the GSP and Weim first field trials, like watching an old man run his dog." His remarks, while probably accurate, reflected more on the handler, rather than the dog. If one talks to Chauncey M Smith, Jr (who started field trialing in the fifties, trained for Hadik & pioneered the Vizsla Club of America's National Gun Dog Championship which is an hour walking with retrieving stake, "Smitty" (VCA Lifetime Member) is asked about yesterday's field trialing, he will tell you it is the handlers themselves that have made the most difference to successful field trialing. Selective breeding, pace, technology and education became pertinent pivotal factors of Vizsla field trial evolution.
The first national Vizsla field trial was held in Fort Snelling, MN with 26 entries, on May 13 & 14, 1956. Over 100 stalwart spectators appeared to watch an event that was held in horrid weather. Judges were Al Frush & Joseph Kreig. Nikki of Bayview (foreign blood, USA born) won Puppy and Derby. She was heartily commended by judges and spectators, stating that had she been steady to wing & shot, she would have won Shooting Dog too. Rakk Selle was second in Derby. Brok Olca won the Shooting dog stake. Rakk Selle became the first Vizsla to win Derby AND Gun Dog at a Vizsla field trial.
Below are the most prominent fifties Vizsla stud dogs & FT DNA fountainheads….
Brok Olca HOF, imported by Osborn, (foreign blood, foreign born) arrived with specific instructions to "not lose his qualities" because he exhibited the most of all the fine hunting characteristics that Europe's Vizslas had to offer. He also descended from multiple strains of competition-tested Vizslas, a quality that existed nowhere else.
Brok Olca (USA Import) Brok Olca Pedigree, An Artform by dlb
Rex Selle, imported by Osborn was the only European field event rated Vizsla import. Rex Selle was never USA field trialed due to "his old-dog hunting habits that couldn't be trained around" according to Sabo.

Even so, Sabo said Rex "was a shining beacon on his FT string". Sabo also added that in time Rex would become one of the greatest Vizslas through his stud career, alluding to his astounding field desire. Rex's sire & dam (Harry Selle ex Bojka Selle) were registered as Wire Haired Vizslas (per gundogpedigrees.com and 4th generation information from the original registration for Asta z Povazia). Osborn also imported Rex's littermate Baba Selle. It is known per Vizsla-k9info.com that Rex WAS bred to Baba. If Osborn knew "at that time" that both Rex's and Baba's sire and dam were registered Wire Vizslas, then he had to know that he was trying to breed Wires. Rex Selle would indeed become the dog in the breeding shed for field trialers that Sabo proclaimed.
Rakk Selle, bred & owned by Osborn, (foreign blood, USA born) was one of Osborn's early successes. Osborn so liked Rakk Selle as a very young pup, he went back to Czechoslovakia and imported as many from the Selle family as possible. Rakk did consistently well with FDSB all-breed competition, becoming the winningest fifties field trial Vizsla. Rakk owed his field breeding distinction to his sire Rex Selle and his dam, which were from Selle lines Too. If one checks out Wirehair Vizsla history they will learn that the Selle line has always been about Wires with the Povazia kennels owned by cynologist Koloman Slimak a WHV partner.
Radar z Povazia-imported by Osborn & discarded as a field trial dud to someone from Washington state and later retrained into many FDSB field trial placements. Without Radar's field ability that was finally exposed to the public & his impeccable pedigree, there would have been no Rebel Rouser Vizslas (premier Vizsla ft bloodline), owned by Hank & Betty Rozanek.
By 1958…659 Vizslas would be registered by the FDSB. Nationals were held bi-yearly & at least two regional clubs (Prairie States & Pacific Coast) held FDSB sanctioned field trials during the late fifties. FDSB Vizsla registrations, for whatever reasons, began a steady decline in the sixties & seventies. FDSB interest, despite efforts by Hank Rozanek, Bill Fisher & Bernard Boggs (VCA Lifetime Member) to change that happening, would decline until the National Vizsla Association (NVA), was formed by Bruce Hale & Ray Cooper, was born in 1990, functioning under AFTCA (Amateur Field Trial Clubs of America). Their first NVA Classic took place in 1991 & first Championship was held in 1994. They also host the FDSB sanctioned Quail Classic, the Midwest Shooting Dog Championship, the Eastern Midwest Championships and are working on a Western Championship.
In 2010, twenty years after being formed to promote the Vizsla as a high class bird dog, NVA membership interest increasingly focuses on that path. The NVA has also been the impetus for increasing numbers today of dual-registered (FDSB/AKC)…Vizslas & field trials bringing the field Vizsla full-circle. Sabo's introductory quotes about the Vizsla's USA future did indeed "measure up" in word and deed. While the FDSB Vizsla is not yet all-breed competitive, increasing numbers of field trialers stand in their stirrups to watch increasing numbers of good Vizslas compete.
There have always been half to a dozen All-Age Vizslas competing in AKC in each decade. Each time that All-Age talent appeared in individuals, that female or male became a focal point in field-trial successful breeding programs. In the AKC registry today's Vizslas are consistently all-breed field trial competitive. The FDSB field trialer of today owes most of its success from DNA (dogs and people) from AKC Field Trial 50 years of successes of AKC Vizsla field trialing. It is the AKC field trialer that the future FDSB field trialer is most likely to be discovered. Today there is a clear need for both registry field trials with bustling numbers of new, better educated & more resourceful Vizsla field trialers from coast to coast. A Vizsla named "Windy" owned by Phil Rosenburg (Ill) was AKC's first Amateur Field Champion and a dog named "Pistol" owned by Ellis Herz (Ca) is the AKC Sporting Group winningest field trial dog…ever. There are even the same AKC Dual Champions winning FDSB sanctioned and AKC licensed Championships, making the Vizsla field trial fancier, regardless of registry interest…concerned with structural integrity combined with field class.
If Sabo were alive today, we think he would be ecstatic with the Vizsla's FDSB event progress, formation of the NVA & AKC accomplishments. Perhaps he under-estimated breed fortune as their ranks are teeming with FDSB/AKC Field Trials, NAVHDA, NSTRA, AKC Hunt Tests, Obedience, Conformation, Agility & Dog Service excellence from sea to shining sea.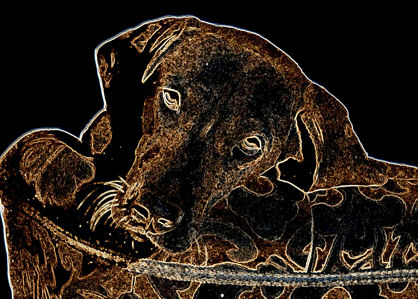 Kislany imported by Joan & Charles Hunt
Original registration on Vizsla import Asta z Povazia, owned by Charles Hunt
"THE VIZSLA" 1973, 1982, 2000 by Bernard Clifton Boggs
"VERSATILE VIZSLA" 2000 by Marion Coffman
Various 1950's "American Field" publications
Courtesy of current Editor- Bernie Matthys
"A Different Kind of Dog Breed" by John Rendel (FDSB)
"Dog World" 1960
"The Vizsla" by Paul Sabo Jr
"Vizsla Potpourri" by Paul Sabo Jr
"Golden Gun Dog" by Dr Ivan Osborn DVM
"The Vizsla & Its Eugenics" by Dr Ivan Osborn DVM
Various online articles from Stuck In The Mud Underground Publishing (SITmUP) websites thevizslaksentinel.com, vizslavizipedia.com , vizslavizsmithsonian.com